Asus Republic of Gamers (ROG) announced their latest gaming mouse the GX860 Buzzard. ROG is a branch of Asus dedicated to delivering innovative gaming technology for PC gaming enthusiasts. With the GX860, ROG tends to bring the same type of technology into the hands of gamers, it is being targeted at marathon gamers. It fits comfortably in the hands of the user and will be useful in getting good precise cursor control.
The ROG GX860 is equipped with ultra-precise cursor control, it comes with a laser sensor having 50-8200 dots per inch (DPI) resolution range having four default settings to choose from, along with smooth-gliding fluoropolymer feet. Coming to the design aspect the ROG GX860 is made of high quality and durable Omron switches, LED illumination having three colors red, orange and green, which can be changed according to the user's wish.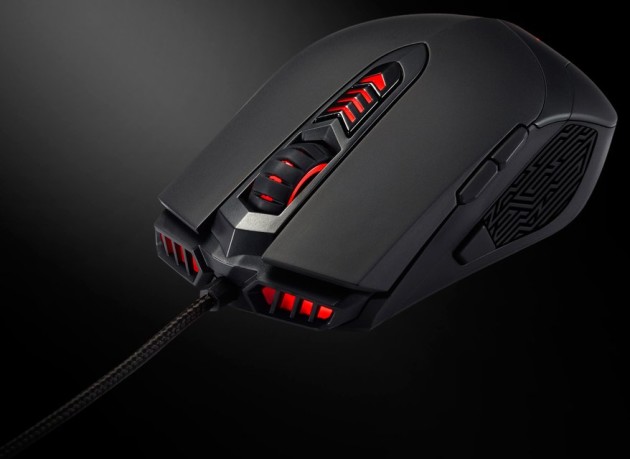 Coming to the buttons and switches, it has three programmable left, right and scroll-wheel buttons, apart from these there are two other DPI resolution switches. All buttons have been given a 5 million click lifespan, which is essential for marathon gamers.
If you are a left handed gamer stay away from this mouse as Asus told that GX860 mouse is designed only for Right handed gamers. The side grips are also made specifically for long duration gaming, being heat-resistant, non-peeling and come with Mayan-inspired detailing to get that premium feel. Users can select from the three LED lighting colors and change the color as required.
It is made for gamers who like to specifically program their gaming mouse according to their preferences and the game being played. In ROG GX860 you get programmable buttons left, right and scroll-wheel buttons, change the double-click speed and many more settings and there to be explored. After tweaking their mouse to the desired settings, users can test the new mouse settings in a virtual test arena.
The mouse is compatible with Windows XP, Vista, 7, 8 and 8.1, there is no update abut its compatibility to Windows 10. There are four default DPI settings to select from with Level 1 having 800 DPI, Level 2 having 1600 DPI, Level 3 having 3200 DPI, Level 4 having 5600 dpi. Asus has not yet announced the price of the ROG GX860.