Kingston announced its latest 512 GB SD card in the Class 10 UHS-I SDHC/SDXC class of memory cards. This card now joins the 16GB, 32GB, 64GB, 128GB and 256GB SD cards already available in this class of SD cards.
The card is aimed mostly at DSLR cameras and 4k Resolution camcorder users who are in need of such storage space to record and capture photos and videos in highest quality. For DSLR cam users can now capture photos in RAW format because of the huge storage space which they will be having in their SD card without looking for a computer or laptop to transfer the photos to make space for new ones, the same for Camcorder users.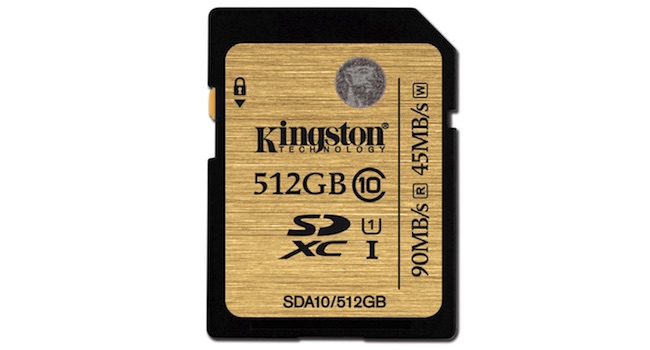 It also boasts high transfer rates along with the huge storage capacity. It comes with read speeds of up to 90MB/s and write speeds of up to 45MB/s. This surely will make it very fast to transfer data and with such high read speeds, it is ideal for continuous and burst mode photography by increasing shutter speed.
The SDHC/SDXC UHS-I Speed Class 3 (U3) is the fastest card in the Kingston cards line up, which is capable of having 90MB/s read speeds and 80MB/s write speeds. The card also supports shooting videos in Full-HD and 3D formats which requires higher read speeds. It comes with built-in write-protect switch which prevents accidental data loss. The file format supported is exFAT (SDXC 64GB-256GB).
Kingston is giving guaranteed lifetime warrant and free technical support for the 512GB SD card. The card will be going on sale shortly in India and the pricing for which will be revealed on its launch. If you are looking for other alternatives of a 512GB SD card which is available at the moment, then you can try the SanDisk Extreme PRO 512GB UHIS-I/U3 SDXC which comes with up to 95MB/s read speed.