Aptos as an L1 network is committed to developing products and applications on the Aptos blockchain that redefine the web3 user experience. Under this chain, there are multiple applications and use cases, but trading of assets sits at the core and for that, only a few select platforms would help users do that job. One of the upcoming platforms is CarboSwapm, an Automatic Market Maker which allows you to trade, farm, win, and stake assets on Aptos with the same functionalities as the best DeFi platforms.
CarboSwap doesn't want to come in as just another tool for token swaps. Some of the important features that will be offered include a presale mechanism, impermanent loss protection, and instant swaps without having to go through KYC procedures.
While Centralized Exchanges take full control of the assets owned by the users, CarboSwap is a decentralized and non-custodial exchange, so you know what to expect. Some of the other major features are listed below.
Earn rewards, receive CARBO in our Turtle Pools by staking our native asset, let your crypto go to work for you, and take advantage of high-interest rates.
Get some trading fees when providing liquidity to an LP pair (even if we don't provide an LP farm for your asset)
Stake LP tokens in our Turtle Farms to earn increased rewards paid out in CARBO, and take advantage of our impermanent loss protection program.
While many would wonder about the usage of the Aptos network, it makes total sense as it has much lower transaction costs than Ethereum, Bitcoin, or even the Binance Smart Chain, and it can deal with more than 100k transactions per second.
Liquidity Pools

Provided there is enough liquidity for the tokens, users can directly swap tokens on CarboSwap, and to help make the liquidity bigger, users can provide it to earn LP tokens and which convert to rewards in the form of trading fees.
Yield farming and staking

Yield farming on CarboSwap lets users that are providing liquidity earn CARBO rewards by locking their LP tokens into our Turtle Farms. CarboSwap also allows users to stake or lock a single token in our Turtle Pools to earn high-interest rates paid out in CARBO without having to be exposed to impermanent loss.
LP Tokens for depositing tokens
If you deposit APT and CARBO tokens in a liquidity pool you will receive APT/CARBO LP tokens which will represent your portion of the APT/CARBO Liquidity Pool. The funds deposited will be redeemable at any time. All you need to do is remove your liquidity.
Turtle Pools are the easiest way for users to let their tokens earn for them only by staking them. A simple staking of tokens would let the users earn CARBO tokens. A high interest will also be earned in CARBO from these pools, and there is a paperhand fee that will fund the insurance pool.
Impermanent Loss Protection
CarboSwap has implemented Impermanent Loss Protection, an insurance pool that covers liquidity providers against impermanent loss. If you are staking tokens in the Turtle Farm, that will activate the ILP and the coverage starts from 0% and increases by 2.5% daily on a linear vesting schedule for 40 days. After this period, the loss protection remains at 100% until the tokens are unstaked from the Turtle Farm. The best part here is that if you add more tokens to the pool, a new vesting schedule is set only for the new tokens. The ILP is paid in CARBO tokens.
Withdrawing any portion of funds from a farm will trigger a claim for any accumulated Impermanent Loss Protection and cause the vesting schedule to reset.

Coverage is allocated on a continuous basis per farm per wallet, meaning that claiming and redepositing LP tokens after 100% coverage has been unlocked will not reset the claimable amount; realized claims are simply subtracted from future claims within the same farm.

Coverage remains dynamic after becoming fully vested according to changes in IL, meaning that claim amounts can still down after 100% has been achieved.
CarboSwap Tokenomics
Ticker: CARBO
Chain: Aptos
Total Supply: 129'280 CARBO
Division of tokens and token allocation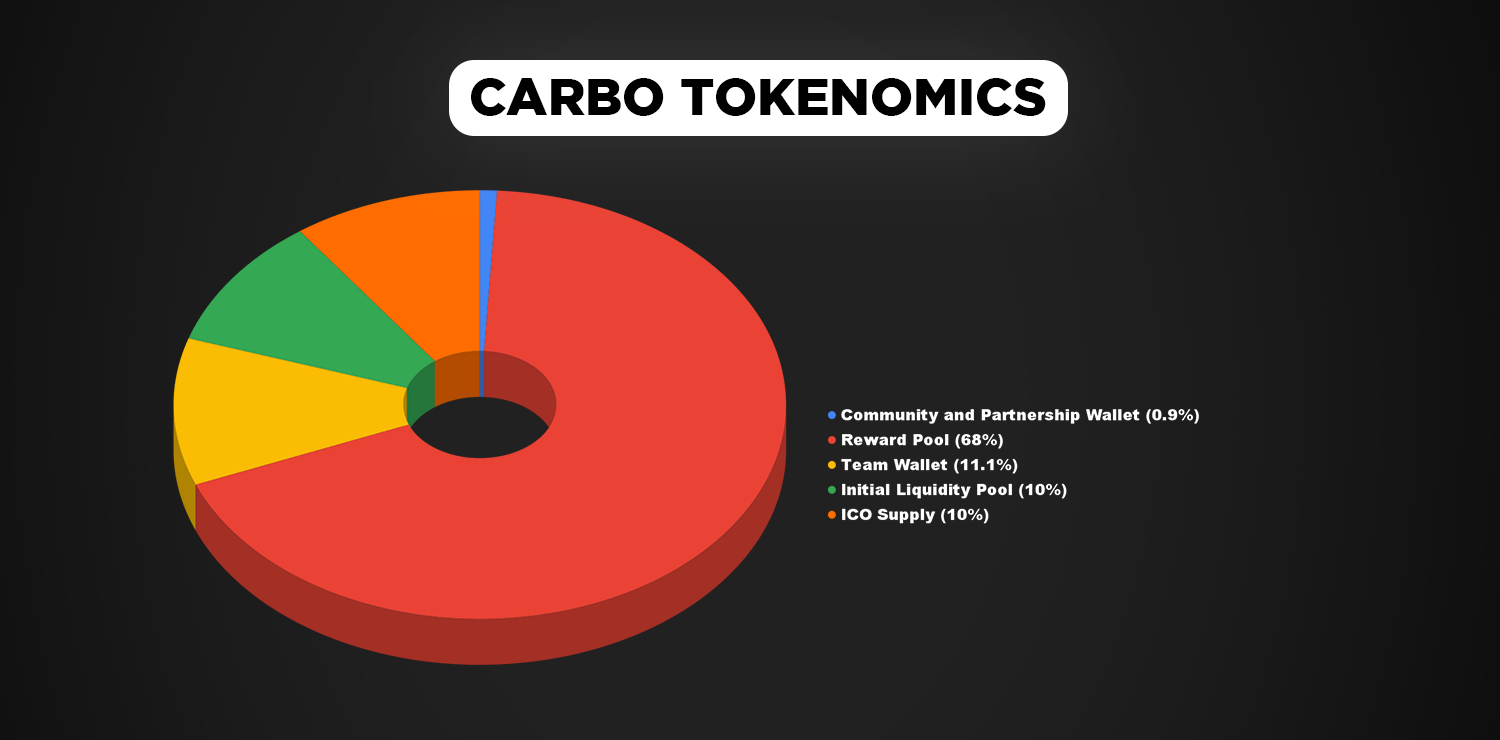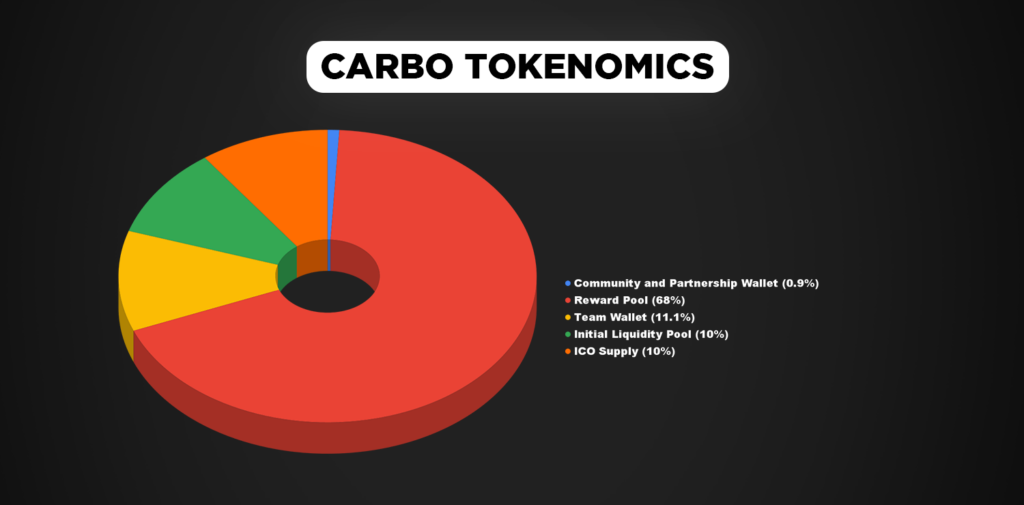 87'910.4 CARBO belongs to the reward pool. These tokens slowly get allocated to protocol users through incentives to ensure growth.
14'350,08 CARBO will be part of the team wallet, among which 12'928 CARBO (90.09% of the team wallet) will allow ICO participants to hedge themselves in the first few weeks. The team wallet tokens are locked until November the 1st of 2023. From that point on, 4.17% of the tokens will unlock themselves each month. Team wallet tokens can't be staked in their products.
12'928 CARBO will be injected into the initial liquidity pool with 6'464 APT, meaning that 1 CarboSwap token will be worth 0.5 Aptos Coins at public launch. Liquidity will be added through a multisig and locked for 10 years by the smart contract.
12'928 CARBO will be sold during an ICO that aims to raise 6'464 APT. This event will be held privately to reward our early members and funds raised will be used to bootstrap CARBO's liquidity pool.
1'163,52 CARBO will go to a community-owned wallet led by multiple trusted members of the community through a multisig. This will allow them to perform big community events and potential partnerships with other projects and communities.
Since these are the early days for CarboSwap, they are giving out Whitelist spots for users who want to be early and be a part of the project. The whitelist roles are named Carbolist and Turtlelist.
Turtlelist & Carbolist Information
While both roles have their own advantages, you can check out the perks each of them get on the whitepaper. Carbolist and Turtlelist members will also be able to take part in an ICO. ICO's hardcap is fixed at 6'464 APT and will last for 24 hours. Turtlelist members can purchase tokens up to 80% of hardcap (5'171.2 APT). Maximum participation per user is 212.1 APT allowing every single Turtlelist member to decide whether they want to purchase tokens or not. 12 hours in, Carbolist members will now be able to purchase unsold tokens. From there on, maximum participation is 101 APT per user and the ICO becomes a first come, first served basis.
We will update the story when CarboSwap goes live, but till then, you can join the Discord community of CarboSwap to try and earn the early roles so as to be able to participate in the sale.