OnePlus launched its first ever device, the flagship killer OnePlus One last year, with the list of specs competing against the flagships from other brands, including Samsung, HTC, Sony and Apple. It could beat the Galaxy S5 from Samsung easily, thanks to the great performance, excellent interface and a beautiful design, with its price being icing on the cake.
This year, the flagship from Samsung is much better than its predecessor, and it still holds strong to be called one of the best smartphones of 2015. The newly announced OnePlus 2, according to OnePlus, is a true killer of all flagships this year. The specs seem to say so, but not in every way.
The other flagship smartphone this year is the Sony Xperia Z3+, and if you are confused about that, find the OnePlus 2 vs Sony Xperia Z3+ comparison.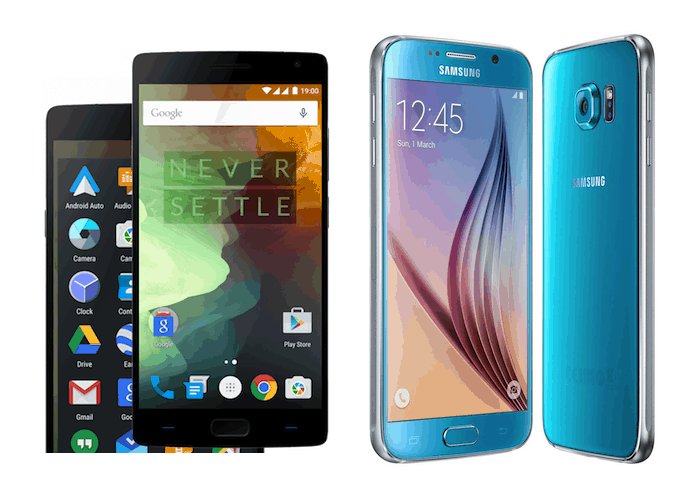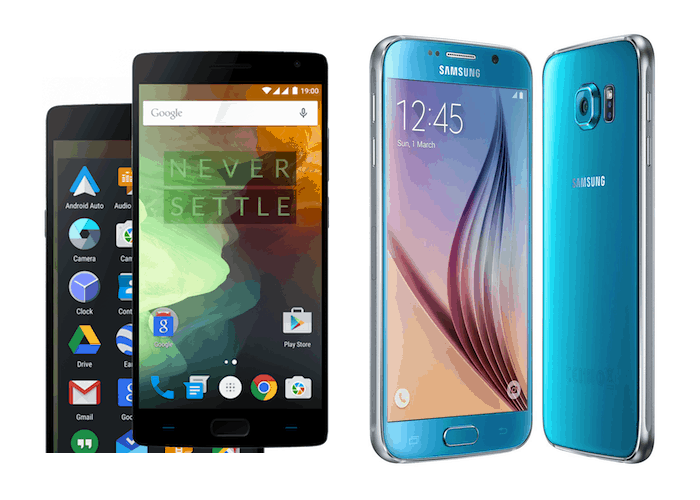 Display – Here, the Samsung Galaxy S6 should be a clear winner, given how the device comes packed with a 2K resolution display in a 5.1-inch screen. On the other side, the OnePlus 2 comes with a 1080p display under a 5.5-inch screen. The sharpness is better in the Galaxy S6, no doubt, but even with the color reproduction and viewing angles, one cannot take credit away from the super flagship by Samsung.
| | | |
| --- | --- | --- |
| Features | Samsung Galaxy S6 | OnePlus Two |
| Display | 5.1-inch 2K resolution (1440 x 2560 pixels) Super AMOLED | 5 to 5.5 Inch Full HD LTPS IPS |
| Processor | Quad-core 1.5 GHz Aortex A-53 Exynos 7420 processor | 64-bit V2.1 Qualcomm Snapdragon 810 with Adreno 430 GPU |
| RAM and Storage | 3GB, 32/64/128 GB | 4GB DDR4 RAM for 64GB and 3GB DDR4 RAM for 16GB models |
| Camera: | 16MP rear camera with OIS and  5.1 MP front camera | 13MP rear camera with OIS and 5MP front camera |
| OS | Android Lollipop 5.0.2 upgradable to 5.1.1 | Android Lollipop 5.1 based Oxygen OS |
| Battery | 2550mAh | 3300 mAh |
| Connectivity | 4G LTE, Bluetooth 4.1, Wi-Fi 802.11 dual-band, NFC | 4G LTE, Bluetooth 4.1, Wi-Fi, NFC |
| Price | $635 or Rs. 40,000 | $329 or Rs. 22,999 and $349 or Rs. 24999 |
| Additional features | Finger Print scanner, Heart rate sensor, NFC and Quick Charging | Finger Print scanner, Laser Autofocus |
Processor – Not an easy comparison here, as Samsung ditched the Qualcomm chipsets for this year's flagship, and it has used its own Exynos 7420 processor and that did very well. On the other hand, OnePlus 2 is getting its power from Qualcomm's infamous Snapdragon 810 processor, which is optimized to do well on this device, but there are still questions raised as the speeds are throttled.
RAM, Storage – There's 3GB of RAM provided in the Galaxy S6, but with the OnePlus 2 there are two variants, one with 3GB RAM and other having 4GB RAM. Storage options in the S6 include 32GB, 64GB and 128GB options, while it is 16GB and 64GB options for OnePlus 2, and RAM provided depends on the variant with particular storage option (3GB for 16GB, 4GB for 64GB).
Camera – Another area where the Galaxy S6 can be easily called the better one. Although the OnePlus 2 came in with many improvements from its predecessor's 13-megapixel camera, that isn't enough to beat the 16-megapixel shooter on the back of Galaxy S6. There is optical image stabilization in both, and laser autofocus is provided on the back of OnePlus 2, but Samsung's camera has been ruling the charts every year, for the capture quality and color reproduction.
Software – OnePlus ended the deal with Cyanogen team and is now running its own Oxygen OS, based on Android 5.1 Lollipop, in the OnePlus 2, while Samsung is running Android 5.1 with its TouchWiz UI. Frankly, even if Oxygen OS is limited with options, the TouchWiz UI with its heavy animations tend to slow down with time. It indeed is colorful and better at looks, but the user experience in Samsung phones tend to change with time.
Battery – OnePlus does better, not just with capacity but also with the actual usage. The Galaxy S6 comes with a 2550 mAh battery, while the OnePlus 2 is packed with a big 3300 mAh battery. In real use, the OnePlus 2 is able to get more than an hour extra screen-on time than the Galaxy S6.
Price – Clearly, you know why OnePlus is popular and liked so much. It is not only because of its smartphone, but for the pricing it sets. The Galaxy S6 is no where below $600 in all the markets, while OnePlus 2 64GB variant costs $379, or Rs. 24999 in the Indian market. A lot cheaper, with some specs being better. Find the OnePlus 2 price and availability in different markets.
Also read: OnePlus 2 vs OnePlus One comparison
Final Verdict – Which is better? OnePlus 2 or Galaxy S6?
But does the price make it a winner already? we are talking about a flagship where you expect to see the latest tech. Of course OnePlus 2 has got a fingerprint sensor, but Samsung Galaxy S6 too has one. The S6 also has a heart rate sensor, but we won't praise it as the practical use doesn't seem to be high. OnePlus ditched NFC, and the USB Type C port it uses, doesn't support quick charging.
While for those with a tight budget, the OnePlus 2 can be the perfect choice as it offers better battery, laser autofocus and the 1080p display might drain the battery lesser, but for someone looking at flagships and want the best in their hand, the Galaxy S6 (with only the battery compromise) is blindly the better choice.