The third largest mobile service provider globally, Bharti Airtel has announced a partnership with ErosNow, the bollywood entertainment network, to come up with a carrier based mobile app – Wynk Movies.
Wynk Movies is just like any streaming service, but this is for movies, and the marketplace has thousands of movies to choose from. The app already has movies from several partners, but the addition of ErosNow gives access to a lot more. Some movies that haven't got their television premiere, will be available on the app – including Tanu Weds Manu Returns, Shamitabh, Badlapur, Happy Ending and NH 10.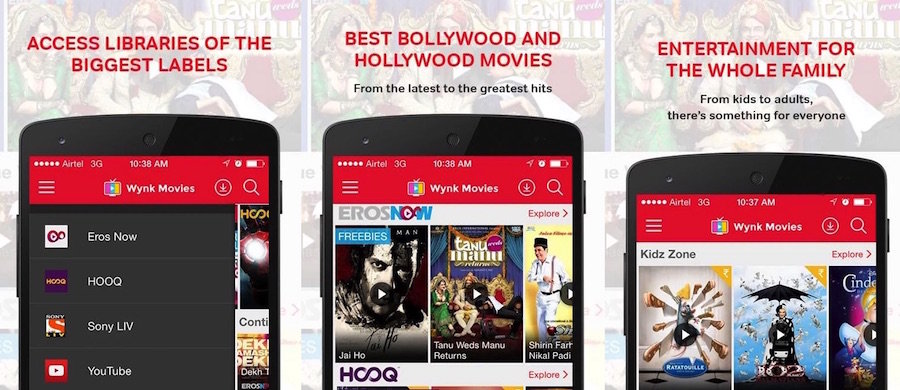 The partnership was to even highlight the capability of seamlessly streaming movies on Airtel's 4G network, though the streaming is possible even on the other networks, i.e. 2G, 3G, and the Wi-Fi connection.
Kartik Sheth, CEO – Wynk said,
We always partner with the best and are confident that having Eros's premium content as one of channels on our app will help drive faster adoption for video services in the country. As smartphones penetrate deeper leading to a surge in the consumption of videos on mobile, Wynk Movies will further empower users to seamlessly access the best of video content on the move.
Rishika Lulla Singh, CEO Eros Digital said,
"Armed with our content library and first mover advantage, our vision for ErosNow is to fulfill the growing consumer need for endless premium entertainment on-demand and on-the-go, whether on their smartphones, tablets, laptops or internet enabled devices. An important part of our strategy is to be platform-agnostic and we are delighted to tie up with Airtel, a leading player in its space and a front runner in the 4G revolution where we believe our content and distribution synergies will create a win-win consumer proposition."
The mobile app is already available on Android since it is streaming movies from other partners, but now, you will also be able to access movies from ErosNow network. Download the app from Google Play Store. Movies from Hooq, Sony LIV, YouTube and DailyMotion are also available. There is no iOS app available currently.