Motorola smartphones are the ones with least bloatware, and are able to provide the users with a near-stock experience, which is easy without a hassle, and are able to keep up with the performance, as the levels of animated functions and responses are kept at minimum by Google in Android OS, and Motorola chooses not to play around much with it. The Moto G 3rd gen. is a good mid-range phone from the company, and we take a deep dive into the OS to show what comes included in the interface of the device.
It is running Android 5.1.1 Lollipop OS version with the near-stock Android experience. Check the Moto G 3rd gen. pros and cons.
Read our Motorola Moto G 3rd gen. Review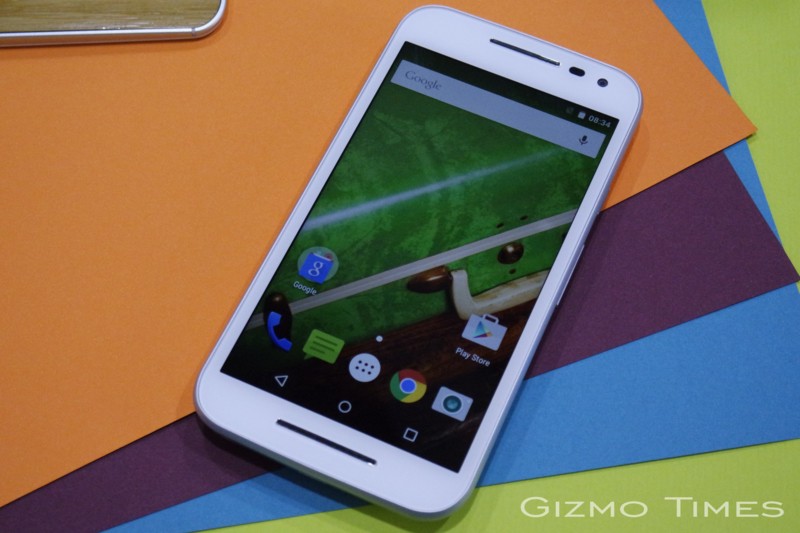 Lock Screen & Home Screen
When there is a notification, the dark display with time widget and notification shows up on the screen. If not, the lock screen is a standard one, with the time and date widget, notification below it, and the three options in the bottom – swiping up unlocks the screen, swiping from left to right opens the Phone app, and from right to left opens the Camera app.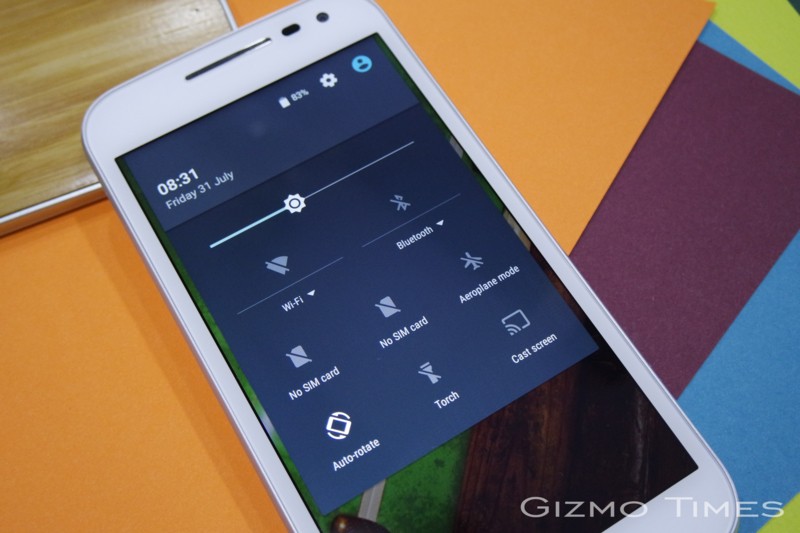 The notification panel and quick settings can be accessed from the lock screen as well. There is a single home screen by default, and dragging an app icon to the right adds to the number, so you can have multiple home screens.
Tapping and holding anywhere on the home screen would open up options – Wallpapers, Widgets, and settings. The settings are basically Google Now settings, and the other two, you know what they are for.
Notification Panel & Quick Settings
Remember, we are talking about a phone with near-stock Android experience, so the notification panel and quick settings section is what you see as default on Android. A single drag would show any pending notifications, and another drag down pulls open the entire quick settings section.
What are the quick settings? This area is not just for those settings but shortcuts as well. The shortcuts are for battery info, settings, and accounts. Below that is a brightness toggle, though for the automatic brightness setting you need to go to the display settings. The quick settings are for Wi-Fi, Bluetooth, SIM settings, Aeroplane mode, Auto-rotate, Torch, Location, and Cast screen.
The pre-installed apps in the Motorola Moto G 3rd gen. include the Google Play apps, Flipkart, FM Radio, Gallery, Camera, Migrate, Moto, and Messaging. Moto is a very handy and important app, which helps the user in getting things done automatically.
What is Moto Display?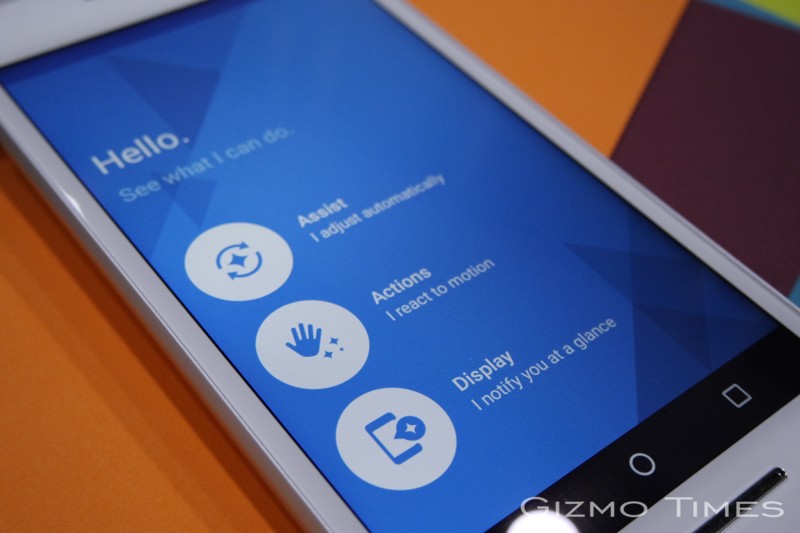 This is a notification screen that appears when the screen is turned off and a notification appears. This can be set up for particular apps, and certain apps can be blocked from showing notifications on Moto Display. The user can also choose to show entire notification detail, and whether to vibrate on touching the notification. When a notification arrives, you can tap and drag the notification icon up to open it, or drag it down to just unlock the screen and reach the home screen. To ignore the notification, drag it to left or right.
What are the gesture actions in Moto G?
Double karate chop for torch – Karate chop is a simple knife cut action, which has to be done twice to turn the torch on, even when the screen is turned off. It would give a vibration whenever activated or deactivated.
Twist for quick capture – Open the camera app by twisting your wrist twice.
To turn on these gesture settings, you need to go to Moto app in the phone, and these both will be available under "Actions – I react to motion" section.
What is Moto Assist?
This is a feature under Moto app, which allows user to set certain functions at a particular location. You can set a location as home, or office, and set the phone to turn certain functions on when the phone detects the location.
There are several settings, though these are all the basic Android settings, except Moto settings in the Moto G.
Display Settings in Moto G 3rd gen.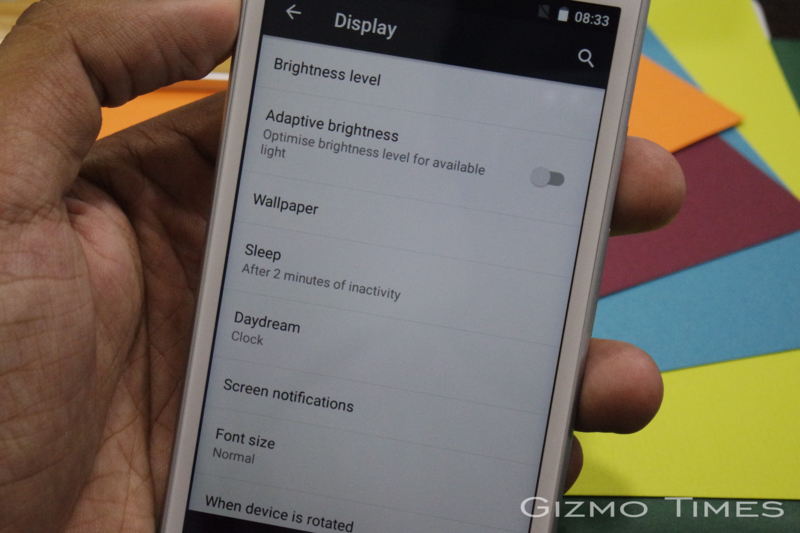 The settings available are:
Brightness level
Adaptive brightness: this optimizes brightness level for available light
Wallpaper
Sleep time settings
Daydream settings allowing to change between clock, colours, google photos, photo frame, and photo table.
Screen notifications: Takes you to Moto settings
Font size: toggle between Small, normal, large, and huge
Screen rotate options
Cast screen
Sound & Notification settings in Moto G 3rd gen.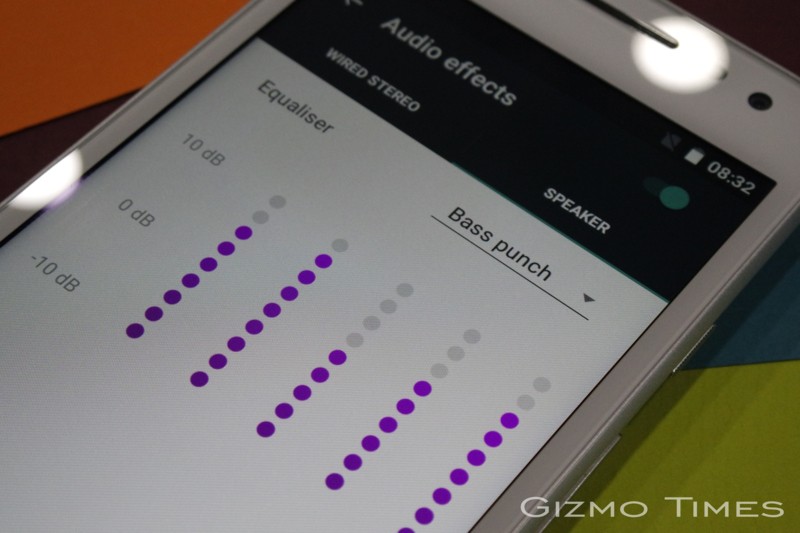 Audio effects: This setting allows user to change the audio output with equalizer settings like Extreme bass, bass punch, balanced, brilliant treble, vocaliser, and off to turn off manual setting.
Similar settings are there with effects profile for wired stereo as well.
Volume levels for media, alarm, and ring alerts
Other settings are for vibration on calls, interruptions (which we will explain later in detail), ringtone, notification ringtone and other sounds such as toggles for dial pad tones, screen locking sounds, touch sounds, and vibrate on touch.
App notifications – where not sounds, but toggle on whether to receive notification, prioritize, or block notifications can be selected for every app.
Battery Saver Setting in Moto G 3rd gen.
The default battery saver function of Android is the one available in the phone, and it helps improve battery life, by limiting the performance and limiting vibrations, location services and also most of the background data.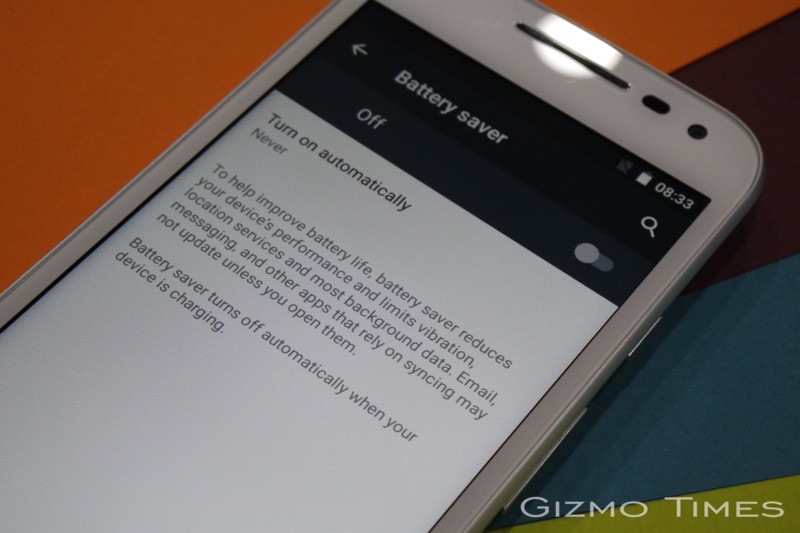 To activate battery saver function, go to Battery section in Settings, and tap on the menu option on right top corner, to see a dropdown list of options. Tap on Battery saver, and you enter the battery saver settings. This can be turned on manually, or set to turn on automatically whenever the battery reaches 15% or 5%.
Other settings in Moto G 3rd gen.
Location settings allowing the user to switch between High accuracy, battery saving, or Device only.
Security settings doesn't include Face unlock, and there are options for encrypting phone, app installation from unknown sources.
Language & input settings have hindi language for selection, and there are voice input as well as text-to-speech output.
The navigation buttons are a part of the display, and the three are for Back, Home, and Multitasking. The multitasking page has a vertical carousel of thumbnails of running apps.
That's it for the important settings available in the device, and the deep dive into what is available in the interface of the mid-range smartphone from Motorola. Comment below if you have anything to ask about the Moto G, and are stuck with some error in the phone.