Just recently, I stopped writing at PhoneRadar, where I used to take care of quite a lot of stuff. But as the name suggests, that limited me to Smartphones. The smartphone arena isn't easy enough to cover, but smartphones alone don't constitute technology.
When I started The Wearable Stuff, it was a single thought in my mind – there's no perfect source to talk about wearables, but then, now I felt even that website would be limited to one particular niche.
Gizmo Times is something I have been working on, since a few months. The goal remains one – become a trusted, followed, and lauded source for technology news, reviews and everything an end user would want to know.
It isn't just me here, but "we" as a team here would like to welcome you to this awesome resource! Yes, we call it awesome already, because we know what we have been doing here since the idea came into our mind, and what we intend to do with Gizmo Times.
So, join in and we'd love to have you on board if you like to contribute, and not limit to reading. We are on the social networks to connect with you always.
Here's quickly explaining how you can navigate around easily.
All the latest news this week
There's this button in the menu from where you can browse for all the news from one place.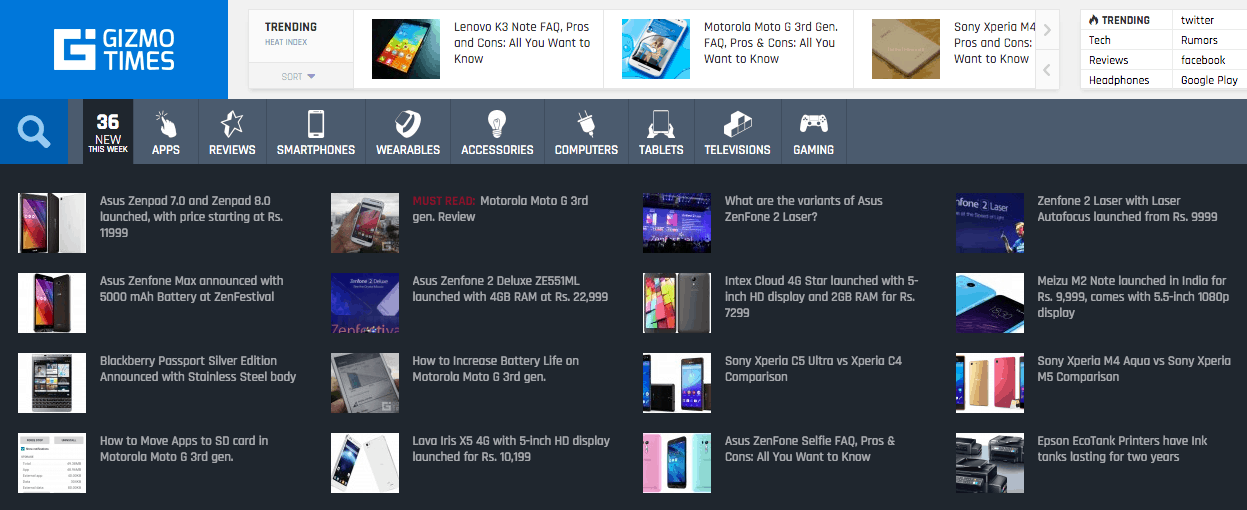 Category Menu
All the latest and best from a particular category, out of the nine most important ones we consider in the world of technology.

Want to head to a particular category?
Browse down to the panels below the latest news section, and you'll see the thumbnails for categories.

A dedicated smartphone and how-to section
We have two very important sections in the bottom. One for smartphones, for those who are not the biggest enthusiasts of tech but follow smartphone news very well. There's a how-to section as well.