There was an announcement by Facebook regarding a new Security checkup feature which is being introduced to help users in keeping their accounts safe. This feature is mainly useful in eliminating any existing or unwanted log-ins and preventing any log-ins in the future. The Facebook security feature has not been rolled out to all users, for those who have got it you will be prompted when you log-in to your Facebook account from your Desktop.
In case you are not getting the feature you can follow the below given steps to manually access the webpage and check out the security feature immediately instead of waiting for the update. This features is a lot useful for all users and mainly for those who keep opening their account from multiple locations and use random PC's or Laptops.

How to Set-up Facebook Security Features in you account:
Go to this webpage – Facebook Security checkup
Login to your account
You will be seeing a list of apps and browsers in which you are logged in from your Facebook account. And if you are not logged into any account you will be getting "Noting to Review message"
You can now either select each single app or browser and log out of them or Select
All and Log out of all of them at a time.
Click on Select All or choose the Apps/Browser you want to log out from and click on "Log out of all"
This will close down all the log-in sessions across all the browsers and apps which were active.
After you have closed down all the Unused Apps and browsers you can activate the "Get Login Alerts" option. This will alert you by either sending an Email or will text you as an SMS to your number.
Under the Get Login Alerts you have select the options which you want to activate
Click on Get notifications
Email login alerts to – your Email i.d
Get text alerts sent to – your mobile number
Now click on the Turn On Alerts option in the right side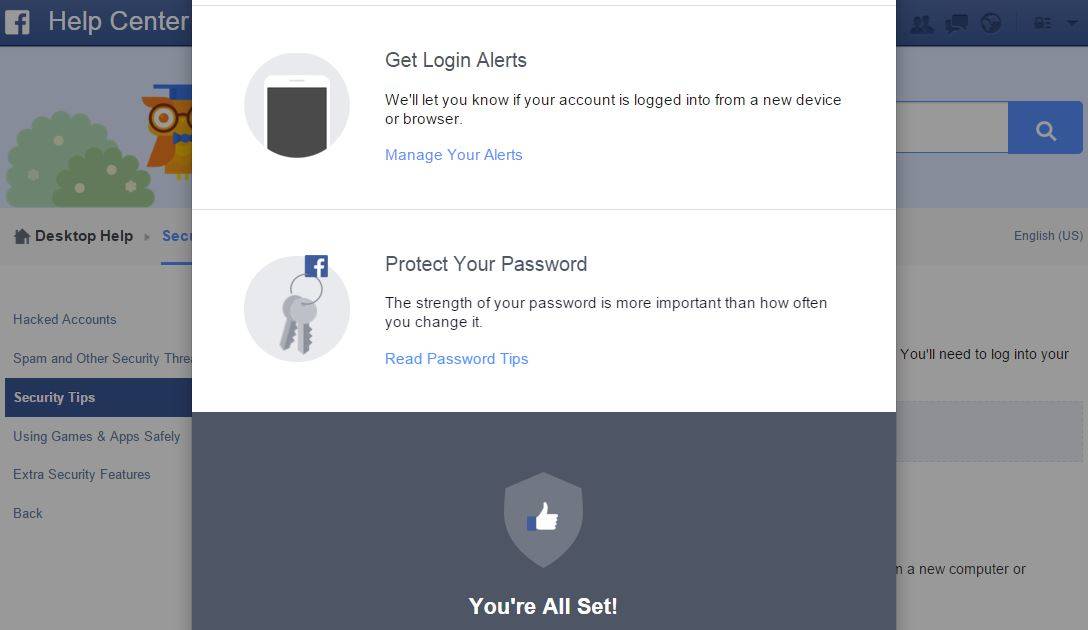 Now you will be getting a SMS or Email notification, whichever you have selected, whenever you try to log-in from a new desktop, mobile browser or App and you can follow the above step to take action and Log out of all the accounts.
In the end Facebook has listed out some points to "Protect your Password", read these tips and make sure that you keep changing your password regularly which will keep it unique. After reading these tips if you wish to change your Password click on the Change Password button on the bottom right and change it to something unique.