At the Google for India event in Delhi, the Asus Chromebit plug in device was launched by Sengupta Google VP, product management after the Keynote by Google CEO Sundar Pichai. The Chromebit  by Asus which runs Chrome OS will be released by the company in January 2016. The device was announced way back in April and launched in US last month priced at $85.
The Asus Chromebit is powered by a Quad-Core Rockchip RK3288-C processor with four ARM Cortex-A17 cores and Mali T764 GPU and coupled with 2GB of RAM and 16GB of eMMC internal storage. With the built in Chrome OS you can plug it into any Television or Monitor and connect to a keyboard and mouse and turn it into a PC thanks to the Wifi 802.11ac (dual-band), Bluetooth 4.0 options available.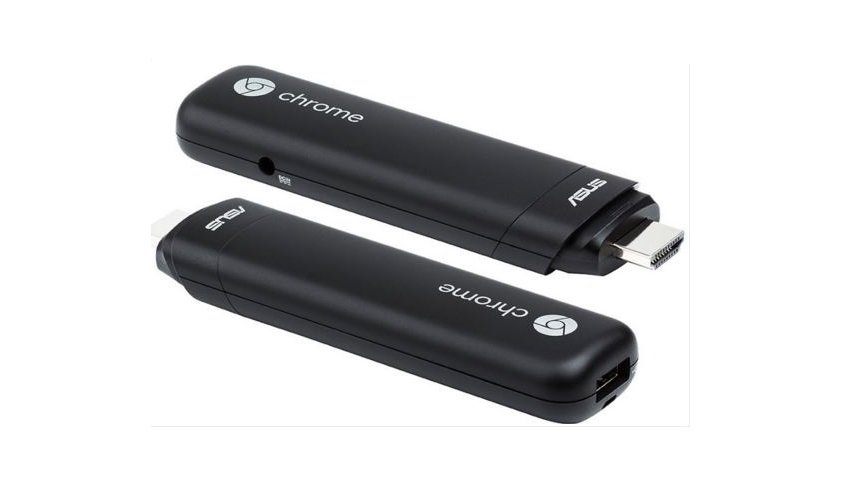 The Chromebit comes with USB port connectivity options. It comes with free 100GB of Google Drive space for 2 years. There are HDMI, USB 2.0, DC-in (12V, 1.5A, 18W adapter). The device measures 123 x 31 x 17 mm and weighs 75 grams, because of the elongated size of the device Chromebit ships with an HDMI extension cable and adhesive hook-and-loop stickers, which help in connecting it on devices which are wall mount with the cable.
The Asus Chromebit will be available from next month – January 2016, it was launched last month in US at a price of $85. In India the Asus Chromebit is priced at Rs. 7,999 as announced in the Google for India event. At the same event Sundar Pichai announces a new campus at Hyderabad and WiFi connectivity at Stations across India.