Toshiba has launched their new range of 6-series consumer-grade hard drives, today. The Toshiba hard drives include the P300 Desktop PC Hard Drive, L200 Laptop PC Hard Drive, X300 Performance Hard Drive, N300 NAS Hard Drive, S300 Surveillance Hard Drive and V300 Video Streaming Hard Drive.
Each hard drive comes with color-coded labels as well as on the packaging to indicate and differentiate each hard drive from one-another based on the drive's use case and application.
P300 Desktop Hard Drive
The P300 hard drives are desktop compatible drives with storage capacities up to 3 TB and have a speed up to a maximum of 7200 rpm. The hard drives come with built-in shock sensors which help in detecting impacts and reduce the vibration during reading and write operations. The sensors also help in improving tracking accuracy as well as the performance of the hard drive.
L200 Laptop Hard Drive
The L200 series of laptop-grade hard drives come in 2.5-inch form factor with up to 2 TB of storage capacities to choose from. Similar to the P300 drives, the L200 drives come with shock sensors. The low profile drives are said to be specially designed to consume less power and optimize the device's battery life. It also has ramp loading technology for better reliability. The L200 drive works with all major notebook computers, gaming systems.
X300 Performance Hard Drive
The X300 series of performance drives offer up to 10 TB of storage capacity and have a 3.5-inch form factor. The drive's speeds can ramp up to 7200 rpm and a cache size up to 256 MB.
These performance drives are designed to run creative and professional applications such as graphic designing, animation, photo and video editing as well as PC gaming.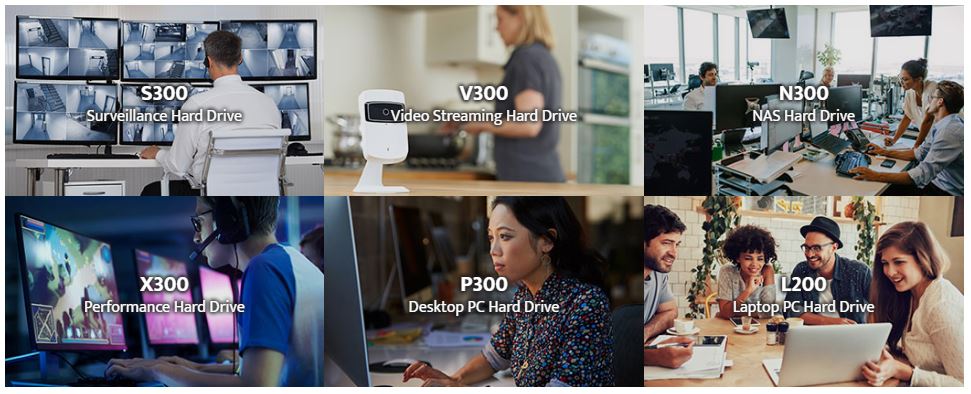 N300 NAS Hard Drive
The N300 NAS hard drives are geared towards small business, home office, and personal solution and come in capacities up to 10 TB. For the 10 TB hard drives, the data buffer size is 256 MB and has a 7200rpm speed. The hard drives are said to be optimized for performance, reliability, endurance and have a workload rating up to 180 TB/ year. These drives can be scaled up to eight drive bays for a multi-RAID NAS solution.
S300 Surveillance Hard Drive
The S300 series of drives are designed to sustain 24/7 workloads such as in a surveillance system. The drives are available in capacities up to 10 TB, with a cache size of 256 MB. With up to 7200 rpm, the drives have a maximum data transfer speed up to 248 MB/s.
The S300 drives can handle workloads up to 180 TB/year and are supported in surveillance Network Video Recorder (sNVR), surveillance Digital Video Recorder (sDVR), hybrid sDVR and RAID storage arrays.
V300 Video Streaming Hard Drive
The V300 Video Streaming hard drives are designed to record and playback videos reliably. The V300 drives come in capacities up to 3 TB and have support for video editing systems, set-top box, digital video recorders and network video recorders.
The drives have silent-seek technology which ensures quiet operation, while the energy efficient design reduces power consumption by up to 25%.
Pricing and Availability of Toshiba Hard Drives
The pricing and availability of the Toshiba hard drives haven't been announced yet.