Earlier when Xiaomi first announced the Mi Mix 3 the company also talked about the new 5G variant of the smartphone that is expected to be coming soon, the brand has finally taken the cover off the Mi Mix 3 5G edition and unveiled it in all its glory. While the design and most features of the smartphone have remained the same, it has received few updates.
The Mi Mix 3 is now powered by the Qualcomm Snapdragon 855 chipset and comes with the X50 5G modem built-in. This makes it the first ever 5G smartphone form the brand and one of the first 5G compatible smartphones. The Mi MIx 3 retains all the good things about the smartphone and makes slight improvements in the right direction. The device still uses the slider design to minimize the bezels while effectively avoiding the notch.
The Mi Mix 3 was first demoed a few months ago and has been available for purchase ever since the most unique features of the smartphone are the sliding design and the concealed cameras that become visible when it has been slid. The brand has been working hard on the 5G technology and has finally introduced their first 5G smartphone internationally, the Mi Mix 3 5G has the potential to be one of the most economically priced smartphones with support for 5G.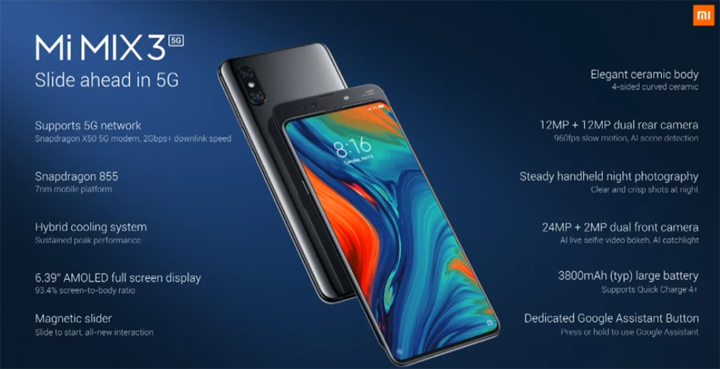 The brand also demoed a live video call with members from the Orange network, this was a huge move for the brand and the company seemed confident about their ability in showcasing the latest 5G technology on the Mi Mix 3 5G edition. The new Mi Mix 3 5G edition comes at a price of 599 Euros and will be available starting May'19.