ZTE has put up a budget phone for crowdsourcing on Kickstarter and the price for the smartphone is set at $199. Named as the Project CSX, which later got the codename Hawkeye, the smartphone had got its name during the CES 2017 event in Las Vegas and the company is slowly showing some progress with regards to the development, first by revealing the specifications that will be on offer in the Hawkeye phone.
The phone is available for pre-order on Kicksarter but the shipping of the phone is expected to start from September 2017. The idea behind the naming of the phone is its eye-tracking technology, which will track the movement of the eyes to understand and respond in the interface. But that is not it; if you check out the list of specifications given below, you will find that the phone is quite powerful for the price that is being asked for it.
A Full HD display is commonly expected, but the inclusion of the Snapdragon 625 processor, Fingerprint scanner, NFC, 3GB of RAM and importantly, a dual-lens camera combination on the device does talk a lot about how well the phone is planned. Though it will run Android Nougat OS and will have the hands-free features included in it, by the third quarter of the year there will be developments on the next version of Android, and that is when the ZTE Hawkeye phone is shipping.
ZTE wants your inputs to find out what you would want in the color options and for the material finish, so you can visit and vote. Interested? Check out the specs below.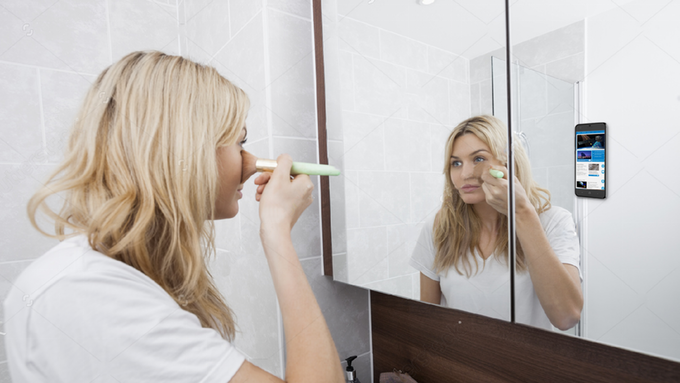 CPU: Qualcomm Snapdragon 625 (Octa-core 2.0GHz)
OS: Android Nougat (OTA update support)
Display: 5.5″ FHD (1920 x 1080)
Camera (Rear): Dual Lens 13MP + 12MP with optical zoom
Camera (Front): 8MP
Memory: 3GB RAM / 32GB ROM (expandable with additional 256GB)
SIM Slots: Dual SIM slot (additional slot may be used with MicroSD for storage)
Battery: 3000 mAh
Other Features: Fingerprint sensor, Hi-Fi audio, NFC, USB Type C, Quick Charge 2.0
Network Bands*
GSM: 850/1900/900/1800
UMTS/HSPA: 850/1900/AWS/2100
LTE: B2/B4/B5/B7/B12/B13/B66 CAT6
Hands-free features of the Project CSX phone.
Scrolling based on Eye-Tracking – by recognizing movement of the eyes, pages can scroll automatically up-down or left-right based on movement. Voice commands can be used to navigate between pages.
Stick to Walls and Surfaces with Self-Adhesive Case – with an optional case, the phone can be mounted to a vertical surface, freeing up the need to hold the phone.
The picture shared above is a prototype as the final units are not yet made.
Check out the project on Kickstarter.