The service was in rumors for months now, and finally, YouTube has announced its plans for the new live TV streaming service, YouTube TV. It would allow users to view live and recorded content from different networks that YouTube has signed up with, and this will be available directly on YouTube with access available to only those who subscribe to it.
The cost for the YouTube TV service is $35 for a family account where six users can access it whenever they want it. This requires no long-term contract and you can just unsubscribe whenever you wish, and the billing ends there.
The networks available on YouTube TV include ABC, NBC, CBS, Fox, USA, and FX. A total of 10 sports networks will be available, including ESPN, Fox Sports and NBCSN. The service is said to be adding CW, USA, FX, FXX, Syfy, FreeForm, MSNBC, CNBC, Fox News, Fox Business, Disney, Disney Jr., NatGeo, Sprout, E! If you are interested to add ShowTime, there is an additional fee that you have to pay for it.
It is easily noticeable that several important networks are missing from the list, and according to YouTube, the talks are going on to sign up with these networks and have them on board. CNN, Viacom, Discovery, A&E, AMC and Turner are some of the channels that seem missing from the list, and Sony's PlayStation Vue service offers all these as well, for the same price of $35 per month.
"It's a testament to the way that YouTube works with partners of all sizes that we're able to offer up the lineup that we have today," said YouTube Chief Product Officer Neal Mohan. "We feel we're in a great position to reinvent the way TV works. No other company in the world has more experience serving high-quality video over the internet, high-def streaming, apps that don't crash and seamless integration with mobile and web."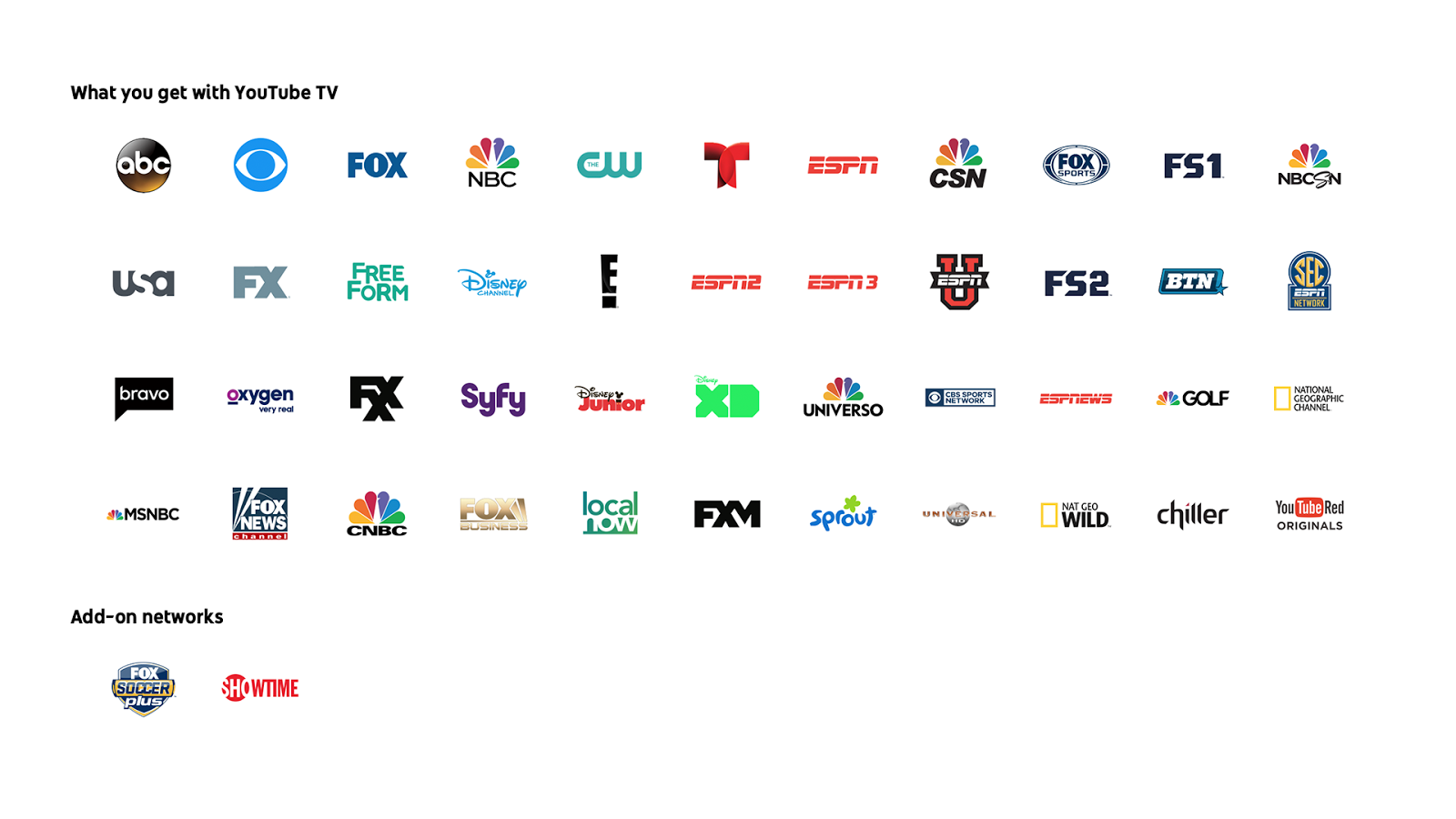 YouTube TV will offer unlimited Cloud DVR Storage, which will help you save any series to your favorites if you wish to watch it later. Also, just like how YouTube works with the machine learning network, YouTube TV will come up with loads of recommendations based on what you regularly watch. It is also said that YouTube TV will work with Google Home later, so you have to just command with the show you want to watch and it will start playing on the TV.
On the mobile app, you can record any show that is going on live but you are unable to watch it currently. One big plus will be the streaming of the mobile content to TV using Chromecast, so you can watch the saved content anytime on the larger screen. Casting will be possible only with the Chromecast, and initially, Apple TV, Roku, the PS4 and Xbox One will not be in the list for streaming the content from phone to the TV.
What happened to YouTube Red, then? The Red service was more about having stuff ad-free. YouTube TV will include everything from YouTube Red, like downloading and saving, etc. but according to the YouTube officials, YouTube TV won't make things ad-free as the channels will keep playing as they do always.
The service is limited to the U.S. right now, and even there, not every town will get it already. When entering a PIN code from India, it doesn't even accept that and asks for a valid code, and for the U.S. based PIN codes, it says that the service provider will contact whenever it is available.
Source: Google