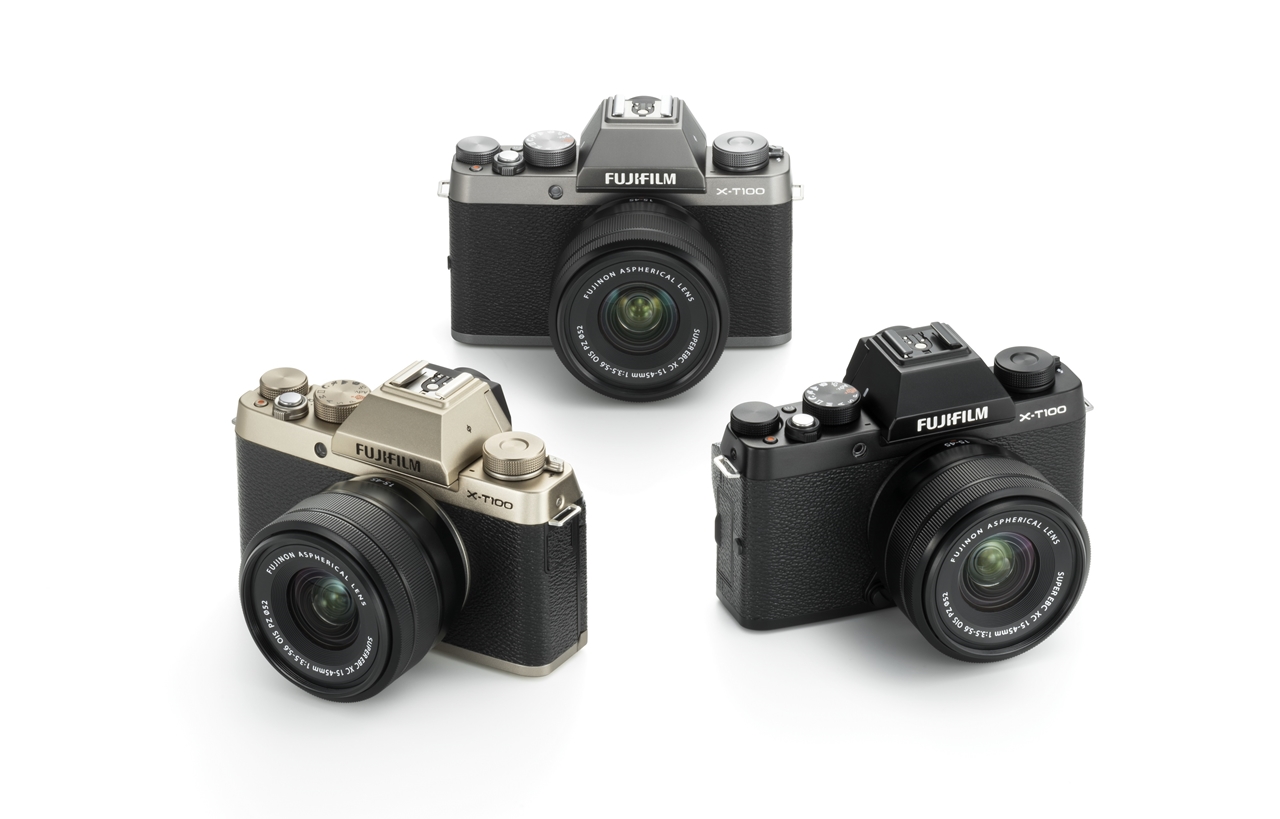 Fujifilm has announced their latest mirrorless camera in their X-series, the Fujifilm X-T100, today, in New Delhi. The new camera sports a 24.2 MP sensor that can shoot videos at 4K. The camera allows easy media sharing using Bluetooth LE. The camera's kit lens includes either a FUJINON XC15-45mmF3.5-5.6 OIS PZ lens or combo of XC50-230mmF4.5-6.7 OIS II lens and the FUJINON XC15 lens. The XC15-45mm is the first electric-powered zoom lens for the X Mount, that was launched alongside the Fujifilm X-A5.
Fujifilm X-T100
The X-T100 features a 24.2 MP APS-C CMOS sensor, which comes with Phase Detection pixels, a feature which is only available only in the high-end X-series cameras. Thanks to the new image processor used in the camera, it can shoot now 4K videos at UHD resolution although only at 15 fps frame rate. The camera comes with an Intelligent Hybrid AF system which is claimed to be twice as fast as the outgoing models.
In the SR+ Auto mode, the new camera combines the subject and scene recognition to perform significantly better than the previous models, with better color reproduction and skin tone reproduction. The camera has Burst function using which it can shoot at six frames per second. The camera offers High-Speed HD Video function that allows users to shoot HD 720p videos at up to quad-speed.
Commenting on the occasion, Mr. Haruto Iwata, Managing Director, Fujifilm India Pvt. Ltd. said,
"We are excited to announce the X-T100 as the latest addition to the X Series lineup, this new mirrorless camera is a perfect fit for photographers looking for an easy to use, compact and versatile camera, offering excellent image quality with a variety of enhanced features. Fujifilm has long been creating stylish, lightweight interchangeable lens cameras as part of our X- Series family, and with our brand new XT100 our endeavor is to offer an interesting blend of performance and value while retaining a sleek retro design. The Fuji X-T100 is designed to be easy to use and intuitive yet offer high-end image quality at an affordable price point."
The X-T100 has a 0.39-inch EVF and also comes with an articulable 3.0" LCD touchscreen, that can tilt up to 180° for shooting self-portrait videos or photos. The ISO range in auto mode is ISO 100-6400, while the camera has an extended ISO range up to 51200.
For connectivity, the camera offers Bluetooth low energy functionality, using which pictures and videos can be transferred to your smartphones wirelessly. For using the wireless transfer function, users are required to download the Fujifilm Camera Remote app.
As for the battery life, the camera can shoot up to 430 images on a full charge. The body of the camera weighs 448 gms including the battery and memory card.
Pricing and Availability of Fujifilm X-T100
The Fujifilm X-T100 comes in three color variants – Black, Champagne Gold & Dark Silver. The X-T100 body' only is priced at INR 47,999, body with the FUJINON XC15-45mmF3.5-5.6 OIS PZ lens has a price tag of INR 54,999, and the Dual Kit lens with XC15-45mm F3.5-5.6 OIS PZ & XC50-230mmF4.5-6.7 OIS II lens is priced at INR 70,999.
Learn more: X-T100