Samsung Pay is the mobile payment service, which the company has been talking about since quite some time. We finally have details about its launch date, and know when people are actually going to use it on their high-end Samsung smartphones.
The Samsung Pay service will be available in Korea from 20th August, and then it will hit the U.S. stores from 28th September. While unveiling the new Galaxy Note 5 and Galaxy S6 Edge+, the company's CEO and Head of IT & Mobile Communications Division, JK Shin said,
"With the launches of these exciting new smartphones, we will open a new era of mobile payment. This is Samsung's brave step forward to enhance our mobile experience. It is easy, safe, and most importantly, available virtually anywhere you can swipe a card, in most cases without new costs for merchants, from day one."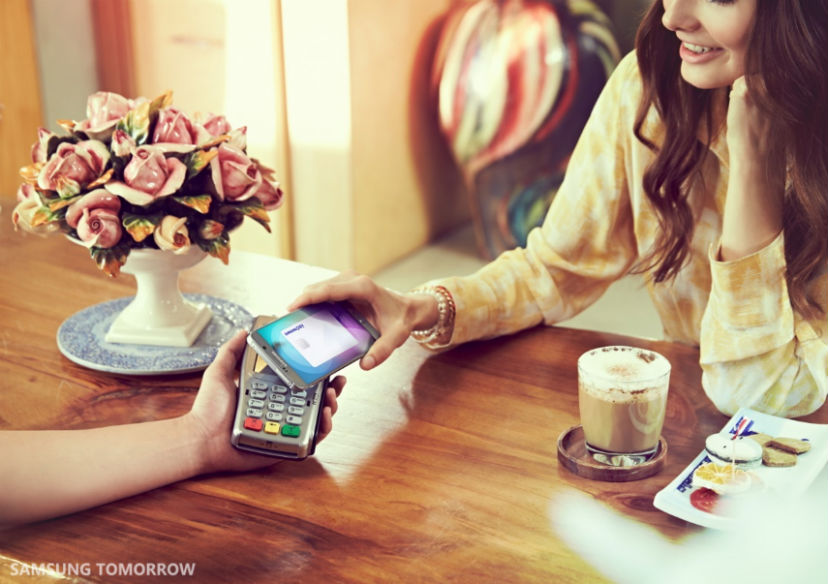 How can this be better than Google and Apple Pay?
It doesn't rely only on NFC unlike the other two competitor services, and the compatibility with Magnetic Secure Transmission (MST) technology makes it better, because most of the point-of-sale (POS) payment terminals support MST payment, and don't have NFC. Thus, you can rely on Samsung Pay more than the other two, and that is almost at every place where you would be using your credit or debit card.
Which phones come with MST for Samsung Pay?
Samsung has been working on Samsung Pay and knew that this is going to be in the future devices, thus the devices from last year have been coming with MST built-in. Galaxy S6, S6 Edge, S6 Edge+, and Note 5 are the phones that would be able to make payments via. MST on Samsung Pay.
Otherwise, there is NFC for the payments and the service would store credit card and loyalty card details of the users to make it easier for future transactions.
How secure is Samsung Pay?
The Samsung Pay technology uses three security measures together, including tokenization, Samsung KNOX, as well as fingerprint authentication, so as to reduce any security risks, and make the payments secured.
How to activate and use Samsung Pay?
It is pretty easy a task to activate Samsung Pay and make the payment, but unlike Apple Pay and Google Wallet, you as a user will have to initiate the payment.
Swipe up from the bottom bezel of the screen, and that works even when screen is turned off. A credit card would show up on the screen, which needs to be authenticated with fingerprint, and then you can choose to pay using NFC or hold the smartphone close to where you swipe a credit card on the machine.
Would I be able to use Samsung Pay at ATM machine?
Wherever there is a need of a physical trigger for reading the card, there you won't be able to use Samsung Pay to make payments. At places such as ATM Machines, as well as at gas stations, you won't be able to make payment using Samsung Pay.
Which all banks and services will this work with?
From Samsung Tomorrow, it is said: Samsung anticipates working with payment networks such as, American Express, Discover, MasterCard and Visa, major banks including Bank of America, Chase, U.S. Bank and key financial partners including First Data, Synchrony Financial and TSYS to extend Samsung Pay to the U.S. Samsung anticipates working with all major Korean card companies including Samsung Card, Shinhan Card, KB Kookmin Card, Hyundai Card, Lotte Card, NH Nonghyup Card, BC Card, Hana Card, Woori Card and Citi Card.
Did Samsung make MST Technology?
Samsung could get the MST working, after it acquired LoopPay back in February, and it was LoopPay, who developed the MST technology. After the acquisition, Will Graylin, LoopPay's co-founder become a part of Samsung, and he expects the Samsung Pay service to work at over 80% of the stores which accept credit cards.
How much will the user be charged for using Samsung Pay?
For now, the word is "nothing". The user won't be charged any transaction fee for using Samsung Pay for payments. We do not know of the future plans.
"Instantly on day one, because of MST technology, Samsung Pay will be accepted almost anywhere consumers can pay today," said Jim McCarthy, Executive Vice President of Innovation and Strategic Partnerships at Visa. "We see this as a huge step forward for consumer choice and payment security."
Source: Samsung Tomorrow