Korean Manufacturer LG is going to unveil their latest line up of Home appliances under the LG Signature Premium Lineup of Home appliances. The company is planning to shake up the home entertainment and appliances market with the launch of its new premium LG Signature line up at CES 2016. The company which already has many of its products under almost all categories will be releasing the new high-end products at CES. LG is going to release LG webOS Smart TV 3.0 in CES 2016 as well.
According to LG the products under the LG Signature line up have been designed by a special team of designers to give htem that premium look and feel fit for the name. The LG Signature Premium line up will be consisting of television, refrigerator, washing machine and air purifier at launch and other products will be added in the future.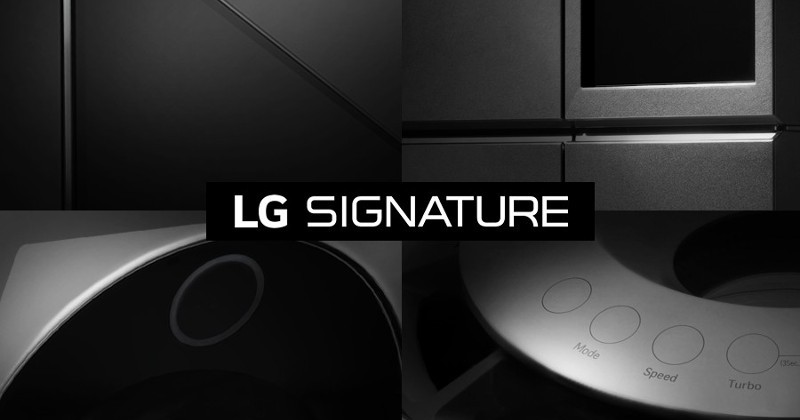 Commenting on the launch, Brian Na, executive vice president and LG's global marketing officer, said, "Drawing on LG's best-in-class technologies and designs, the LG SIGNATURE brand will carve out new territory for high-end appliances and consumer electronics," he added "LG's innovation leadership in both consumer electronics and appliances gives us an advantage that very few companies have. LG SIGNATURE is a unique evolution not only for our brand, but for the industry as a whole."
The LG Signature range will be having an elevated sense of form and functionality which has been achieved by stripping of features that detracted from the brand's design philosophy which it "The Art of Essence". The company is planning to bring in the finest quality which brings the owners a sense of exclusivity. It will be interesting to see what LG is trying to do here, is the Signature line up going to concentrate on design aspect alone or will it be bringing any unique features or will it be a combination of both.
The pricing of the devices will be higher and with LGs determination to shake up the home entertainment and appliance market is a welcome change which will make other companies take notice and bring out better and premium products as well.
The LG Signature Premium line up will be announced at CES 2016 in Las Vegas on 5th January at 8 p.m PST. According to LG the signature line up (pilot batch) will be available in North America, Europe and Asia after the launch. You can head there if you are nearby or  you can check the live stream by LG on lgsignature.com.