Milagrow has launched their next generation Floor Cleaning Robot called RedHawk 3.0, the company is a known brand in the world of robotics which concentrates on home automation. The Redhawk 3.0 comes with the world's largest Main cleaning brush which is 256 mm wide and also the world's largest dustbin on the main body of the Floor Robot with 1-liter capacity.
With the Milagrow domestic robots known for their intelligent technology which makes the sole purpose of the technology to serve humans. They are designed and programmed to perform domestic chores, without the tension of any supervision by humans.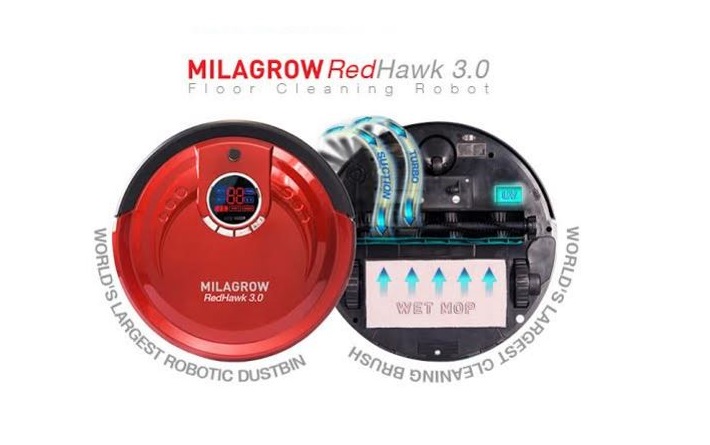 The RedHawk 3.0 is equipped with Robotic 6th Sense for minimal interaction between humans and technology which decreases the amount of work and saves a lot of time for humans. With the help of Robotic Extra Dirt sensors which prioritize cleaning in extra dirty area, there is absolutely no need to monitor the robot, as the sensors increase the intensity and suction of cleaning automatically when higher dirt is detected.
The RedHawk 3.0 comes equipped with special health cleaning features like UV bulb and HEPA filters. The UV light kills organic matter like bacteria, mold and viruses to sanitize the floor and maintain a healthy living environment. It is named as Ultraviolet Germicidal Irradiation Cleaners by the U.S Environmental Protection Agency.
Coming to the HEPA filters or High-Efficiency Particulate Air filters which trap most of the particulate matter along with bacteria and viruses etc which are designed o remove 99.97% of all particulate matter greater than 0.3 micrometer from the air which passes through. HEPA air filters were developed for US Atomic Energy Commision to help capture radioactive dust pollen which are being used in this robot.
The RedHawk 3.0 comes with 6 cleaning modes plus a large wet cleaning mop of 210×105 mm. The features of RedHawk 3.0 comes with the following features – Robotic Stair and Fall Sensing, Patented Robotic Obstacle or Collision Sensing, Robotic Virtual Wall Detection, Patented Robotic Effective-Auto-Self Recharge, Robotic Gyro Sensors, Robotic Accelerometer Sensors, Robotic Disentanglement, Cleans All Floors, Most Carpets, Pet Hair Removal, Cleaning Under Heavy Beds and Furniture due to its Compact and Slim Design, Doorsill crossing, Carpet Climbing Ability, Self Diagnosis, Automatic Speed Adjuster.
The Milagrow RedHawk 3.0 comes with 15 accessories and a comprehensive 2-year warranty. You can even book a home demo in Delhi NCR, Mumbai, Pune, Chennai and Bangalore or a skype demo anywhere in India, it can be yours for a price of Rs 25,990.