At the launch event, scheduled today by Xiaomi for the launch of Redmi Note 3 there was another device which was launched, the new Mi Bluetooth Speaker which comes with an Aluminum body. The speaker comes with a built-in microphone which allows you to answer and make calls wireless when the speaker is connected to your smartphone. To connect the speaker to your smartphone you have Bluetooth 4.0 connectivity.
Apart from the Bluetooth 4.0 option to connect to your smartphone, tablet etc you get an AUX-in port for wired connection. The Mi Bluetooth speaker can function on its own without connecting it to any smartphone or device thanks to the microSD card available where songs stored can be played directly.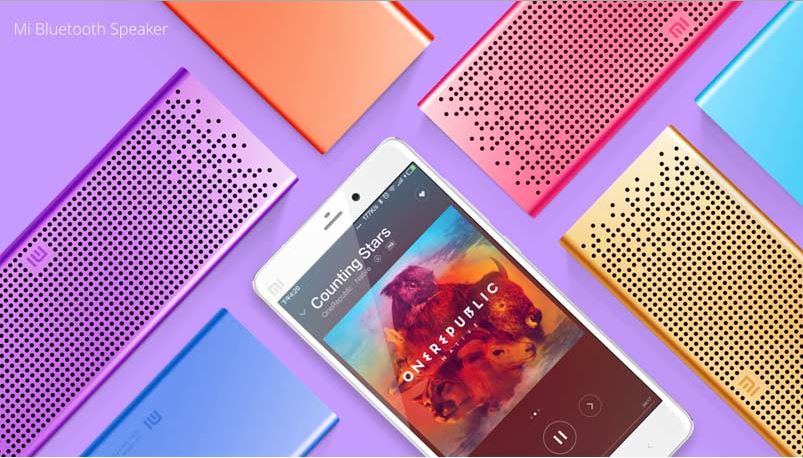 The Xiaomi Mi Bluetooth speaker has the shape and dimensions of a pencil box measuring 168×24.5x58mm and weighs 270 grams in weight. It is powered by a 1500mAh battery which lasts for eight hours of music playback. The speaker comes with a frequency response of 85Hz-20KHz and has a maximum power  output of 3W.
The Xiaomi Mi Bluetooth Speaker is priced at Rs. 1,999 and will be available around March 23rd later this month. There was another launch, the Xiaomi Mi 20,000mAh power bank which comes with two USB ports and supports fast charging as well. The availability and pricing of the power bank has not been revealed by Xiaomi. Another interesting update from the event is about the Xiaomi Mi 5 which according to Hugo Barra will be launched in India in a months time but there was no mention about a specific date for the launch.