Samsung didn't take long to announce its competition against the recently launched Qualcomm Snapdragon 820 chip, as the new Exynos 8890 chipset is unveiled by the South Korean electronics giant, and this same chip is expected to be powering the next flagship Galaxy S7.
This is a 64-bit octa-core processor, and it is said to be Samsung's first premium chip to have a custom core and integrated LTE. This makes it no different with size, but helps the device get more space by not needing space for the two components separately. Samsung is using the 14mm FinFET process to manufacture these chips, and it is the second chip to be made with that process.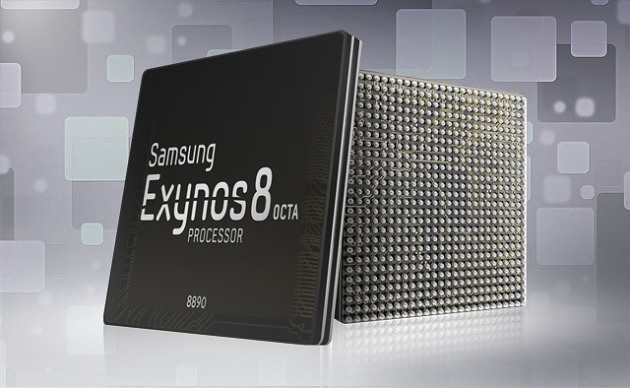 Samsung marketing exec Dr. Kyushik Hong said,
"The Exynos 8 Octa is a leading-edge application processor for next-generation mobile devices that incorporates Samsung's mobile technology leadership in CPU, ISP, and modem as well as process technology," "With our custom designed CPU core and the industry's most advanced LTE modem, consumers using mobile devices with the Exynos 8 Octa will experience a new level of mobile computing."
The Exynos 8890 has ARM's latest GPU, Mali–T880. The Exynos 8 Octa is said to be having 30 percent improvement in performance and 10 percent in power efficiency compared to the Exynos 7 Octa. There is support for heterogeneous multiprocessing for better use of the eight cores, and this includes four Cortex-A53, and four custom cores. The integrated modem is the LTE Rel.12 Cat.12/13 modem that is capable of getting a download speed of 600Mbps (Cat.12) and upload speed of up to 150Mbps (Cat.13).
Samsung said that the manufacturing of these chips will happen later this year, though we have just more than a month left to enter 2016, though if Samsung is able to do that, we might see these coming packed within the Galaxy S7, and rumors claim that half of the phones have the Qualcomm Snapdragon 820 processor. This year, the Samsung Galaxy S6 had only the Exynos chipset all around, and it did well with the overall performance.
Though, we are just talking about rumors, both with the use of Exynos and use of Snapdragon chipsets, and we'll get to know as we get close to the launch of the next flagship.