At the Annual General Meeting, the chairman of Reliance, Mr. Mukesh Ambani has announced the new phone that was anticipated and rumored for a good time now. The Jio Phone is priced at Rs. 1500 and it isn't a smartphone but a feature phone introduced with some new plans. Also, the price is rather a refundable deposit.
Addressing at the meeting, he said.
Let me introduce India ka Intelligent SmartPhone – Presenting Jio Phone.

First,
On the JioPhone, voice will ALWAYS be free.
Currently, the 50 Cr feature phone users are charged Re 1.2 to 1.5 per min for basic voice calling.

They end up spending their entire month's telecom budget of Rs. 150 – 200 only to get 150 minutes of basic voice.

With Jio's network coverage reaching 99% of India's population, and by making voice calls free, this potentially empowers each and every Indian to make FREE VOICE CALLS… to any operator anywhere in India.

Second,
The 50 Cr feature phone users don't even have access to basic internet and apps.
To enable a Digital Life, they need access to DATA at affordable rates.

Starting 15th of August this year, I am declaring DIGITALFREEDOM for all feature phone users.
Jio will give them access to UNLIMITED DATA on the JioPhone.

If these feature phone users were to consume a similar quantity of data on other operator's network, they would spend over Rs. 4,000 – 5,000 per month at prevailing 2G data rates. Jio will provide this at only Rs. 153 per month.. that is one-thirtieth the price.

I am putting an end to unaffordable data, with this all unlimited, Jio Dhan Dhana Dhan plan of Rs. 153 per month for the JioPhone!
There will be a fair usage policy of half a GB per day, to ensure that bandwidth is fairly apportioned for every user.

Third,
Many JioPhone users might like to view their favorite content such as live TV, movies, education on the big screen of their television sets.

This is especially true in many remote parts of India where even cable TV and high speed internet have not reached.

Our young Jio engineers have created an innovation to help them — a special and affordable "JioPhone TV cable" that connects JioPhone with any TV, not just a smart TV, so that all JioPhone users can enjoy viewing on the big screen of their existing television sets.

Along with this accessory, users can opt for the existing Jio Dhan Dhan Dhan Rs. 309 pack that would allow users to watch almost 3-4 hours of videos daily, of their choice, on a large screen.

Fourth,
We are well aware that many of these users find it difficult to commit Rs. 153 upfront. In order to fit every pocket, we are also introducing 2 sachets – a weekly plan for Rs. 53 and a 2-day plan for Rs. 23, that provide similar value.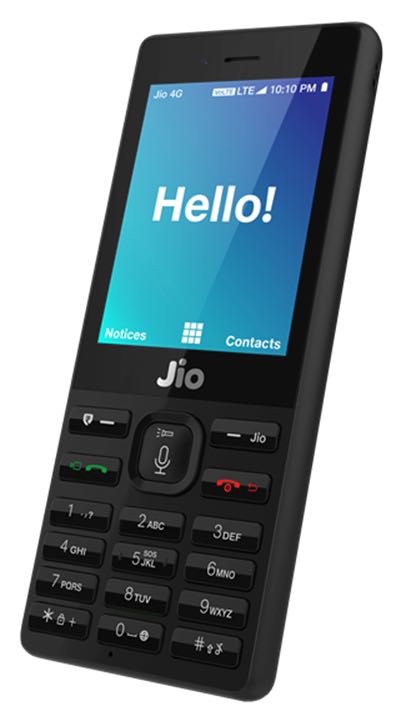 What does the Jio Phone offer?
The Made in India Jio Phone comes with a 2.4-inch QVGA display, Alphanumeric keypad, 4-way Navigation key, microSD slot, rear camera, torch light, FM Radio, and there is a support for 22 Indian languages. The phone also supports voice commands including  call someone, reject a call, browse internet, open apps and others.
The apps that constitute the content part of the phone are included in the phone – JioTV, JioCinema, and Jio Music. It is also worth a mention that the little phone will have NFC support and thus will offer Tap & Pay support.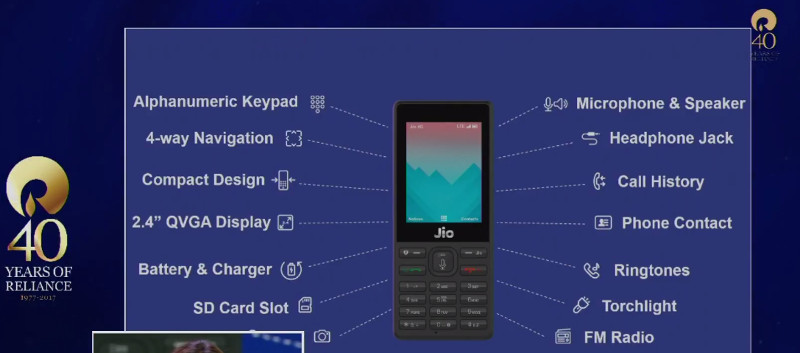 The price and availability of Jio Phone
The Jio Phone is effectively free but to avoid any misuse from the users, the company is charging Rs. 1500 as a refundable deposit and this deposit will be given back after three years. Returning the phone back after 36 months will let you get back the deposit of Rs. 1500.
The first beta testing will begin from August 15th and the pre-booking will start from August 24th. The shipping of these Jio Phones will start in September.