FUJIFILM Corporation has officially launched the X-H1, the mirrorless digital camera in India. The Fujifilm X-H1 is said to be the most performing camera in the X series, and it comes with a robust, durable body. With regards to the sensor, the camera carries the same one that the Fujifilm T-X2 had, i.e. a 24-megapixel APS-C X-Trans III sensor. The design, though, is taken from the GFX series, while the company says that the focus has been for the videographers.
The X-H1 is said to be the first model in the series to have a 5-axis in-body image stabilization (IBIS) that will have a maximum of 5.5 stops. To add to this, the camera has the flicker reduction mode that is said to be improving the quality of indoor sports photography.
Again, a first for the X series, the X-H1 includes ETERNA mode that is a film simulation mode for video capturing. The camera is also said to be having an evolved Autofocus for tracking and low light performance.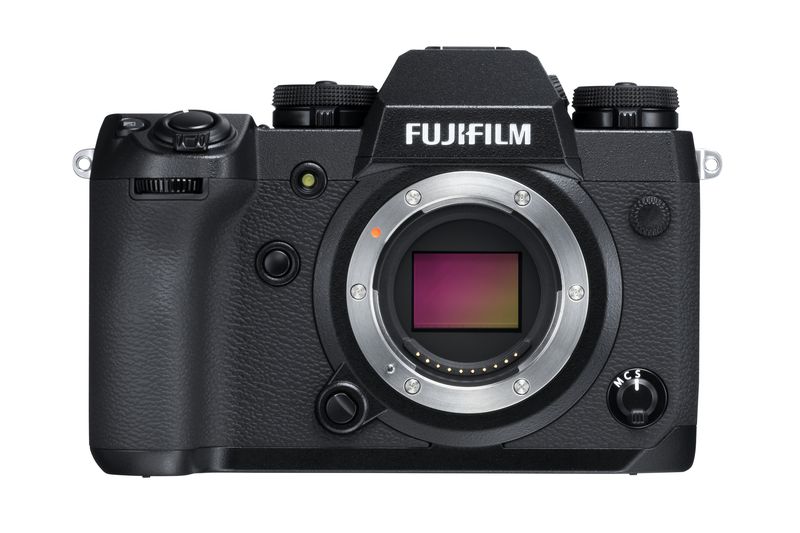 The problem with the standard cameras is the absence of the stabilization within the body and they rely on the lenses to do the job, but with the presence of IBIS here, the Fujifilm X-H1 will be able to do well in low light.
As for the specs of video recording, the XH1 is capable of recording DCI 4K (4096 x 2160) and Rec.2020 color gamut at a bitrate of 200Mbps. There's also slow-motion 1080p recording at 120fps.
The first internal in-body image stabilization (IBIS) system to feature in an X Series camera harnesses three axial accelerometers, three axial Gyro sensors, and a specially developed dual-processor. As a result, it realizes 5-axis image stabilization with all XF and XC lenses.
In addition, it performs 5.5 stops image stabilization with XF 35mmF1.4 R lens, and 5 stops image stabilization with many other lenses. The exception for that is XF10-24mmF4 R OIS, XF18-55mmF2.8-4 R LM OIS, XF55-200mmF3.5-4.8 R LM OIS, XC15-45mmF3.5-5.6 OIS PZ, XC16-50mmF.3.5-5.6 OIS II, XC50-230mmF4.5-6.7 OISII lenses.
The Fujifilm X-H1 houses a microphone input jack and it is said to have an improved built-in mic. The rear LCD monitor is a 3-direction tilt, 3-inch, 1.04 million dot electrostatic touch-panel LCD. In addition to that, there is a 1.28 inch sub-LCD on the top of the camera.
Fujifilm X-H1 Price in India
The X-H1 is priced at Rs. 244998 for the kit that includes 16-55mm and it will be available from March 1st.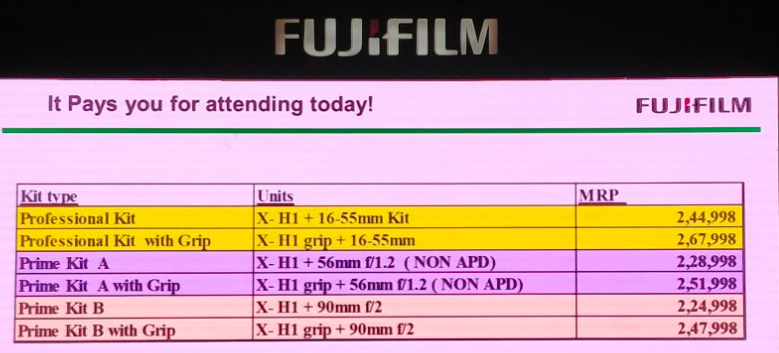 Fujifilm X-H1 Specifications
Effective pixels: 24.3 million pixels
Sensor: 23.6mm×15.6mm (APS-C) X-Trans CMOS III with a primary color filter
Stabilization: Image sensor shift mechanism with 5-axis compensation, 5.5 stops
Viewfinder: 0.5 inch approx. 3.69 millions dots OLED Color Viewfinder
LCD monitor: 3.0 inch, aspect ratio 3:2, approx. 1.04 millions dots touch screen color LCD monitor
Continuous shooting: 14.0 fps (with the Electronic Shutter), 8.0 fps (with the Mechanical Shutter)
Video: 4K 4096×2160 at 24 fps up to 15min, 4K 3840×2160 at 29.9 fps, 1080p 1920×1080 at 59.94 fps
Connectivity: IEEE 802.11b / g / n, Bluetooth 4.0
Contents: Li-ion battery NP-W126S, Battery charger BC-W126, Shoe-mount flash unit EF-X8, Shoulder strap, Body cap, Strap clip, Protective cover, Clip attaching tool, Hot shoe cover, Vertical Power Booster Grip connector cover, Sync terminal cover, Cable protector Owner's manual