Ricoh has launched their latest 360-degree camera which is the successor to the Ricoh Theta which was launched two years back. The device is capable of capturing 360-degree images with a single shot. The Ricoh Theta S comes with dual 1/2.3-inch 12MP sensors which gives output equivalent to 14MP.
The Ricoh Theta S comes with ultra-small twin-lens folded optical system, the camera sensors are attached with wide angle fish eye lenses having aperture of f/2.0. Along with capturing photos it is also capable of shooting full HD videos at 25fps or 30fps for 25 minutes at a time. It comes with ISO range of 100 to 1600. The device comes with 8GB internal storage and there is no microSD card slot for further expansion.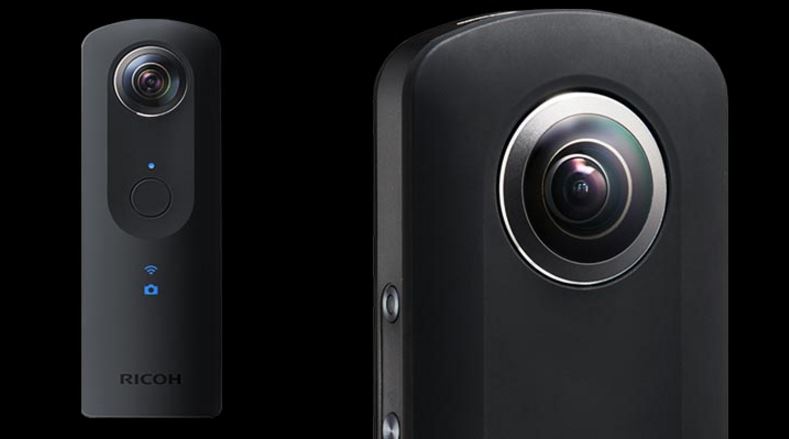 You can shoot videos with FHD resolution (1920 x 1080p), the video recording can be done at 30fps for 25 minutes or any video below 4GB in size. You can record up to 65 minutes of video footage in MP4 format at 1080p resolution and 175 minutes footage in 720p resolution. The spherical images taken from the Theta S can be uploaded to theta360.com which can be shared directly to social media platforms like Facebook, Twitter, Google+, Tumblr, Google Maps and YouTube 360 degree Channel.
Commenting on the launch, Manoj Kumar, MD and CEO of Ricoh India said, "The improved camera is four times faster with enhanced image quality. Industries like real estate, architecture, events, travel & leisure will be benefited through this innovative solution which capture's photographer 360 degrees."
The Ricoh Theta S is designed to be sleek coming with rubber finish for better grip and it weighs in at 125 grams. There is a micro USB port (2.0) and a Micro HDMI (1.4) port. The Ricoh Theta S comes with Theta app which is available for Android and iOS devices as well to store images and it gives live view while shooting at 10fps on the display of your phone. There is Theta+ which helps in editing images and capable of cropping the images in square or rectangular form, you can directly upload the images to supported social media platforms.
The Ricoh Theta S will be available on Amazon and with Ricoh dealers priced at Rs. 35,995. You can prebook the device by paying Rs. 7,199 on Ricohestore India website and rest of the amount later at its launch on December 14th 2015.
Source: Ricohestore.com