For a Mac user, Finder is almost everything they can use to browse, search for, and do with files and folders. That is a good tool, and with OS X El Capitan, a lot is being offered already, but if someone had used Windows OS a lot, the major feature they would miss on their new supercool Macbook, is a dual pane file manager.
It is not always about the experience that users might be looking for, but it is the efficiency they can get from a particular feature. For me, not always would I need something more than Mac's Finder, but having a better alternative would always be helpful at times. I did look for one, and found the Eltima Commander One Pro as a decent option. Of course it isn't limited to one or two reasons for the same.
If you have used Total Commander on Windows, you are right at home if you think about using the Commander One Pro on your Mac. Reason? both are quite similar in looks and functionality, and some might even refer to the Commander One Pro as a Mac alternative for Total Commander. Let's get into what the software actually offers, why I chose to get a licensed copy of this.
Launching the app for the first time shows a few functions to get started, but the app is actually a lot more than that. This is purely made for OS X, thanks to the Swift programming language used, and and the big advantage of this software, will be the dual-pane file management. Two panels can be used at the same time, and the user has the control to setup some hotkeys as well.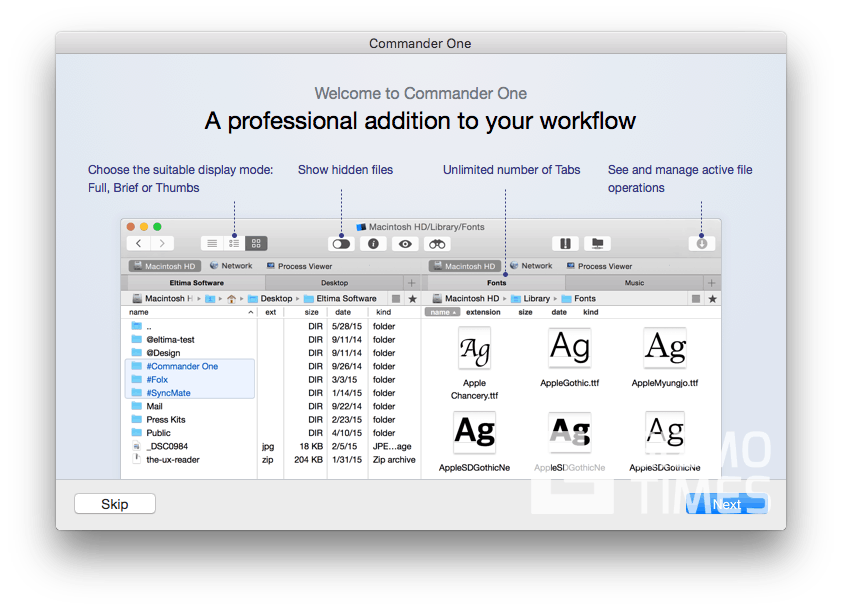 Most of the file managers would show the files and folders in a single view, but here, there are Full, Brief, and Thumbs, which again is something easy for a Mac user to understand. For the Pro users, there is a single button toggle to show all the hidden files in the Mac. They generally don't need to be played around with, but if you know what you are doing, it is an easy way to check which files are hidden in the system.
The Dual pane system again allows the user to have multiple tabs in each. The search tool in Commander One Pro is quite strong, for the fact that it is able to search through sub folders, and allows the user to choose text encoding, while there is also support for Mac's Spotlight search as well. The search also allows users to search through compressed folders too.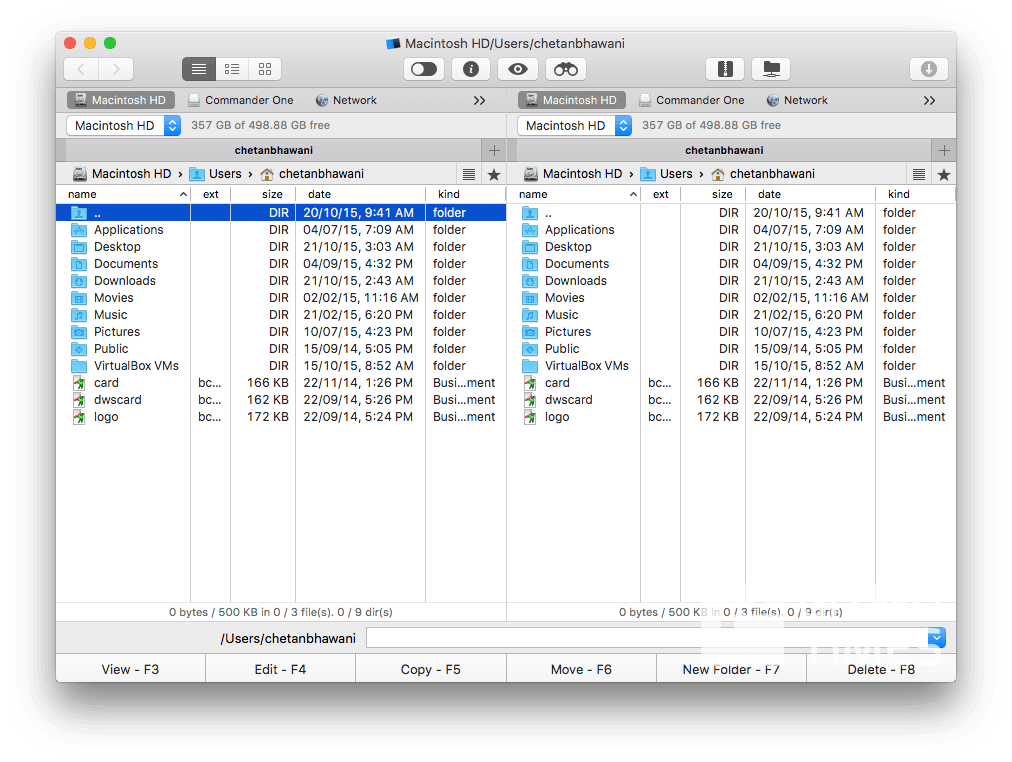 Mounting iOS or MTP devices is possible, though Commander One Pro needs some extensions for the same, and this isn't a native feature included in the software. The compressed files formats that work well with Commander One Pro include ZIP, 7ZIP, TBZ, TGZ, and tar.bz2.
Process Viewer: This is more like a function manager, which allows the user to check the background processes that are affecting the way their Mac runs, and this helps the user understand if there are any heavy processes running in the background.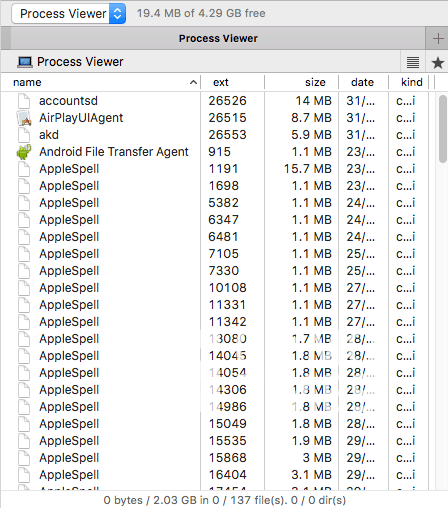 The preferences section has loads of keyboard shortcuts, helpful for the pros to make it easier to use, and although the ones by default were easy to remember, these shortcuts can be changed according to will.
FTP – Apart from being a useful file manager and a search tool, the Commander One Pro can work as a FTP manager client. Users can have an FTP connection running in one tab, while keep the other one for hard drive folders, and transfer files with drag and drop.
A number of FTP connection details can be saved here, and just a single click helps user change the server to get connected to. One of the easiest and best features of Commander One Pro, in fact, is the FTP client itself.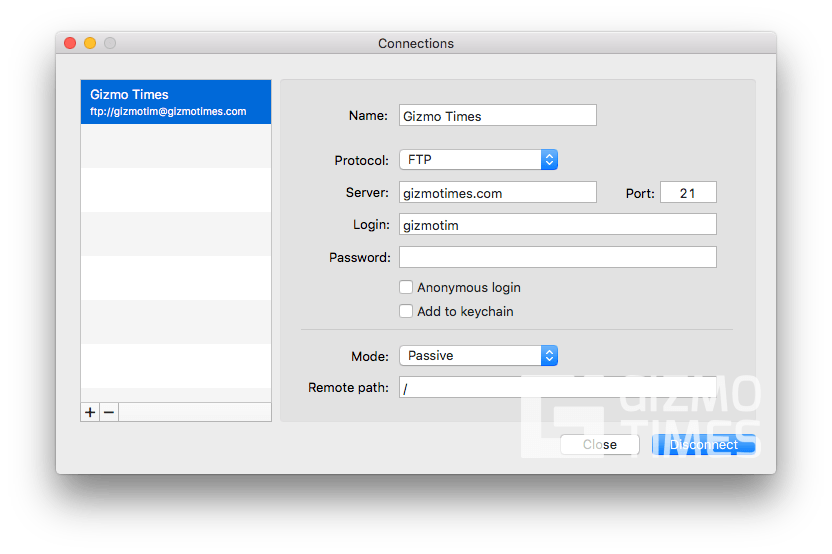 So, what else comes packed in? themes? yes, there is support for themes, though they don't seem really elegant, but the choices are out there for the users to personalize things. Also, the Commander One Pro supports Dropbox for the file management, which although wasn't something for me, it should come handy for those who use Dropbox as a cloud storage service and have their important files stores on it.
I was quite okay with the OS X Finder after using it for years, but then, there is a need for an FTP client most of the time, and that's where the Commander One Pro helps me. The only issue for any new user would be about adjusting to it, since this doesn't carry a very light interface, but the software is made for it – providing several functions at one place.
The software can be bought from Eltima's website.
Disclaimer: This is a non-sponsored review, though of the paid version of the software provided to us by the developer.