Reliance has pushed in a new and updated version of the JioFi Hotspot replacing the JioFi 2 Hotspot being sold in their Reliance Digital and Digital Xpress Mini Stores across the country. The updated version has a lot of changes right from the packaging to sporting a OLED display on it. It is being retailed at the same price of Rs. 1,999 like its predecessor the JioFi 2. Another thing which seems to be stressed upon by Reliance is the "Designed in India" tag which can be seen on the back of the device.
Going into the details the JioFi 4G is updated by there are some things which have went downhill like the decrease in the number of devices being supported by the device, which has come down to 10 devices at a time from the 31 devices as seen in the earlier JioFi 2. (although 10 devices is more than enough for any average user, the more the better). It is said to last for 5 hours on full charge which is less than the 8 hours which was given by its predecessor. This can be due to the inclusion of the OLED display which takes up battery juice.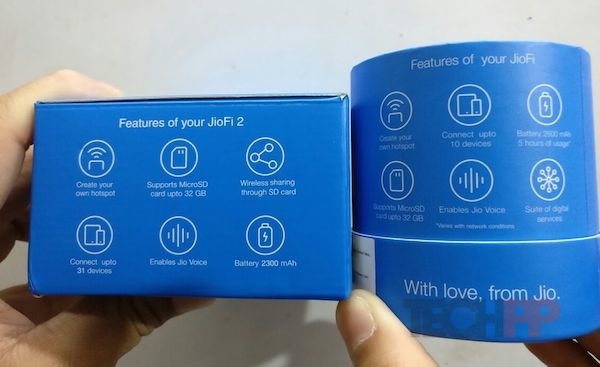 The JioFi 4G has many upgrades as well, starting with the OLED display which is seen on the front of the device, it displays important information like Power On/Off, Network Strength, WiFi signal strength etc. The obvious difference is in the size as well, with the JioFi 4G being bigger in all aspects which is due to the larger battery of 2600mAh increased from the 2300mAh battery in the JioFi 2, also the inclusion of the OLED display has taken up some space.
Read: JioFi 2 Review
Now gone is the Glossy Black plastic finish seen in the JioFi 2 now replaced by the matte finished polycarbonate exterior which gives it a premium look and feel. Although it comes with a bigger battery, the battery life is lower thanks to the OLED display but it is said to charge faster as compared to the JioFi 2. The outer box has also changed from a square box to the rounded cylindrical packaging for the JioFi 4G. Manufactured by Panasonic the new JioFi 4G needs to be tried and tested to see whether there is an improvement in terms of range and the speeds.