Microsoft is getting ready to unveil their 2nd Generation fitness band, the Microsoft Band 2 on October 6th but before the launch MicrosoftInsider.es has revealed most of the details of the device as press renders. From the images, we can clearly make it out that Microsoft has tried to maintain the design from the first band but has added a curved display to improve the esthetic and functional feel. We can expect the Windows 10 OS in the Microsoft Band 2 device.
The device which was being tested under the codename "Envoy" in Microsoft labs has been given good looks with the metallic finish on the front panel along with the two physical buttons and a different color tone on the sides of the device. The band seems to be sleeker thanks to the placement of the battery on the inner side of the strap compared to the sides as seen in the last generation.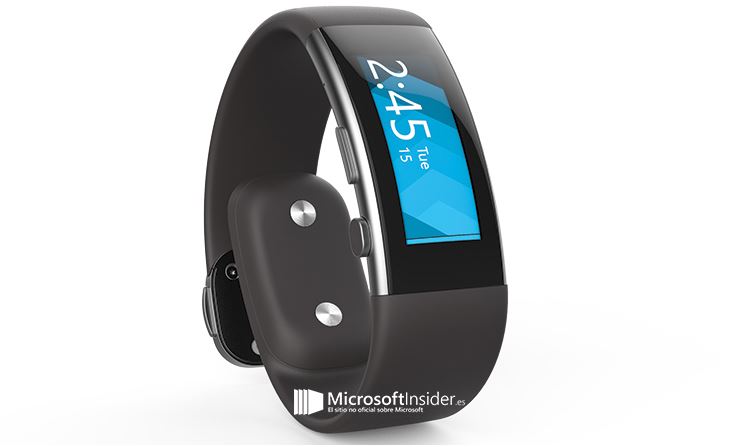 All the sensors from the first generation have been carried like the Heart Rate Monitor, GPS, Microphone, Ambient sensor, skin response sensor, UV sensor and usually accelerometer and pyrometer along with a new sensor which is said to measure the "height of exercise", mostly being the number of jumps during an exercise counted and measured as calories burnt. We have seen this feature in fitness bands like Jawbone and Fitbit which run based on an algorithm and with the help of an altimeter which was seen to be requested by users of the first generation Microsoft Band.
The Microsoft Band 2 is said to be made available in all the markets the first generation was launched along with other European countries like Germany, Italy Spain and France. The exact details of the availability in other regions will be confirmed on the launch date of October 6th only along with its pricing of the device. the Microsoft Band is with a $64 off on Amazon at the moment, is it because of the launch of the second generation? we are not sure but it is available for $135.99 on amazon.
Source: MicrosoftInsider.es