If movies with super fantasy stuff are replicated in the real life, you'd be either surprised, or be excited to witness it when that happens. Back To The Future II, a movie from 1989, showed a shoe that could do the very obvious function by itself – lacing. Nike has now unveiled a shoe that does exactly the same – lace by itself without you having to kneel down and tie the lace.
Unveiled at the Nike Innovation Summit, the HyperAdapt 1.0 comes with the self-tying technology, which will take advantage of sensors that detect the feet placement and then automatically tighten the shoe.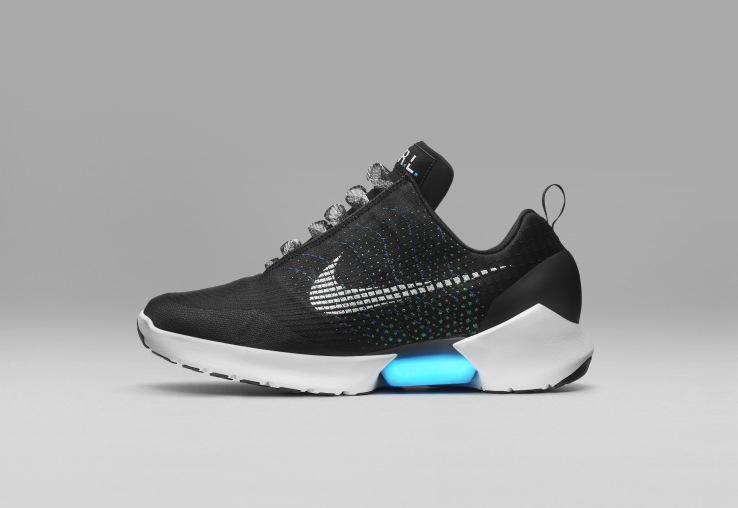 Wearing a shoe lace isn't really wasting a lot of time even for sportsmen, and sometimes that helps get a few seconds of break. But the bigger issue here is the distraction for serious sportsmen who like such things to keep away from disturbing them during the game.
The Hyperadapt 1.0 begins a new platform of sneakers from Nike. "Your heel will hit a sensor and the system will automatically tighten," explains Tiffany Beers, the project's technical lead. "Then there are two buttons on the side to tighten and loosen. You can adjust it until it's perfect."
The shoes are said to be launching during the 2016 Holiday season, and there will be three colors to choose from. In the bottom, you can clearly see the sensor board, which is the most important part of the sneaker, but the tightening system too is spread along the sides of the shoe. We aren't told about the price yet, and you can get one when it is on sale, if you are a member of the company's new Nike+ app.
Source: Techcrunch