Airtel India had earlier offered three months of free data ranging from 6GB to 30GB in total for postpaid users based on their plan. Now, the company has planned to extend that offer for another three months. It should be the same amount of data to be shared to the users as it was done earlier. This move cold be to retain the postpaid subscribers who are confused about the network operator to use as the postpaid plans from Airtel are not so affordable.
Now as the monsoons approach, we are sending another shower of data your way. I am delighted to share that we are extending the data surprise by another 3 months. Now you get the extra data for 3 more billing cycles. All you need to do is claim your surprise on My Airtel app after 1st July, 2017.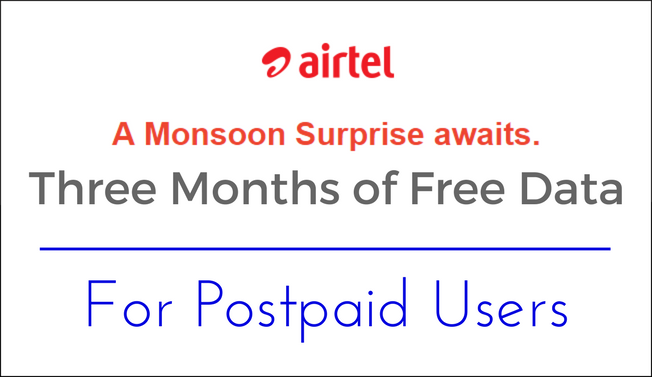 Airtel has been offering new plans and packages for prepaid users and the network provider had received some flak from the postpaid users for not offering anything for them even though they have stuck to the network for long. That's when the first surprise offer was given with data ranging from 2GB per month to 10GB per month depending on the plan the user is subscribed to.
Now, as the offer continues, it is a good news for the postpaid users who can avail this offer from July 1st. To check and claim the offer, you need to have the "My Airtel" app installed and from July 1st, the free data offer will show up as one of the banners in the app. Claim it and then you will be able to see the balance data under the account settings.
Reliance Jio on the other hand has its Jio Dhan Dhana Dhan offer going on with the plan extended for a further three months if the users had recharged for a month. Also, we have heard that the company is finally coming up with the Jio OBD device very soon.