Vodafone India has taken on all the network operators by introducing an offer for Prepaid users that beats all of them by a good margin. Unlike the 28-day plans from Jio, Airtel, and Idea, Vodafone says that by paying Rs. 352 and recharging your Prepaid number, you are going to get an offer similar to the others for a period of 56 days.
Update: Some users are said to be getting the offer for Rs. 345, as it is a region-based offer.
The latest message that is being sent to the users mention that recharging their number with Rs. 352 will give them unlimited local and STD calls as well as 1GB data per day for an extended time, i.e. for 56 days instead of 28 days that is given by other network operators for a similar recharge amount.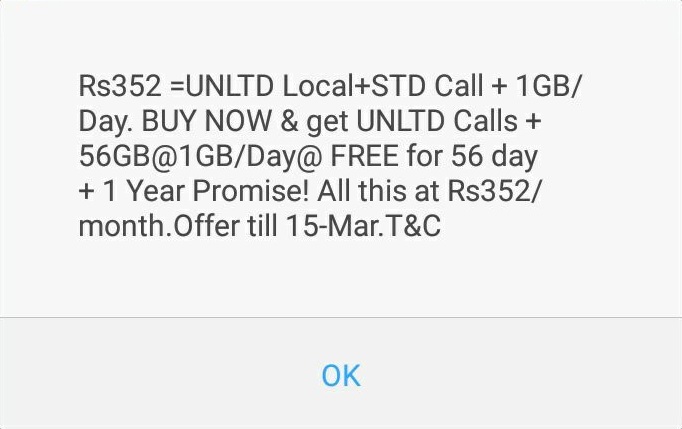 Also, this offer is available only until 15th March, so you have to recharge within the set time so that you can take advantage of the same for 1 year. It doesn't clearly say that for every 2 months, you can get the same benefit of data for 56 days, and the Terms and Conditions can go too bad from the providers.
For now, it is an offer that you should grab if you are a Vodafone consumer because it gives you not just the data but also the free calls. Vodafone has also not mentioned whether the 1GB daily data can be used across the day or whether there are day and night limits like how Airtel and Idea have done it, making it an offer that looks good on the paper but practically giving half of what you actually see (the night time given is about 2 a.m. to 5 a.m. during which you can use 500MB, and during the other 21 hours, you can use the other 500MB data).
In case you are in a doubt whether your number is eligible to get this offer, you will have to confirm it with the customer care and as this message is being sent to most of the subscribers, it should be something available to all the Vodafone users.