MacBook Pro, MacBook Air or even an iMac are computers that run on Mac OS X and are manufactured and sold by Apple. They are preferred by people who use their systems for work mostly. I recently got a MacBook Pro 2015 base model. The specs on this thing are great. It works well, boots up fast, the read and write speeds on the disk are amazing but there is one thing that bothers me too much. That is, the 128GB SSD that comes on it.
Yes, the base model will only give you a total of 128GB storage and even then that space will be taken up by Mac OS X, the applications etc. I initially thought that I will only be using the MacBook as a work machine so I won't be needing the space but I was wrong. It is important that you keep an eye on storage and make sure it doesn't fill up.

In this post I am going to tell you some effective ways using which you will be able to free up some space and have some extra room for your files to breathe on your Mac based computer.
Let's get started.
Clear your Downloads folder
We all download many things everytime we browse the internet but not many of us have the habit of cleaning up our downloads folder, right?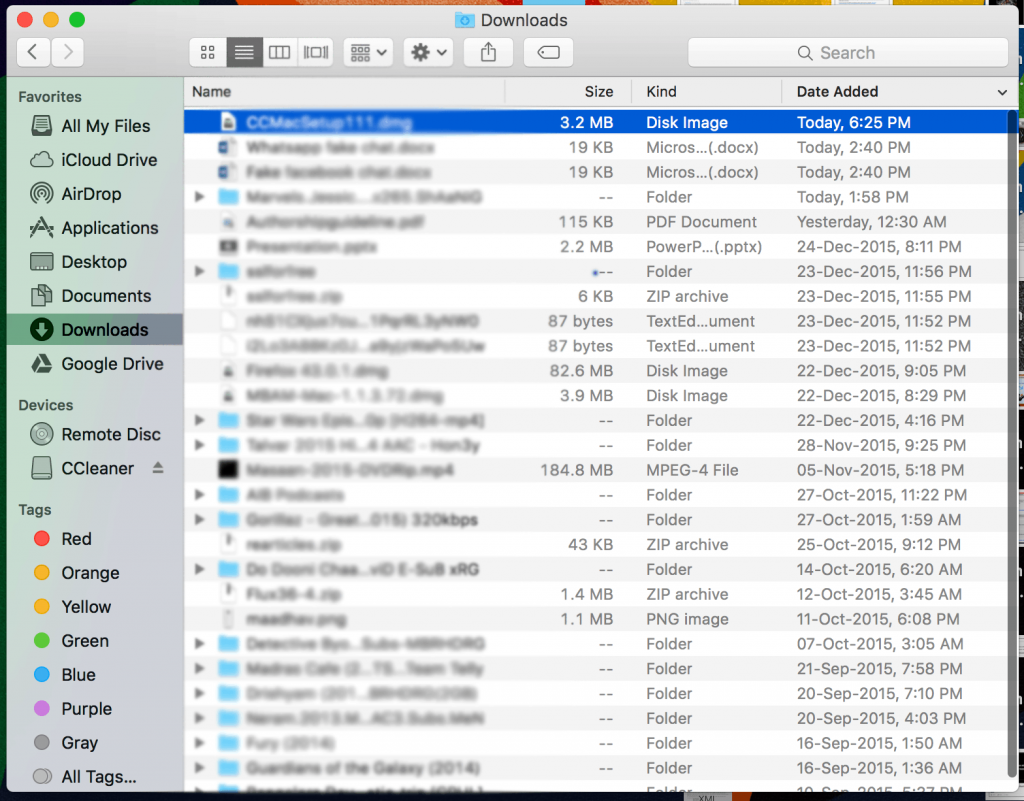 When my Mac was running out of space, I looked into my Downloads folder and found that there were many files that I downloaded for one time use and they were still there. Some of them were big enough to free up some significant amount of space. Just look into your Downloads folder and delete all the stuff you don't want.
Empty the Trash folder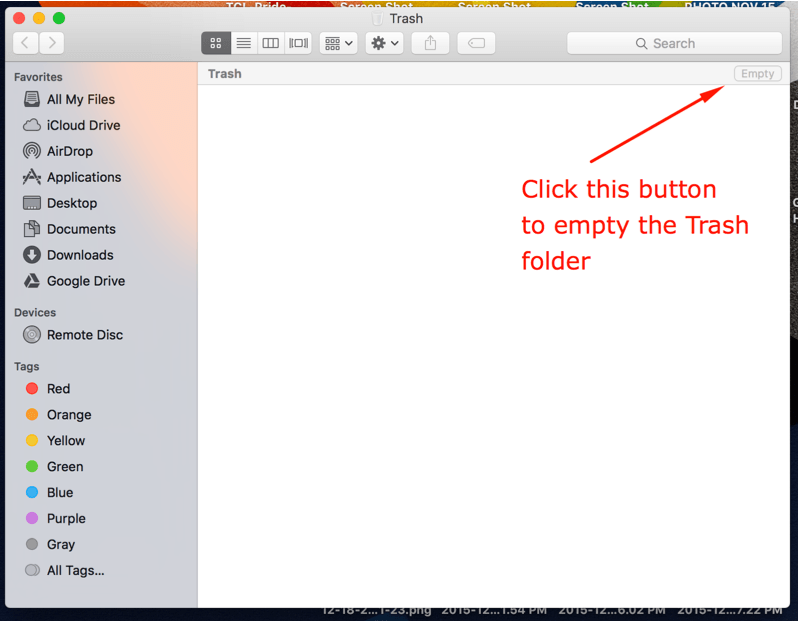 Trash folder is to Mac OS X what Recycle bin is to Windows.
Whatever you delete goes into the Trash folder and stay there unless you empty your trash. So it is a wise choice to empty your Trash every once in a while.
Delete Language Files that you don't want
Mac OS X comes with various different language packs by default that take up about 3-4GB of your storage. Getting rid of the language files that aren't useful for you will definitely free up some more space which you can use in a more productive way.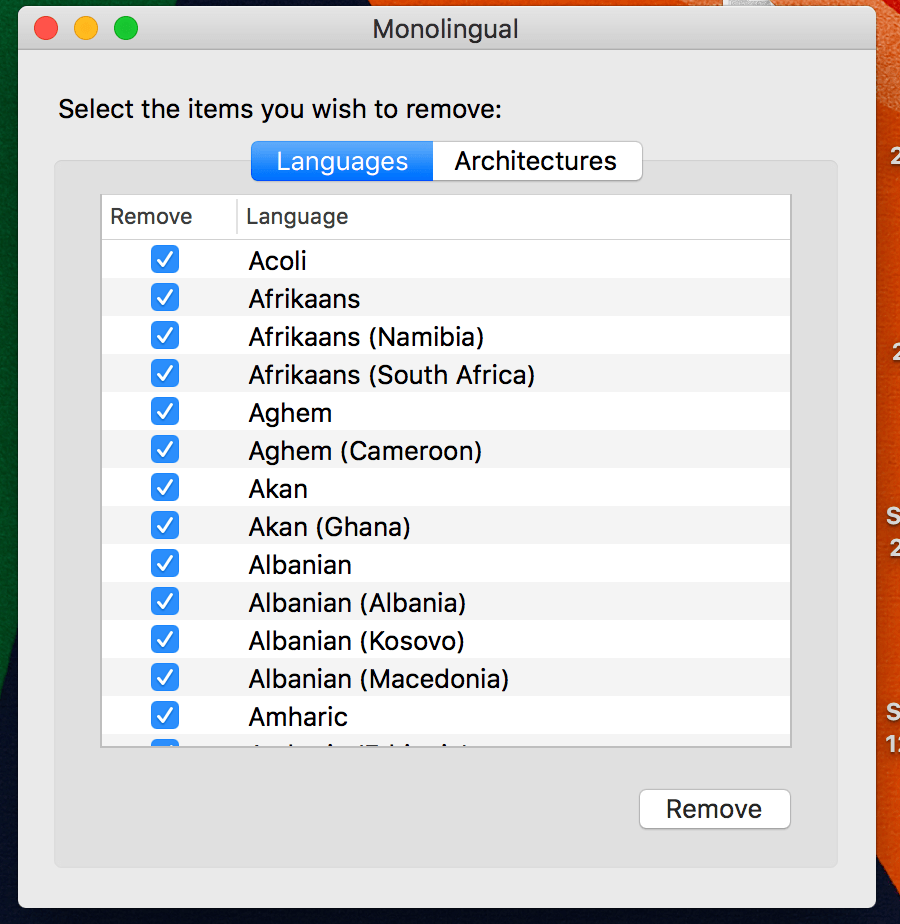 For this we will be using a freely available app for Mac named Monolingual and this will not only help up in removing the extra language files, but also the extra architecture files that your Mac comes with. This is not recommended if you don't know what these files mean.
Just remove the language files by carefully choosing/checking the languages you want to remove.
Use CCleaner to remove cache and temp files
CCleaner is a known utility that can be used to perform the housekeeping on your system. It is available for Mac and works really well when it comes to removing cache and other temporary files. You can use CCleaner to remover cache and temporary files on a Mac for system apps like Safari and third party apps like Google Chrome, Firefox etc.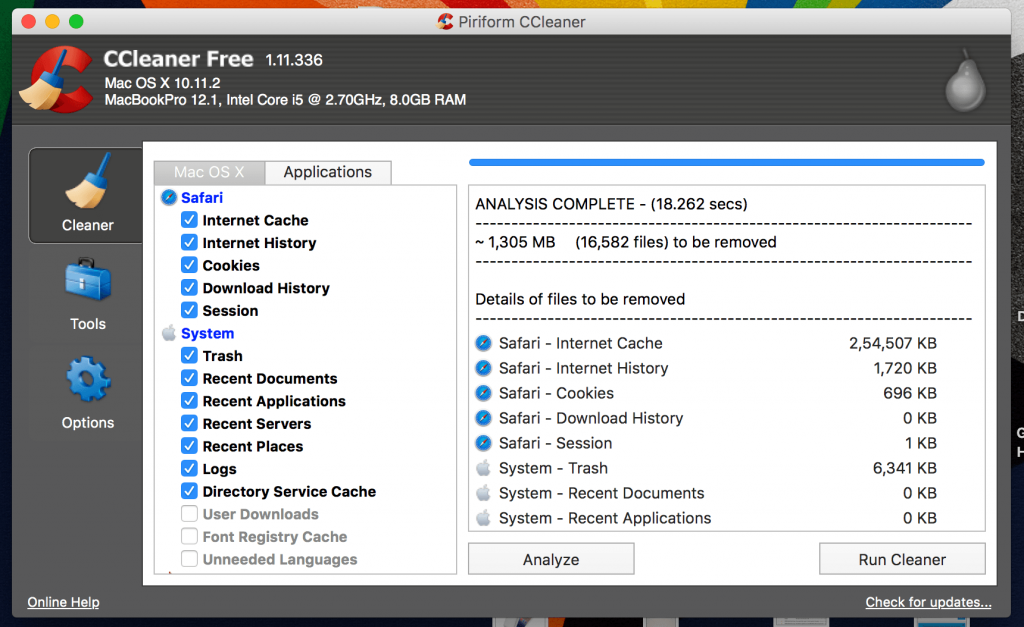 As you can see in the image above, more that 1 GB of the space is taken up by these cache and temporary files and you can free that space up just by clicking the Run Cleaner button.
Uninstall unwanted applications
Uninstall System Apps
Mac OS X comes loaded with many apps and programs by default that are huge in size and they take up a lot of storage space. Did you know that iMovie itself takes almost 2.94 GB of disk space. Not everyone uses iMovie or GarageBand or even iBooks for that matter. You can remove these programs in order to free up some significant space on your SSD/HHD.
NOTE: Only do this if you know what you are doing. If you remove any critical apps, your Mac OS X won't work properly. We will not be responsible if anything goes wrong or you fail to take this warning seriously.
Open Terminal on your Mac device. It will look like this: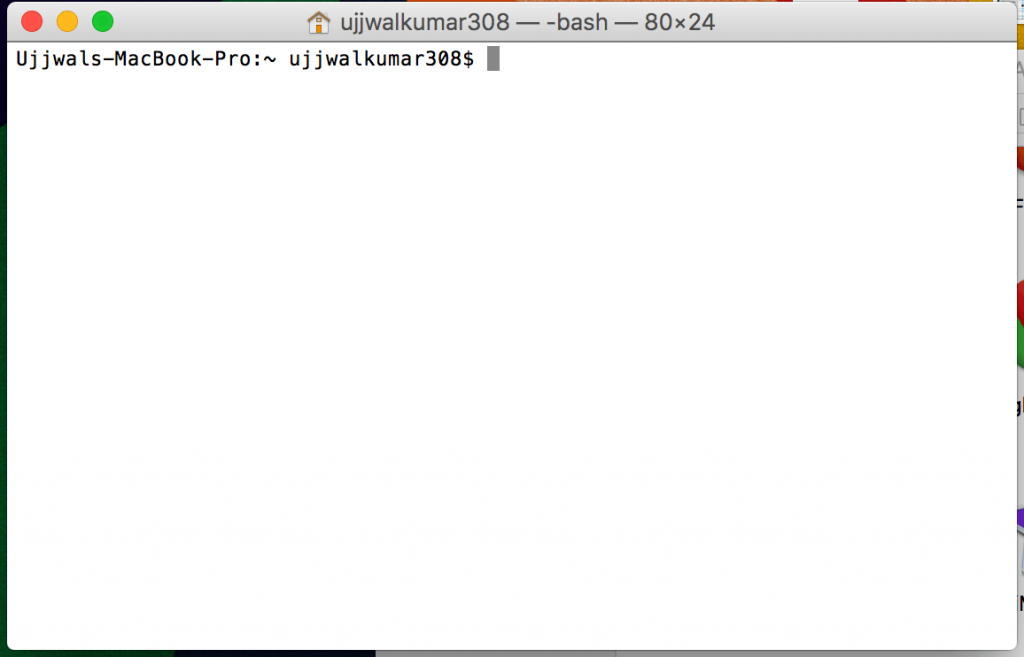 Type in the following command:
cd /Applications/
This will change the directory of terminal to Applications. 
Now open the Applications folder in Finder and look for the app you want to remove.
I am going to remove iMovie app as I don't use it at all and it will get me about 2.94GB storage free after deletion.
Type in the following command to remove iMovie.
sudo rm -rf iMovie.app/
Press the return/enter button on the keyboard and it will be deleted in no time.
Uninstall third party apps
Third party apps means apps and programs like Google Chrome, Firefox, CCleaner etc. You can remove some unwanted apps and programs in order to save some more space. Uninstalling these programs is relatively easy as compared to uninstalling system apps.
You can again use CCleaner to remove these programs. Follow the following procedure.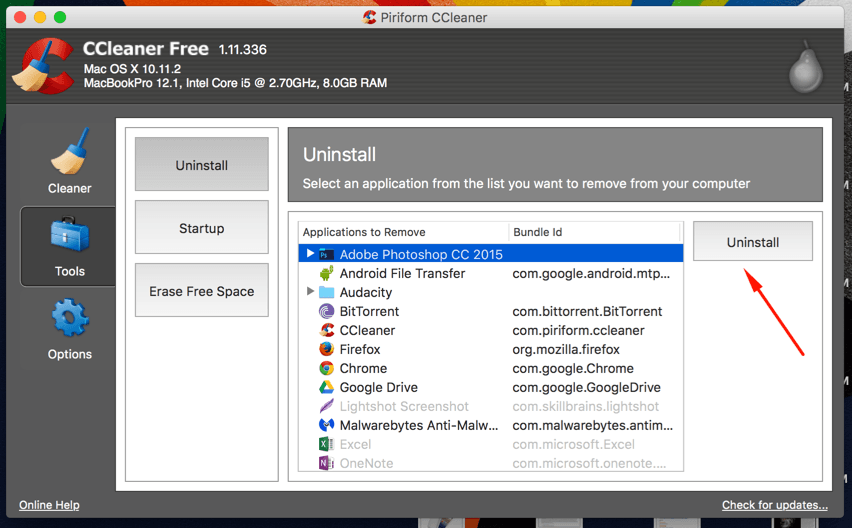 Go to the Tools section of CCleaner. You will see all the third party programs listed in the Uninstall section.
You can choose any program and click on the Uninstall button in order to remove it from the system.
Delete duplicate files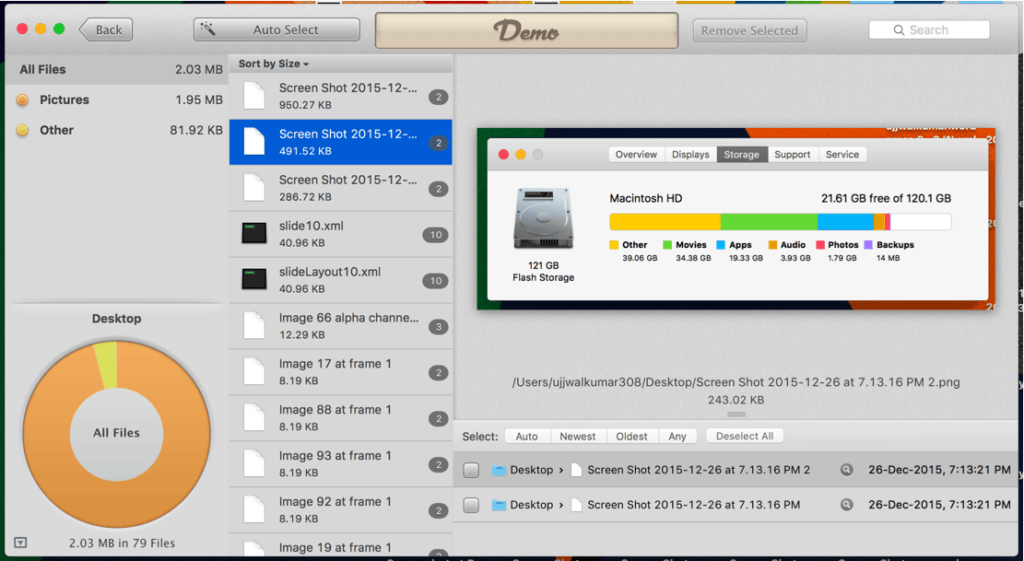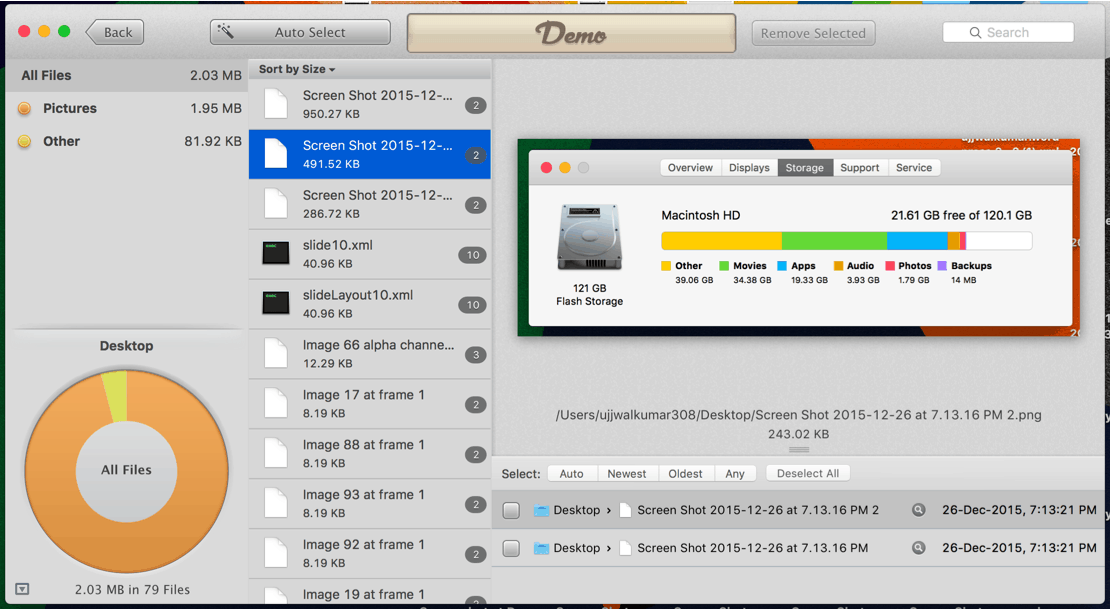 We all have the habit of keeping multiple copies of the same file in our systems. This is also a great problem that causes shortage of space. This can be easily solved by deleting the duplicate files. But doing it manually will take forever and won't work for many people. Instead of doing this manually, we can use a software like MacPaw Gemini which is a paid software but works really great. At a price tag of $9.99 it is one of the best paid utilities you can have on your Mac. You can get Gemini from here.
Verdict
There is no doubt that a Mac based computer is a great device to use for work or for any creative purposes but the thing that really annoys me or many other people is the limited storage that you get on the Mac. But these are some great ways that you can use to clear your Mac and free up some space to use it for more productive purposes.