Every software update that your device gets is made to fix the current problems in it, and to bring in some new features. Sometimes, things work so flawlessly that you are very satisfied with it and love the experience, but sometimes, things go so wrong that you wonder why did you update the device at all.
The latest Mac OS X update is an example right now, with users complaining about a lot of issues after the Mac was updated with OS X 10.11.4 update. One of the common issues with the OS X El Capitan 10.11.4 update is the slowing down of the computer, or completely freezing from time to time.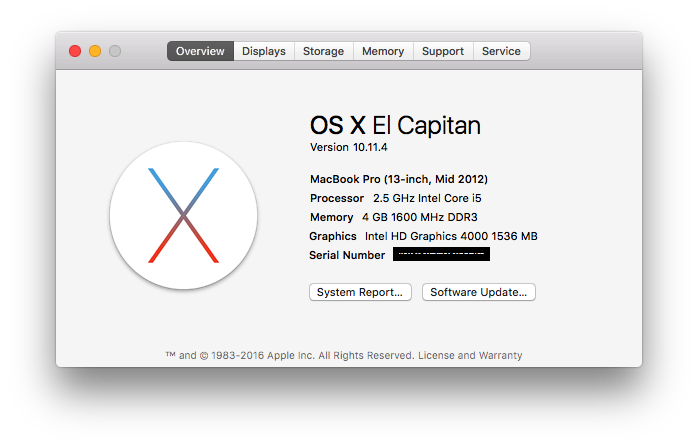 Mac slowing down after OS X El Capitan Update
This particular issue has no real fix, but if you are facing the slowing down just after the update, this probably is not an issue at all. For the few recent OS versions, Spotlight search mds indexing has taken some good time, even about an hour for some depending on the amount of files that are present in the Mac, so you need to give your Mac that time for things to settle down and the indexing to happen.
Once you see that done, you will see the Mac to be functioning normally. You don't need to pressurize your Mac, nor try to close down those functions that you might be finding heavy on the drive. They are supposed to run after a reboot and they will, so the only solution here is to give some time and relax until the Mac sets itself up after the update.
Another problem that people are talking about is about Safari browser getting stuck whenever something is being played on YouTube.com. We haven't personally seen this issue, so cannot comment on whether this is related to the update but Apple forums has a big history of this problem being very common and nothing new, so if you find that issue to be happening, don't blame it on the OS X 10.11.4 update.
Mac freezing randomly after the update
When users updated to OS X 10.11.4 using the Combo update, they have been noticing random freezing of the entire system, rather than that for some particular app.
Freezing is so bad that you won't be able to move the cursor, the keystrokes won't respond and you cannot even switch between any apps. The problem is that you don't know what is causing this freezing, even though some have reported that the freeze happened when Safari browser was being used.
Workaround 1: Safari browser? switch to another one
If this is specific to Safari and you notice it, you can try to use Google Chrome or Firefox and see if the freezing has reduced. If yes, you know the culprit and you better ignore using the faulty Safari browser until Apple recognizes and brings out some fix for it in the next OS update.
Workaround 2: Still want to use Safari? open Activity Monitor
You might still want to use Safari browser. If that is the case, open Activity Monitor (less likely if it is frozen but do it when you are able to), and here, force-quit the processes that are showing as "not responding".
If that too doesn't help, you will just have to wait so that a future update fixes it. Until then, try not to pressurize much and use low resource apps for now.
Are you facing any other problem after updating your Mac with the OS X El Capitan 10.11.4 update? Let us know in the comments.