Portability and ease-of-use for any gadget is the need of the hour these days. You don't want to carry around large laptops when you know that a small convertible or even a good Windows tablet device could do the job for you. If not the Windows ones, the laptops like Apple Macbook Air also seem like some great options. If you are moving around and also, find a need for a good Bluetooth keyboard for your PC, we have collected the list of best Bluetooth keyboards.
You won't really need a Bluetooth keyboard for your large laptop as it comes with a full-fledged keyboard. These portable keyboards are good for devices like Windows tablets, Android devices, and even the iOS devices like iPad and iPhone.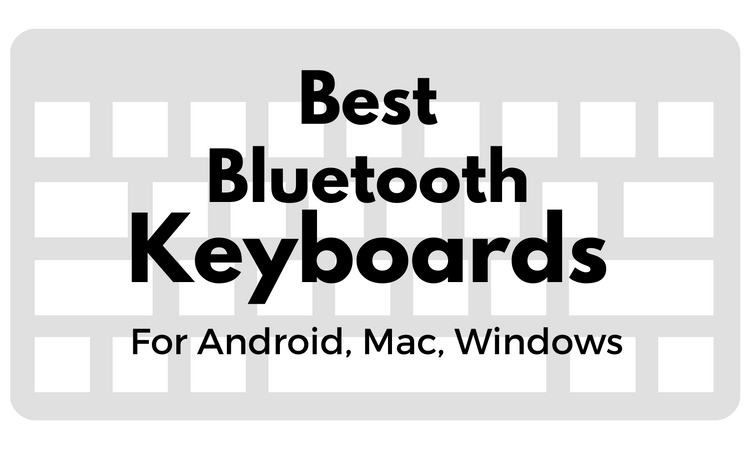 Best Portable Bluetooth Keyboards between $50 and $100
Microsoft Universal Foldable Keyboard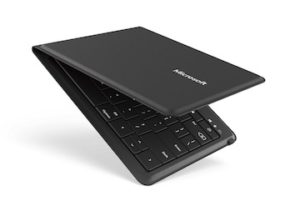 The product description itself talks about the devices that are supported by this universal foldable keyboard by Microsoft – iPad, iPhone, Android devices, and Windows tablets. It is the first and best choice for anyone and it is only 5mm thin. There is no much compromise in the keyboard and to keep it compact and portable, it is folded.
There are no switches needed to be hit to turn on / off the keyboard because you just have to unfold the keyboard to turn it on and fold it to turn the keyboard off. It has a spill-resistant design and the rechargeable battery in the keyboard is said to offer up to three months of usage on a single charge.
---
Lenovo ThinkPad Compact USB Keyboard with TrackPoint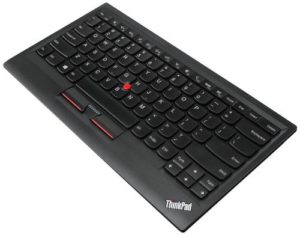 After Microsoft, another great hardware manufacturer that one would have in mind is Lenovo. But, a keyboard as an accessory from Lenovo is quite a surprise. This one is the ThinkPad keyboard that has a trackpoint that is famous for ThinkPad series of laptops from the company.
The trackpoint helps navigate with the cursor and the bottom bar has the mouse key for the functions of the mouse, so you don't need to touch the device screen at all while using this keyboard.
---
Best Portable Bluetooth Keyboards under $50
QQ-Tech Mini Bluetooth Keyboard with Touchpad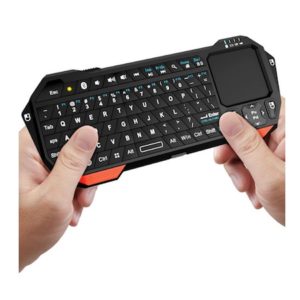 Talk of something not from the top-tier brands and you will find some great options having most of the functionality that a user would want from a portable device. This Bluetooth keyboard from QQ-Tech has a touchpad as well. It is compatible with Android, Mac and Window OS, and there is an easy switching option for connectivity with the different devices.
Multi-touchpad and Scroll Bar are two good features in the keyboard, and the unit offers an auto sleep/wake mode. It offers most of the keys that a large keyboard would do, but the key arrangement will need some time to get adjusted to. It surely seems like a keyboard for the geeks.
---
1byone Foldable Bluetooth Keyboard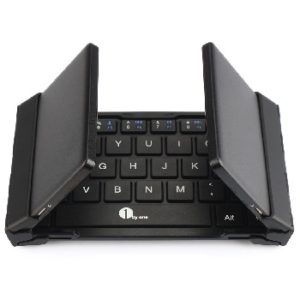 This is a lovely little Bluetooth keyboard with a lot of positive feedback from the users for not just its size but also for the functionality. It has QWERTY layout with hot keys, Compatible with iOS/Mac OS, Android, Windows and most Bluetooth-enabled devices.
The battery spec is mentioned directly, and according to that, about 64 hours of continuous usage can be done on a single charge, or 114 days on standby. This Bluetooth keyboard comes with a 12-month guarantee, and it comes with the replacement policy where the company sends a replacement unit if any issue is faced.
---
Jelly Comb Backlit 7-Colors Wireless Bluetooth Keyboard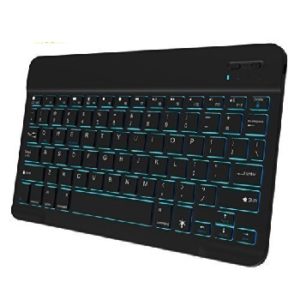 This is a compact and portable Bluetooth keyboard from a brand known for accessories. The keyboard offers multiple backlight color options and it has an ultraslim profile, and the connectivity is possible with iOS, Android, and Windows OS.
The Scissor-Switch keyboard provides you with very comfortable and pleasing typing experience. Although it offers connectivity with a wide range of devices, it won't work with Mac mini, HP tablets, and Windows Mobile 8/8.1.
---
Arteck Stainless Steel Universal Portable Wireless Bluetooth Keyboard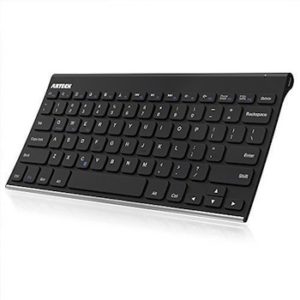 This Arteck Stainless Steel keyboard is high on quality and it is, in fact, one of the very good keyboards for that price of $25. Made of stainless steel, the keyboard is sturdy and the low-profile keys offer a comfortable typing.
The battery life offered by this keyboard is about 6 months. The company also offers 24-month warranty, and the compatibility of this keyboard is with iOS / Android / MacOS / Windows. Some of the common functions that are offered here as shortcuts are control of volume level, playback control, copy paste text, and more.
---
Anker Ultra Compact Slim Profile Wireless Bluetooth Keyboard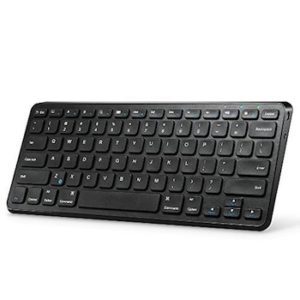 Anker is another good name when it comes to good powerful accessories. The ultra compact wireless Bluetooth keyboard from the company has a slim profile, yet is known to offer about six months of battery life on a single charge.
The keyboard automatically connects to your last connected device and there are matte finish keys that offer a good typing experience. The compatibility of this keyboard is with iOS, Android, Mac OS and Windows OS. It comes with an 18-month warranty.