Sennheiser India has officially launched the Memory Mic, a wireless solution for audio recording on your smartphone, with compatibility for both, Android and iOS devices. The best part about this microphone is that it is wireless and so, you can keep it connected with your phone wirelessly and not have to worry about any cables.
The Memory Mic can be connected to the smartphone via the Sennheiser Memory Mic App and that can be downloaded free of charge, and then you can set the sensitivity of the microphone at three levels, where the altering of sensitivity will help the microphone to adapt to your speaking style.
Besides easy one-touch synchronization of audio and video, the Memory Mic offers you the benefit of an audio mixer in the app and convenient recharging via USB. Even better, you don't have to worry about getting out of range: Once the mic has been synced, you can record at any distance from the smartphone. When recording with the Memory Mic, the integrated microphone of the smartphone will also be active and pick up ambient sound, and once the video has been recorded, the audio mixer can be used in the Memory Mic App and a desired balance between the ambient sound and audio captured can be set.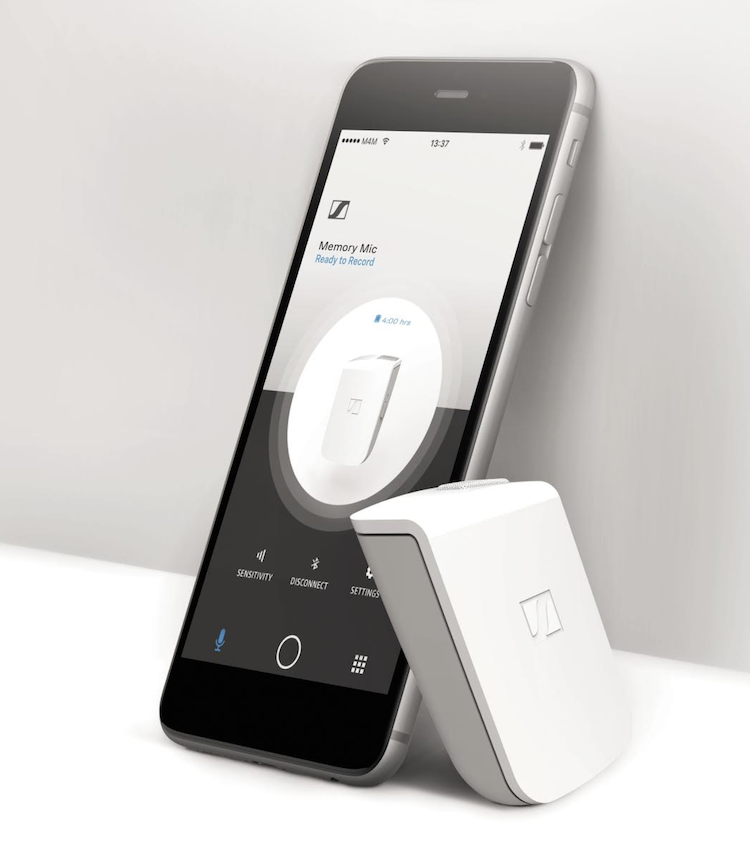 The Sennheiser Memory Mic is 30 grams in weight, replacing the heavier microphone options the current market has. A single charge of this microphone can give up to four hours of recording, and an hour of charging of it through the MicroUSB port can charge it up to 70%. The microphone has an omni-directional pickup pattern.
Specifications of Sennheiser Memory Mic
System requirements: Android version 5.1 or later; iOS version 10.2 or later; Bluetooth 4.1 or later; WLAN IEEE 802.11 b/g/n
Transmission frequencies: 2.4 to 2.4835 GHz
RF output power: ≤ 10 mW
Max. sound pressure level: 119 dB SPL
Capsule prepolarised: condenser microphone
Pick-up pattern: omni-directional
Frequency response: 100 – 20,000 Hz
Data stream bit resolution: 48 kHz/16 bit
Operating time: ≤ 4 h
Power supply rechargeable lithium-polymer battery; 3.7 VDC, 360 mAh
Charging current: 5 V, 500 mA via USB
Charging time: 70% charge: ≤ 1 h; 100% charge: ≤ 2 h
Dimensions: approx. 51 x 37 x 16 mm
Weight: approx. 30 g
Temperature range: Operation: 0°C to +40°C; Storage: -20°C to +70°C
Vipin Pungalia, Director, Professional Segment, Sennheiser India at the launch said, "Audio is really at the heart of every video. Sound not only sets the atmosphere and evokes emotions, but high sound quality remains an important area for differentiation and a hallmark of quality for video content. Understanding this and the needs of today's evolving Indian content creators, we are really excited to offer the Memory Mic to our audience. This wireless microphone is extremely convenient to use, lightweight and offers a fantastic combination of audio quality, price and mobility. With over a 70-year history that has been built on the culture of innovation and a vision to shape the future of the audio industry, we believe the Memory Mic demonstrates our commitment to offer quality audio experience to everyone. With smartphones increasingly becoming the epicentre of content creation and consumption, a product like Memory Mic will become indispensable to the overall audio experience."
Pricing and Availability of Sennheiser Memory Mic
The Memory Mic is available now in offline stores near you, as well as Sennheiser's web store. It comes complete with a USB charging cable and a quick guide; the free Sennheiser app is available in the Apple App Store or from Google Play. The pricing of the Memory Mic is INR 18,900.