Strontium Technology has launched Type-C Mobile Kit, which consists of NITRO UHS-I microSDXC card with Type-C reader, for the ever increasing list of devices with Type-C connectors in the market with a lack of connectors for easy transfer and as well as storage option.  The card reader will be coming in two storage options 64GB and 128GB with different transfer speeds.
With Type-C ports being known for providing faster data transfer rates, quicker charging capability and reversible connectivity this kit allows users to transfer files between new-generation smartphones, tablets and laptops sporting USB Type-C ports and your PC, Laptop or Mac having standard USB 2.0 or 3.0 ports.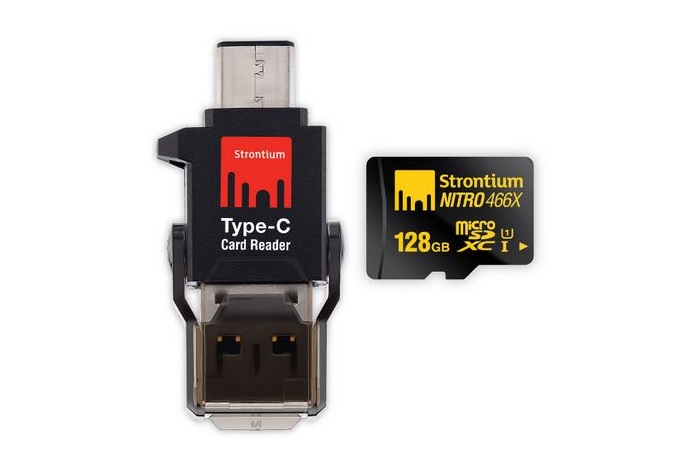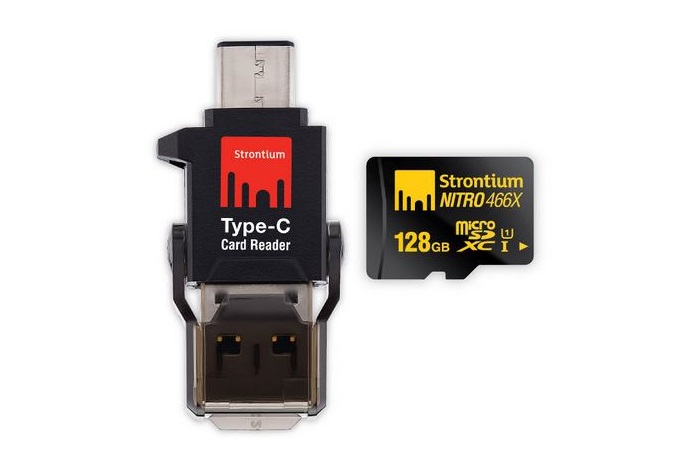 The 64GB variant of the Type-C Card reader from Strontium is capable of minimum transfer speeds of 566X or 85MB/s and the 128GB variant guarantees minimum transfer speeds of 466X or 70MB/s speeds. The advantage with this Type-C mobile kit is the inclusion of Type-C Card reader which allows data storage along with data transfer between Type-C devices and Laptop, PC or Mac having normal USB connection. The USB connector is compatible with Windows, Linux, Mac 10.X or above. The microSDXC cards variants of 64GB and 128GB are compatible only with microSDXC and microSDXC-I (UHS-I) enabled host devices.
The card reader is Water Proof, Temperature Proof, Magnet proof and X-ray proof as well making it durable to face all the elements which can lead to data loss, when exposed to X-rays, Magnetic force etc and physical damage is also prevented due to Water Proof and Temperature proof feature. The device is compact and the Type-C Card reader measures 42mm x 20mm x 8.6mm whereas the UHS microSDXC 11mm x 15mm x 1mm in dimensions.
Commenting on the launch, Vivian Singh, President & CEO, Strontium Technology Pvt Ltd, said:
"With a rapid increase in content capture on various devices, consumers are always looking out for an easy way to manage it. And at Strontium we always take the responsibility of protecting the data and give an easy and hassle free solution with our new innovative products. Recently we brought our new generation ultimate data solution NITRO UHS-I microSDXC card with Type-C card reader that gives a painless content transfer experience between new-generation smartphones, tablets and laptops equipped with USB Type-C ports and Mac/PC with Standard USB ports."
The Strontium Type-C mobile Kit with two variants of 64GB which is priced at Rs. 3,699 and the 128GB capacity variant is priced at Rs. 9,349. Both the variants come with Limited warranty of 1 year.