It is 2017 and we are heading towards some of the best technological advancements, but there are some in the same field who are working at bringing the childhood fantasies into reality. One of them is the Banana Phone. I remember seeing pictures of kids holding a banana against their cheek as if talking on the phone. Now, there's an actual tech piece that does the calling.
Banana Phone is a banana-shaped, Bluetooth®-enabled, mobile handset that connects to your smartphone: interact with your voice assistant (Siri & Google Assistant) and talk to your friends on a banana!
Available as a project put up on Indiegogo, the Banana Phone isn't a phone by itself but is a Bluetooth accessory that connects to your smartphone and helps as a handset. Moreover, you can activate your voice assistant and ask it to make calls for you, so that you don't have to touch your smartphone at all.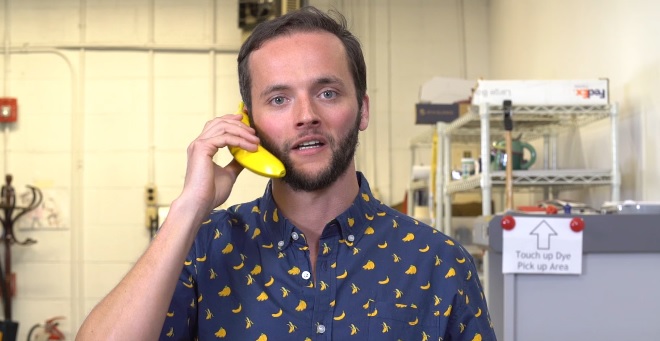 Just like you'd expect, there is a receiver, a speaker, and a microphone along with a few multi-function buttons. A group of three minds, Brian Brunsing, Charlie Katrycz, and Max Brown got the idea of coming up with this handset and it has a brighter side – it supports a cause.
The makers of the Banana Phone have decided to donate one percent of its sales to Gearing Up For Gorillas, which works towards assisting the conservation of the mountain gorilla in Virunga National Park in the Democratic Republic of the Congo. In a way, you are going to be a part of this cause if you are ordering a Banana Phone for yourself.
The Banana Phone is priced at $40 + shipping for one unit and there are bigger packs as well for you to choose on Indiegogo where it is put up for crowdfunding. The full-scale production will start in June 2017 and the shipping begins in September 2017, if you are wondering when you would get your hands on one after ordering.
While we talk about these projects from crowdsourcing websites, we cannot guarantee or vouch for their delivery or whether they would be successfully made or not, but they are among the coolest ideas people have got.