Piaggio recently unveiled their new Vespa Elettrica scooter at the Auto Expo 2018, the scooter had first made its show at the EICMA shows last year and has finally made its debut in India. This is the first electric vehicle from the Italian manufacturer to have landed in India. Right now, the company hasn't revealed any details on when the scooter will be seen on the roads in India, the production model of the Vespa Elettrica will go on sale in Europe later this year. Considering the fact that every major manufacturer is eyeing the EV segment of vehicles in India, we shouldn't be surprised to see Vespa Elletrica in India in the coming years.
Specifications
The Vespa Elettrica will be offered in two variants with a difference in the rance, the standard variant will come with a range of 100km while the Elettrica X which is the bumped variant will come with a 200km range. The 4.2 kWh battery in the Vespa Elettrica can offer a peak power of 4kWh or 5.4bhp in the general automobile terms. The peak torque on the Scooter is 200Nm. Since the Elettrica is an electric scooter the biggest question comes to the longevity of the battery to which the company claimed a comfortable life of 1000 cycles which should easily last the scooter about 50,000-70,000 kms.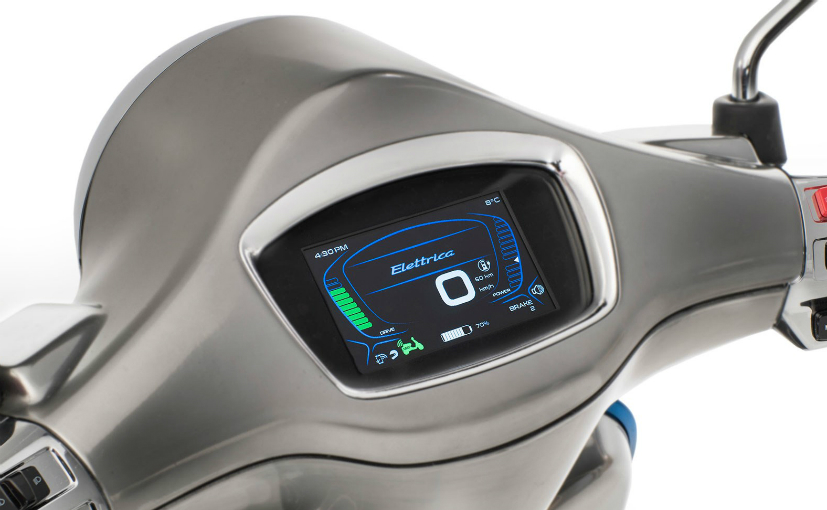 Features
The Scooter comes in two riding modes and lets you easily switch between the Eco and Power mode. In the Eco Mode, the top speed of the Scooter will be limited to a very basic 30kmph which might be enough for short distances. The Piaggio Vespa Elettrica comes with a 4.3-inch TFT display for the instrument cluster and this can connect to your smartphone to display information on incoming notifications and calls. The display also gives you information on the current speed, residual range and battery condition which is all the vital stats that you'd need. The company also added a joystick on the right handlebar which can be used to operate the multimedia infotainment system on the Scooter. The user can also opt to use the voice commands to operate a phone when connected the scooter is connected to a headset.
Availability
Currently, the Piaggio Vespa Elettrica is not available in India, Vespa range in India includes the 125cc and the 150cc premium scooters. Piaggio owned Aprilia SR-150 is yet another Scooter from the parent company available in India. Aprilia also showcased their new 125cc Scooter the SR125 and the Storm 125 at the Auto Expo 2018.