Xiaomi has launched an upgraded Yi action camera, the Yi 4K camera that can record 4K resolution videos. Apart from that, the new camera also comes with improved hardware. Last year, Xiaomi had also launched the Xiaomi Yi Camera Night Vision Edition for just 149 Yuan.
Interestingly, the sensor that the Yi 4K action camera packs is a 12-megapixel Sony IMX377 sensor, which is the same one used in the latest Nexus phones, the Nexus 6P and the Nexus 5X. Having an aperture of F/2.8, the Yi 4K camera has a 155-degree wide angle lens. The camera is powered by the Ambarella A9SE95 chipset.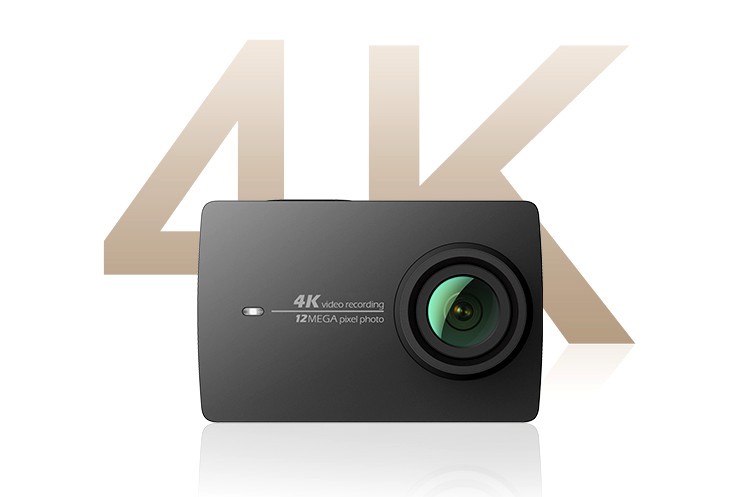 The video recording is not limited to 4K recording at 30 fps, as one can also capture slow motion videos at 120 fps with the resolution of 1080p, and 240 fps with the 720p resolution. Apart from that, users can also record time lapse videos with the intervals of frames set at 0.5 / 1 / 2 / 5 / 10 / 30 / 60 seconds.
Unlike the previous model, the new Yi camera has a touchscreen display, with a size of 2.19-inch and it has a pixel density of 330 PPI, and the screen is covered by Gorilla Glass 3 protection. There are Wi-Fi and Bluetooth as the connectivity options, and according to Xiaomi, the 1400 mAh battery included in the camera is good enough for video recording for up to 2 hours continuously.
There are white, pink and black color options available with the Yi 4K action camera, and the pricing depends on the package you select – only the camera costs 1199 Yuan (Rs. 12300 / USD 184 approx), and if you choose to have some accessories along with the camera (includes Bluetooth remote and selfie stick), then you will be charged 1299 Yuan (Rs. 13300 / USD 200 approx). Some other accessories that don't come in the pack but that you can purchase separately include a waterproof case, and UV protection lens with leather cover.
The camera is available for pre-order in China, and there is no confirmation whether it will go on sale later because for now, only those who pre-order will get it shipped in June.