MSI has revealed a beast, named it as Vortex, which is a cylindrical and modular gaming tower which looks awesome on the outside and also has mind blowing specs inside as well. It owes its name to the feature which helps in cooling the powerful system down called the "360-degree Silent Storm" which creates a sort of Vortex with Air for cooling.
The most noticeable feature of the Vortex gaming tower is that MSI has managed to fit in two of Nvidia's GeForce GTX 980 mobile processors which is promised to give same performance as the GTX 980 desktop graphic card. With two GTX 980 mobile processors the "360-degree Silent Storm" is essential. Thanks to the cooling system based design the Vortex tower is shaped like a knight's helmet.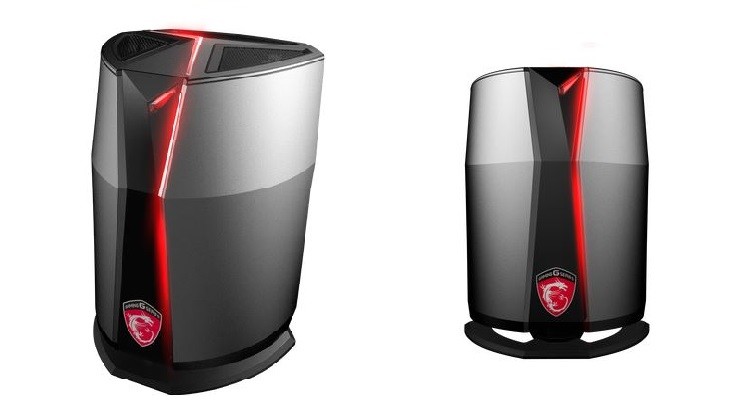 The one thing which can compete with this is the Apple Mac Pro, which many love to call as a Apple's trashcan. The Vortex comes with desktop-class quad-core 6th generation Intel Skylake Core i7 chip, dual PCI-e 3.0 x4 M.2 SSD slots (with optional "Super RAID 4"), support for up to 64 GB of DDR4 memory and the dual Nvidia GeForce GTX 980s. The company says that these give performance similar to their desktop counterparts but we must note that they are not full-blown desktop GPUs.
The Vortex fits in the trend being followed these days of being compact yet powerful. MSI with their first compact gaming PC have done a tremendous job by incorporating two graphic cards and giving the option of upgrading the Vortex with new and latest graphic cards as well, making it one of the best in the market.
An MSI representative said, "We wanted a system that is small enough to be carried anywhere, powerful enough to run anything and can be placed almost anywhere in the household," and powerful it is along with being compact a combination which will make every gamer go wow.
The availability of the MSI Vortex is expected to be around the first quarter of 2016, the pricing of the device has not been revealed yet.