Google has been in news about the Nexus smartphones recently, with many leaks suggesting two variants of the Nexus 2015 being produced by LG and Huawei. There was news about the launch of other devices, like the second Chromecast being announced, there is no exact account of the products being announced, but now the date of the launch is confirmed. Google has started sending out official RSVP invites for an event to be held in San Francisco on September 29th, from 9 a.m.
There were a lot of leaks about the Nexus device being launched by LG and Huawei, but unlike earlier years, there are no leaks about any tablet device, and this year we might see it limited to smartphones. This event will be Google's new CEO Sundar Pichai's first big event as a host since the re-organization of the company.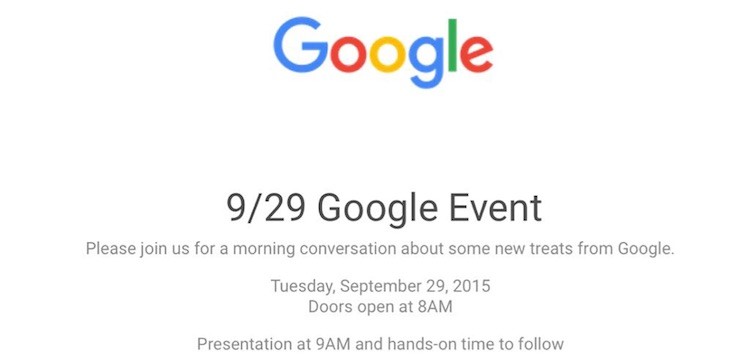 There have been many leaks about the design and the specifications of the new LG and Huawei Nexus devices. The LG-made Nexus is rumoured to sport a 5.2-inch display with Snapdragon 808 processor along with 3GB of LPDDR3 RAM. The camera is said to a 13MP shooter in the back and a 5MP or 8MP front shooter. It will be coming with USB Type-C ports and having a fingerprint sensor present on the back of the device below the camera which can be seen in most of the leaks.
The Huawei-made Nexus, on the other hand is said to be the more powerful variant with a Snapdragon 810 processor supported by 3GB of RAM and sporting a 5.7-inch QuadHD display. The camera set up and the Storage space and other details are not yet revealed. The presence of a fingerprint sensor on the back similar to the LG Nexus device can be seen along with USB Type-C.
Both the devices will be running on Android 6.0 Marshmallow OS. This event will showcase the devices running on the latest Android 6.0 Marshmallow OS along with the specifications, availability and pricing of the Nexus devices and Chromecast two. We will be updating Live about the event, keep watching this space for more updates on the Nexus 2015 release.
Source: 9to5google