HMD Global has launched a new feature phone, the Nokia 105 into the Indian market. The phone comes in single SIM and dual SIM variants and there are color options available as well – Black, white, and blue. All of these color variants come with a matte finish. The Nokia 105 Single SIM is priced at Rs. 999 and the Dual SIM one is priced at Rs. 1149.
The Nokia 105 comes with a 1.8-inch screen and this is bigger than the 1.4- and 1.45-inch screen sizes on the previous two models. The Nokia 105 has 4MB RAM and 4MB ROM inside and there is a 800 mAh battery that is said to be offering about 15 hours of talk time. The device also has FM radio inbuilt and there is also 3.5mm audio jack and micro-USB 2.0 ports.
The new Nokia 105 runs on Nokia Series 30+ platform and as expected, the phone also has the Snake Xenzia game. The two other games that are try-and-buy ones are Doodle Jump and Crossy Road. As is the case with the other Nokia feature phones, the new Nokia 105 has a polycarbonate casing and is said to be resisting falls quite well.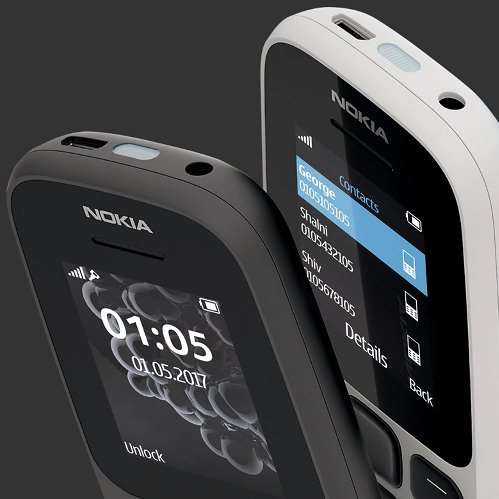 "We understand that people who are looking for great feature phones are motivated by different needs. But when it comes to phone features the needs are the same; long battery life, robust build quality, and high quality voice functionality," commented Juho Sarvikas, Chief Product Officer, HMD Global. "Add to that classic, timeless looks and you have what is simplya great phone – the Nokia 105."

"With more than 4 billion people remaining offline and unable to benefit from the social and economic development opportunities of the internet, simply getting connected by voice and text is still such an important step for many people around the world," commented Arto Nummela, CEO, HMD Global. "More than 400 million feature phones were sold globally in 2016. We cannot underestimate the need and benefit of being connected and we are dedicated to delivering devices that can expand the horizon."
The battery on the Nokia 105 is said to be offering about a month long standby and there is enough storage space for up to 500 text messages and up to 2,000 contacts. A simple press up and holding the up key would activate the LED torchlight.
The new Nokia 105 will be available from 19th July.