Letv in China has launched their latest TV with some unique features, it is the World's first curved-screen Split TV named the Super 4 Max65 Curved which is the 4th generation of Le Super TV. There is another smart TV called Super 4 Max70 which is the first Smart TV with glass light guide plate in the world.
Both these TV's were launched in the launch event in Beijing held on December 22nd, this makes Letv the first Internet company to release split TV with curved screen. The Super TV boasts a powerful system to power it with a 8-core 1.8GHz 64-bit Qualcomm Snapdragon 810 processor (APQ9084) with Adreno 430 GPU. It is coupled with 4GB RAM and 32GB/64GB flash along with Novatek 72324 motion processing chip and 60-frame H.265 4K hardware acceleration.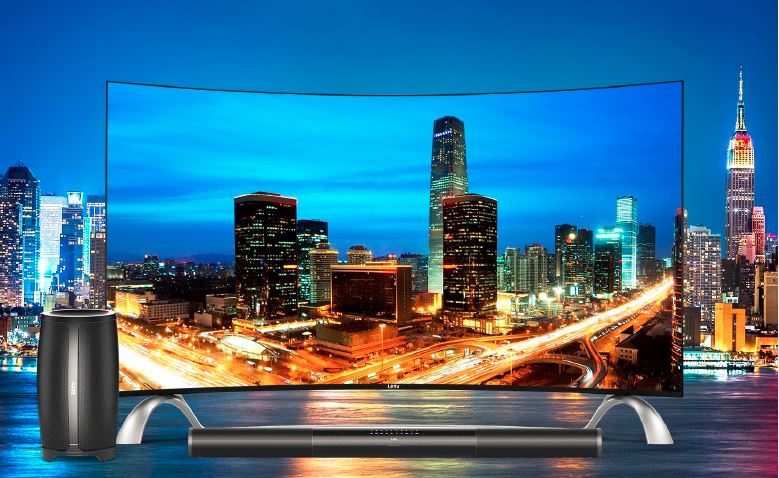 Both the Televisions come with independent wireless subwoofer and Harmon Kardon audio system which guarantees 5.1 surround sound to give you the effect similar to home theaters. The Super4 Max70 is the only Smart TV which has 10th generation 70-inch 4K panel by Sharp and the first time that Corning's Iris Glass LGP has been adopted by China TV manufacturers. With some amazing sales in 2015 for Letv in the TV industry numbering to almost 3 million units Super TV's in 2015 and targets to sell 6 million units in 2016, which will boost it into the top 3 in the smart TV industry.
With the technology being offered at the price range by Letv will surely see it making big strides into the TV industry, a glimpse to which was seen in the recent China shopping festival by selling 668,000 units of Le Super TV's with sales of 1.75 billion RMB or US$0.27 billion.
Letv is known for its revolutionary pricing which gives the competition a hard time and users a great deal, it continues the same with the new TV's with the Super4 Max65 Curved Engineering Commemorative Edition is priced at RMB 6,999 (US$1080.24) and Super4 Max70at RMB 12,999 (US$2006.29) and RMB 14,999 (US$2314.98) respectively for its 2D and 3D versions. The Super4 Max 70 will be available on December 29th on Lemall.com, the younger sibling the Super4 Max65 Curved Engineering Commemorative Edition will be available from January 19th 2016.
There is some good news for Indian consumers as well with the company entering the Indian market next month with the launch of its Le Superphones and followed by Super TVs is what the company plans. To take this forward in a big way Letv is organizing a preview event on January 5thevent in New Delhi and several fans meet-up in multiple Indian cities in following weeks to capture the huge market which India has to offer.