MediaTek has officially unveiled a brand new chipset aimed at the budget to lower mid-range segment of the smartphone market. Regarding performance, the latest Helio P15 SoC lies somewhere between the Helio P10 and P20. Just a few days ago, the Taiwan-based chipmaker had launched the Helio X30, Helio P20 and Helio P25 chipsets.
The newly announced MediaTek Helio P15 is essentially an overclocked version of the Helio P10 with some minor optimisations. The former can run at a maximum clock speed of 2.2 GHz while the latter is restricted to a frequency of 2.0 GHz. Just like the Helio P10, the Helio P15 too features eight ARM Cortex A53 cores. The same dual-core ARM Mali T860 GPU handles the graphics performance in both the SoCs. In the newer P15, the GPU runs at 800 MHz which is 100 MHz more than the 700 MHz clock speed of the Helio P10.
Overall, the latest chipset offers at least 10 percent better performance than its predecessor. This is exactly identical to the improvements provided by Snapdragon 821 over the Snapdragon 820. MediaTek also claims that the newly launched Helio P15 is more energy efficient than the Helio P10. This increase in power efficiency would be very minimal. This is due to the fact that both the chipsets rely on the same 28 nm manufacturing process of TSMC. Hence, they should technically consume an identical amount of energy.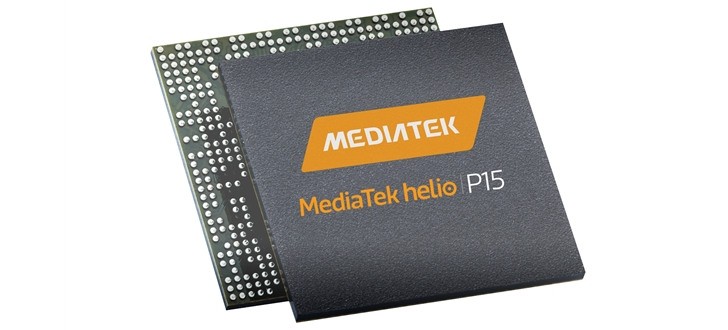 Just like the older MediaTek Helio P10, the Helio P15 also sports Cat. 6 4G LTE support. This means that through mobile networks the latest chip can download at a maximum speed of 300 Mb/s and upload at up to 50 Mb/s. The new SoC is possibly compatible with the older 933 MHz LPDDR3 RAM interface. Other aspects of the Helio P15 are pretty much similar to the P10 chip. So far, we don't have any reliable info regarding the availability of the new chipset.
MediaTek's P-Series of processors are primarily aimed at the budget to mid-range devices while the X-Series is reserved for high-end flagships. The recently unveiled Helio X30 is probably the most powerful chip of the company. The SoC has ten processing cores including four new generation ARM Cortex A73 cores with up to 2.8 GHz clock speed.
Helio P20 and P25 are members of the same family as the Helio P15. On the top of running at higher clock speeds, former chipsets are also built upon the latest 16 nm manufacturing process of TSMC. Thus the P20 and P25 offers significantly better power is to performance ratio. They are 20 percent more powerful but consumes 25 percent less power than the Helio P10. Additionally, the duo also boasts support for LPDDR4 RAM modules and feature an upgraded graphics chip.