A week ago we reported about Qualcomm Quick Charge 4.0 that is going to make its debut with a brand new Snapdragon flagship chipset and just as we said, Qualcomm has finally introduced the Quick Charge 4.0 and it just blew our minds off. The new Quick Charge 4.0 will be available with the Snapdragon 835 chipset that went official along with the this Qualcomm's latest and greatest charging technology.
The Quick Charge not just charges your smartphone's battery faster than before, but it also maintains the temperatures of the device. It is designed to be power efficient and runs cooler than prior generations. When compared to QC 3.0, the Quick Charge 4.0 is 20-30% faster and efficient while charging your device up to 5°C cooler. To better understand what this actually means to your smartphone, Qualcomm has adopted to a new measurement that will explain better.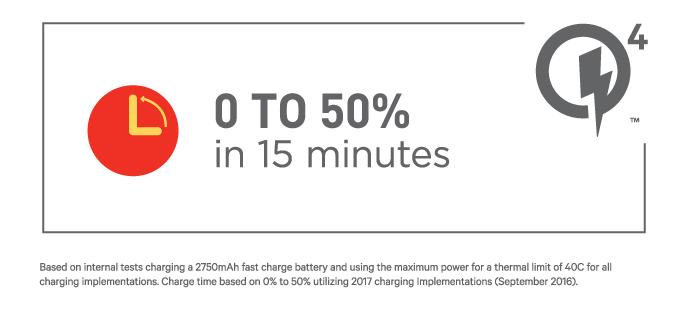 The measure is called 5 for5, which means 5 minutes of charging gives you 5 hours of usage. Qualcomm Quick Charge 4.0 is designed to charge your smartphone from zero to 50 in under 15 minutes or less. Think about the time you just saved. Over 60% of users are influenced by the fast charging feature when buying their next smartphone according to a study conducted by Sino-MR.
Qualcomm Quick Charge 4.0 is USB Type-C and USB Power Delivery (USB PD) compliant meaning you can standardize the Q.C 4.0 adaptors to charge multiple devices on the go consistently. The battery saver feature is specially designed to extend the battery cycle life. Protection of the battery is implemented at multiple levels and throughout the entire charging process to measure voltage, current, and temperature accurately protecting the cable, adaptor and your smartphone. With Quick Charge 4.0, Qualcomm has introduced the INOV (Intelligent Negotiation for Optimum Voltage) which is an algorithm engineered so that your portable devices can determine the amount of power level to request at any point of time.
The Quick Charge 4.0 compatible devices can request within 20mV or lower power needed to charge while also running advanced thermal algorithms for battery, chip, and connector. It also supports Dual Charge technology which when works if a smartphone includes second power management IC within. The Dual Charge feature helps you divide the charge current allowing for more efficient thermal dissipation and reducing charge time.
The Qualcomm Quick Charge 4.0 power management chipsets would be available later this year, so we can expect Quick Charge 4 compatible devices in the market by Q1 or Q2 2017.