Chinese smartphone manufacturer Vivo has announced their latest flagship smartphone the Xplay5. The main feature of this phone is the 6GB RAM which the company is planning to use in this device to support the Snapdragon 820 SoC which is the heart of the device. With the recent flagships also sporting a Snapdragon 820 SoC, none have more than 4GB of RAM and with this Vivo is surely going to get some attention from the competitors. We have to see how good the company has managed to make use of the power at hand.
The confirmation about the specs of the device like the processor and RAM are thanks to a teaser by Vivo which revealed these details as seen in the image. The launch date of the device has also been revealed, it will be officially launched on March 1st. Vivo has avoided MWC to unveil their device and is having their own launch event.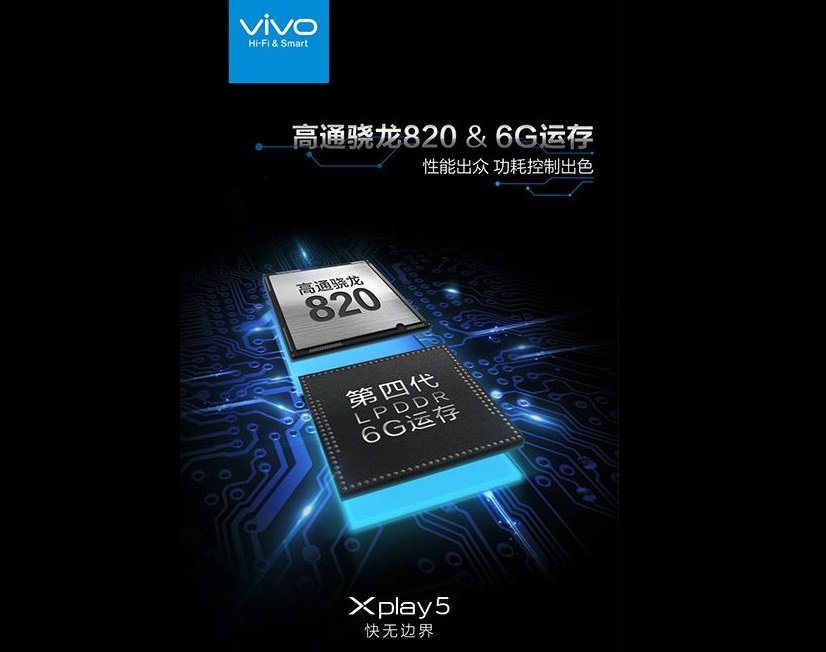 The other interesting feature which has been confirmed is the dual curved display. Coming to the rumors about the device which have been plenty suggest a 6-inch device with a 4300mAh battery and suggest a 16mP rear and 8MP front facing camera. One of the most unique rumors is that the device will be having Solar charging feature, if it turns out to be true will be a game changer in the smartphone industry.
With just a few days left for the official launch date, we can confirm about the features of the device through official sources.