Sony India has started sending events for their event on October 21st with the invite reading "Block your Date" Wednesday, 21st October, 2015, New Delhi. With the Sony and Xperia logos on the top and bottom. There is no info about the device being launched, but with the recent unveiling of the Xperia Z5 and the Xperia Z5 Compact along with the Xperia Z5 premium we can expect these devices to be launched at the event.
With the Sony India website currently only listing the Xperia Z5 Dual and Xperia Z5 Premium Dual and the Xperia Z5 Dual Compact missing out we can expect only the first two devices to be launched at the event. Mostly the the Xperia Z5 Compact must be coming in the second roll out of the flagship devices into the Indian market.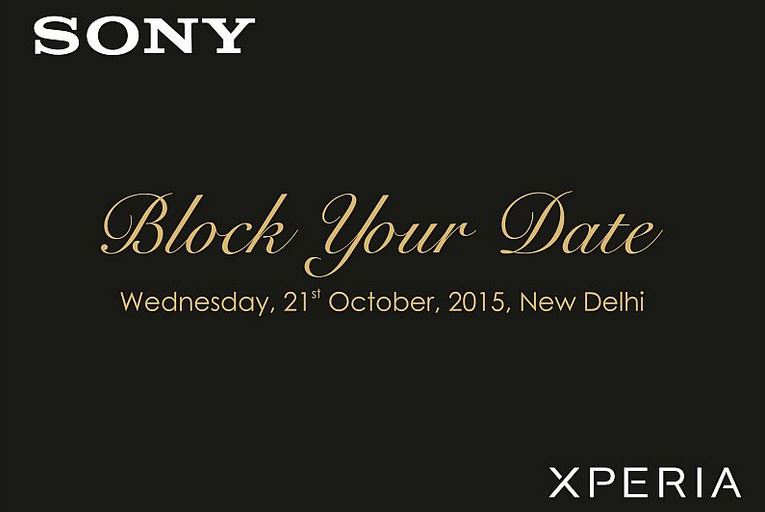 The Sony Xperia Z5 did seem to be a let down as there were no extraordinary upgrades in the new model. The major change which we though was worth noticing was the inclusion of a brand new 23-megapixel camera with 1/2.3 Exmor RS sensor and F/2.0 G lens which is said to be similar to the Alpha Range of inter changeable lens camera. It comes with a fingerprint sensor which is integrated into the power button and supports FIDO standard authentication via fingerprint for online payment services.
The Sony Xperia Z5 Premium carries the "worlds first" tag thanks to its 4K display which carries 806 ppi for the 5.5-inch display it sports. It comes with a Snapdragon 810 processor with 3GB of RAM. It also sports the same improved camera module similar to the Xperia Z5. Whether our naked eye will be able to differentiate the 4K resolution display is something to think about, but it does look good on paper.
The Sony Xperia Z5 pricing is expected to be Rs. 60,000 and Rs. 70,000 for the Xperia Z5 Premium as seen in Sony's Eshop portals in UK. The pricing of the models in India will be confirmed only after the official announcement by Sony on the October 21st launch event.
Source: NDTV