There was one Yotaphone and its series that was famous for the dual-screen smartphone concept, and after that, there was not much happening in that space. There was a huge improvement done to the cameras and a big number of dual-lens camera smartphones have come in, but finally, one brand is working to bring two screens on one device. It is the ZTE Axon M that has just got launched.
The ZTE Axon M has two 5.2-inch Full HD displays, and that is the highlight of the phone. While it isn't the best flagship that you can get because some hardware is from yesterday, the phone still packs a set of good specifications to support the dual screens that are meant for multitasking. The display as well is protected by the Corning Gorilla Glass 5 cover. The phone runs Android 7.1.2 Nougat and it has a combined thickness of 12.1mm, which is well expected thanks to the two display modules.
Internally, the device comes packed with the Qualcomm Snapdragon 821 quad-core chipset, and along with that is 4GB RAM and 64GB internal storage. There is also a MicroSD card slot for the storage expansion possible for up to 2TB. Now, interestingly, for that design, the ZTE Axon M has got only a single camera that can be used as both, front and back ones based on the requirement. It is a 20-megapixel camera with the F/1.8 aperture and Phase detection autofocus, while the camera has also got dual image stabilization and dual LED flash.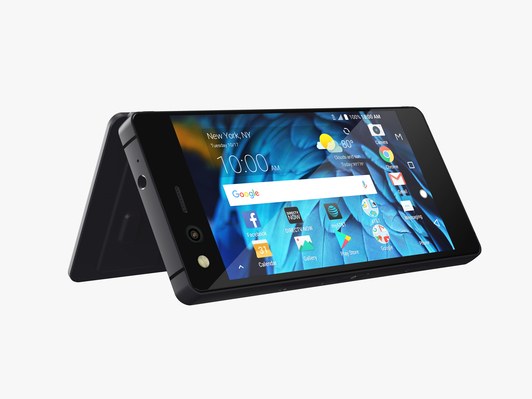 While it seems like a concept that is great for multitaskers, it isn't really a super choice when the battery is concerned because the device packs a 3180 mAh battery to power the two screens. There is Quick Charge 3.0 support for fast charging.
Some of the features of the phone that the company mentioned about, to take advantage of the dual screens include the following.
Dual Mode: Use two apps on two different screens at the same time
Extended Mode: Use the two screens as one full 6.75-inch display.
Mirror Mode: Display the same content at the same time on both screens and simply fold the device and place it for easy viewing from two separate sides of the device.
To be fair, it is an honest attempt from the company in the space where you don't see much from others, but at the same time, giving a hinge to make it a foldable device doesn't seem to look good at all. ZTE has done one thing quite good – keep it decent with the size, because thick phones with large screens are not something one would want to pick, even if it has two screens. Interesting enough, the foldable phones are now being talked about, thanks to the news saying that Samsung is working on a foldable phone that is to be launched in 2018.