WhatsApp recently introduced a new feature which enabled users to Send Documents from WhatsApp for Android and iOS devices. This feature has been updated to users for both iOS and Android App with the latest version – 2.12.453 available through Play Store and for iOS the version 2.12.14 of WhatApp. Many iOS users have not yet received the update which is being rolled out in phases.
Most of the Android users have received the latest update and if you want to use the new feature, just update your App and you can start sending documents to your contacts through WhatsApp. One thing to keep note of is, if your contact on the receiving end does not have the latest version with the feature you will not be able to send the files and will be receiving a notification "Can't send documents to the WhatsApp version does not support documents" for single users. If you are trying to send a file in a Group all the group members should have the latest version enabled, only then will you be able to send the file.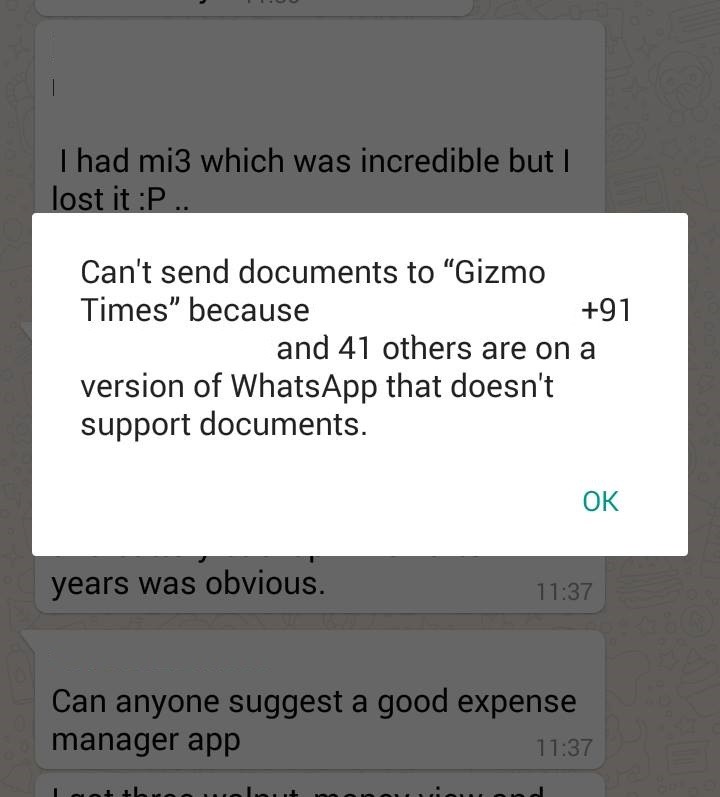 What are the File types supported by WhatsApp:
With the latest feature of sending Documents through WhatsApp, they have given support to send "PDF" files only and other file types like Word, ZIP and RAR files are not supported.
How to Send/Share Files/Documents through WhatsApp:
As the update is available for both Android and iOS devices we will be listing out the steps for each type separately.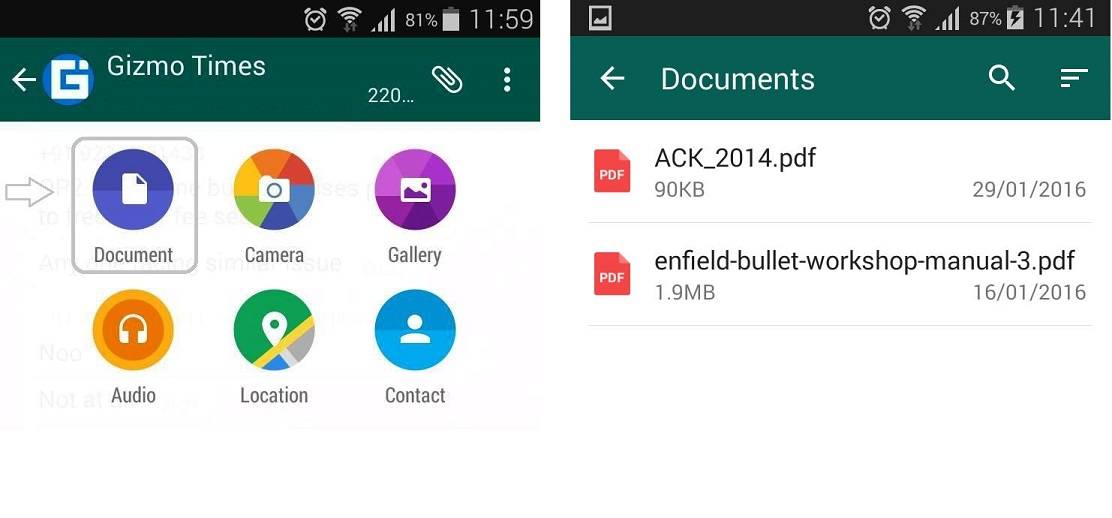 WhatsApp or Android:
Launch WhatsApp application in your Android Device
Open to the Contact or Group with whom you want to share the document
On the right side top of the screen beside the name you can file a File Clip icon, tap on it
You will find the Document option in the drop down box
Tap on it and you will find the list of Documents which are available and supported (only PDF for now) by WhatsApp ready to be send
Select the document which you want to send and you are done
WhatsApp for iOS or iPhone: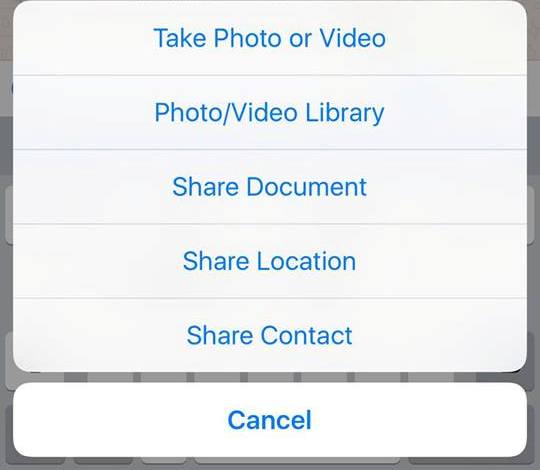 Launch WhatsApp application in your iOS device
Open the Contact or Group with whom you want to share the document
On the left side of the text field you will find the media sharing option which is an upward facing arrow
Select the Share Document option in the list
You will be seeing the list of documents available to be shared via WhatsApp
Select the file and you are done
At the moment only PDF files are available to be shared through WhatsApp and we are expecting that other file types will also be added to the list like Word, .ZIP, RAR etc which can be quite useful.