The Goodspeed 4G mobile hotspot MF900 is made in association with ZTE, and it offers international data roaming in affordable pricing. Supporting all the global cellular technologies including LTE FDD, LTE TDD, UMTS, EDGE and GSM over a set of bands, the hotspot is capable of reaching maximum download speeds of 150 Mbps and an uplink speed of 50 Mbps.
How does it help in roaming? there is a convenient space for allowing ten SIM cards, and the hotspot allows accommodate and switch automatically between the networks. The Wi-Fi connection can be used by up to 15 devices around at the same time.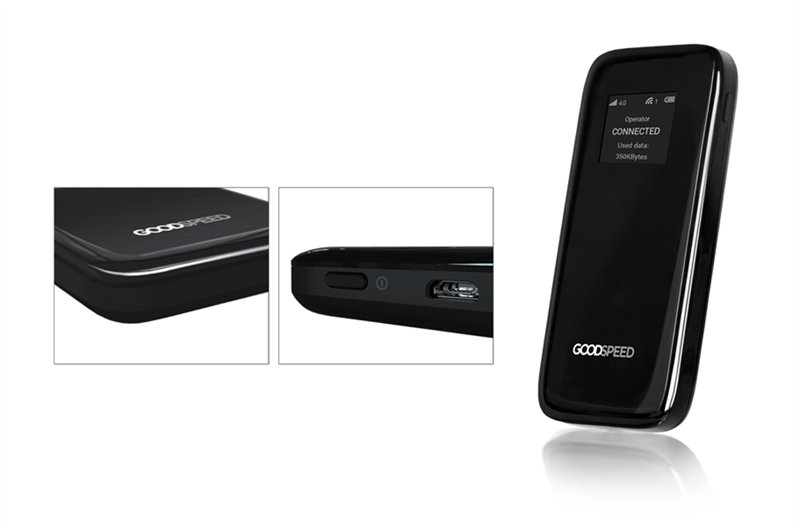 Tommi Uhari, CEO of Uros, comments: "We were proud to partner with ZTE in developing the Goodspeed 4G mobile hotspot because of ZTE's strong track record in technology innovation and impressive experience in developing wireless devices. With this project carried out successfully together and now ready to be launched in record time, I'm confident that this opens doors for deepening and widening our partnership even further."
Adam Zeng, CEO of ZTE Mobile Device, adds: "We are excited to join forces with Uros to unveil this brand new roaming solution, which we believe busy international travelers will find incredibly handy. The manufacturing of the Goodspeed 4G mobile hotspot MF900 is already underway and we expect to see strong shipments for this product."
The hotspot has an information display with 128×128 pixels resolution, and here you will be able to learn about the network availability, number of connected devices, operator information and speed, as well as battery information. It comes with a 3200 mAh battery, which is said to be active for about 12 hours, and gets a full charge in around 3 hours of time. The hotspot is compatible with 802.11b/g/n, 2.4/5.8 GHz devices.
The MF900 4G device from Goodspeed and ZTE will be available at Goodspeed direct sales channels, including Business Sales and official Goodspeed distributors, as well as on the official website of Goodspeed.io from July 2015. To give an idea of where the Internet would be available, Uros is operating in Europe, U.S., Canada, Latin America, Russia, Asia, Australia and China.
Goodspeed MF900 4G Dongle Specifications
Display: LCD, 128 x 128 pixels
Size: 123 x 62 x 13.9 mm
Weight: 125g
Wi-Fi: Compatible with 802.11b/g/n, 2.4/5.8 GHz devices, Connects with up to 15 Wi-Fi enabled devices
Security: WPA/WPA2
LTE FDD Bands: 850/900/1700/1800/1900/2100/2600 Mhz
LTE TDD Bands: 2600 Mhz
UMTS Bands: 2100/1900/900/850 MHz
EDGE quad-band: 850/900/1800/1900 MHz
LTE-FDD Speed: 150 Mbps Downlink, 50 Mbps Uplink
LTE TDD Speed: 117 Mps Downlink, 9 Mbps Uplink
DC-HSPA+ Speed: 42 Mps Downlink, 5.76 Mbps Uplink
Battery: 3200 mAh battery for up to 12h of continuous use, Full charge in approximately 3 hours
10 SIM card slots