Canon Inc. has managed to fit in 250-megapixel count into a APS-H camera sensor! Yes, you heard it right. That is 250-megapixels into a CMOS sensor sized 29.2 x 20.2 mm. So all the photography fans who are drooling over the sensor and already planning in your head to manage your finances to get the new camera with this sensor are in for a rude shock. Canon is not going to put the sensor into any camera anytime soon.
The CMOS sensor is slightly larger than the APS-C sensor which is used in many DSLR's but is comparatively smaller than the 35mm full-frame Sensor in high-end professional cameras likes Canon 5D Mr III and Nikon D4S. With the 250 megapixel sensor will be incorporating approximately 250 million pixels (19,580 x 12,600 pixels). According to Canon the Sensor is developed to be used in specialised surveillance and crime prevention tools, ultra-high measuring instruments and other industrial equipment and field of vision expression.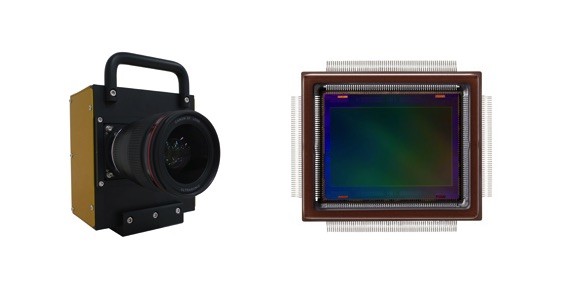 The prototype camera which will be carrying the new CMOS sensor has been displayed by Canon in its official website and is shown in the image above which is equipped with a EF35mm f/1.4 USM lens.
It will be able to capture images where the letters on the side of the airplane can be distinguished which is flying 18 kilometres from the location where the image was taken from. This makes it one of the most advanced sensors till date. The new Canon-developed CMOS sensor is capable of producing an ultra-high signal readout of 1.25 billion pixels per second which is achieved by circuit miniaturization and enhanced signal processing technology. The miniaturized pixels deliver high sensitivity, low-noise imaging performance for getting less grain even in high-resolution images.
Even the Video capturing capability is great, with the 250-megapixel CMOS sensor achieving a resolution of approximately 125 times that of a Full HD video which has 1920 x 1080 pixels resolution and 30 times that of 4K video with resolution of 3,840 x 2,160 pixels, making it the perfect sensor for Video surveillance equipment where cropping and magnifying the video does not affect the image resolution and clarity of the Video.