The recently launched Google OnHub router won't look all cool for long, as Asus, one of the reputed names in the field has come up with its own product that can compete not just the OnHub router, but any top-end Wi-Fi router. Awkwardly named the RT-AC5300, this router that looks geeky with several antennas, is said to be delivering the fastest Wi-Fi performance in the world.
This is a tri-band wireless router, coming with Broadcom NitroQAM and it delivers up to 1000Mbit/s on the 2.4GHz band and up to 2167Mbit/s on each of the two 5GHz bands, for a combined total of up to 5334Mbit/s. The weird looking antennas, are in a total of eight with 4T4R configuration (four transmit and four receive), and this makes it possible to give a coverage of about 500 square meters.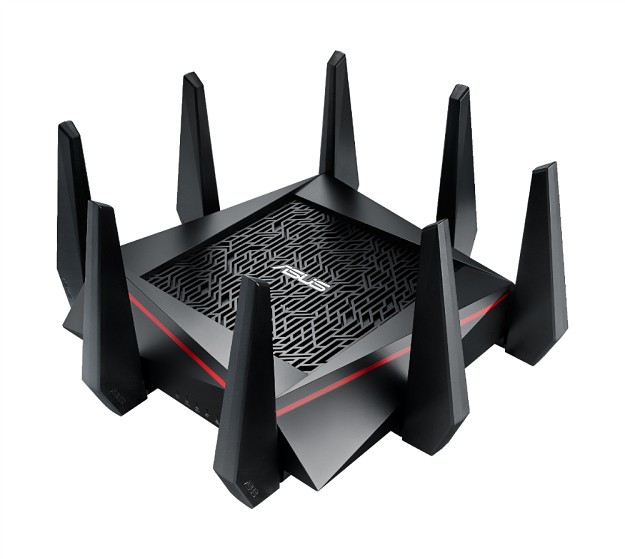 The AiRadar beamfocusing focuses and makes the Wi-Fi performance better for each device. The Tri-Band Smart Connect is a feature that would assign any connecting device to a particular band, to ensure that there is no compromise in the data delivery, and the connection stays stable. A note from the press release about the other features: Multi-user MIMO (MU-MIMO) enables multiple devices to connect at their maximum speeds without slowing down the network, and Link Aggregation (802.11ad) can combine two LAN ports into one superfast 2Gbit/s wired connection using two network cables.
AiProtection: This is the network protection feature, that along with Trend Micro security provides strong security.
AiCloud 2.0: This is the personal cloud storage service, using which the users can access, share, and stream their files from anywhere.
These specs and features are made for, according to the company, delivering low-latency gaming experience and Ultra-fast 4K/UHD video streaming anywhere in the home.
While the Google OnHub router was said to be great at network, usage and looks, Asus might cling on to the fast network performance as the USP. No details of its price and availability are shared at the moment. This is one of the announcements made by Asus at the IFA 2015 event, alongside its Asus ROG GX700 gaming laptop, Asus VivoStick, Asus Zen AiO S and ZenFone Zoom smartphone.