SKYWORTH, one of the leading TV brands in China and having its presence in some major markets has announced an 8K resolution TV and a couple of wallpaper-thin TVs at the CES 2020 event in Las Vegas. The launch was set to happen at CES because the 8K TV is entering the U.S. market after its official launch.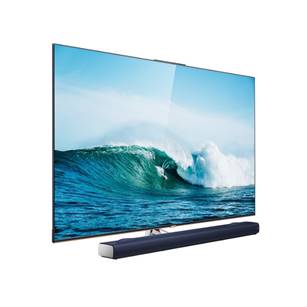 The highest-end product from the company is the Q91, which is the 8K resolution TV supported by 120fps 8K output. The SoC supports 8K hardware decoding for up to 60fps, and according to the company, the TV uses 8K IPS LED hard screen, which arranges the liquid crystal molecules horizontally, offering wider viewing angles, faster response and more.
The 8K AI Image Processing Engine uses advanced image recognition and processing technology to improve the contrast, color and clarity of the picture, while intelligently modifying lower-resolution video content to closer to 8K resolution. The bezel-less 75-inch screen enables viewers to enjoy unrestricted viewing with a wide viewing angle of 178 degrees. In addition, the Q91 features Dolby Vision imaging technology, offering ultra-vivid picture quality – incredible brightness, contrast, color and detail that bring entertainment to life before your eyes. The Q91 series also provides an immersive audio experience with Dolby Atmos 2.1.2, as well as a HiFi passive filter and SKYWORTH's Wonder Audio Sky Echo built into the SoundBar, which moves soundwaves upwards to echo precisely into the user's ears.
The 75-inch Q91 will be priced at US $5,999.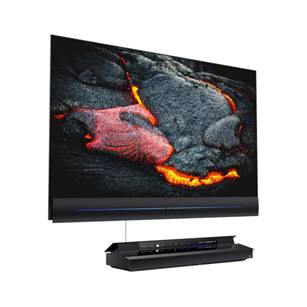 SKYWORTH also announced two TVs under the W series, with the W81 and W81 Pro wallpaper-like OLED TVs, which are 4.6mm at the thinnest point. A 21-inch secondary display on the W81 Pro, equipped with the Swaiot OS, shows always-on information such as time and weather, as well as real-time updates including IoT device responses. With Dolby Vision, an ultra-wide viewing angle, expert image calibration, blue-light filtering for eye health and SOBiF non-afterimage technology, together with Dolby Atmos immersive audio, the W81 series offers a world-class entertainment experience in the comfort of your home.
The W81 series can also be paired with the Swaiot PANEL, a new 4-inch or 10.1-inch supplementary display powered by SKYWORTH's Swaiot OS that automatically syncs with the program being played on the main TV. It will be available for purchase separately and will be compatible with other SKYWORTH TVs in the near future.
The 65" W81 and 65" W81 Pro will retail for US $3,599 and US $4,599 respectively. Pricing and availability for the 77" W81 Pro will be announced at a later date.
Tony Wang, Chief Executive and President of SKYWORTH TV, said, "As a leading brand in the TV and smart home industry, SKYWORTH is moving ahead with a focus on building a premium brand, continuous innovation in technology and products, and ushering in the era of big-screen AIoT. SKYWORTH aims to become the brand that leads the consumer electronics market of the future, offering 8K TVs and flagship-level OLED TVs, among other differentiated products, that meet the demands of the growing middle class."